State Budget Workshops
This spring, Hunger Task Force and Hunger Relief Federation will host a series of advocacy workshops across Wisconsin.
The first series of workshops are related to Wisconsin's state budget. Wisconsin's state budget will impact hunger for 400,000 families. This spring we have a chance to make sure our government protects hungry families, but we have to make our voice heard.
 What training is offered?
A detailed look at the budget process and how it impacts hunger.
Advocacy tools to make the biggest impact

We will give attendees the best-practices for stating your case, work on composing their personal story, and provide sample talking points.
Who are we asking to attend?
Anyone who is interested in ending hunger.
Here's what's at stake in this year's budget:
FoodShare is Wisconsin's largest anti-hunger program.  The State Budget will dramatically impact how the FoodShare program operates and significantly impact funding for the FoodShare Employment & Training (FSET) program.
School Breakfast Program: School Breakfast allows all children to start the school day ready to learn.  Wisconsin should fully fund the School Breakfast Program.  We have a new Governor who has been supportive of this request.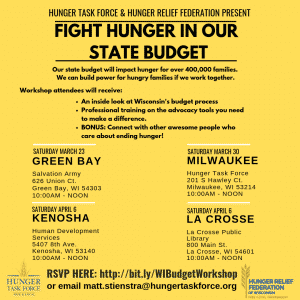 RSVP here OR on our Facebook events: 3/23 – Green Bay 3/30 – Milwaukee 4/6 – Kenosha  4/6 – La Crosse