Stockbox DoorDash eases hardship of grocery shopping for Milwaukee senior
For Elizabeth Blake, getting to the grocery store is becoming a challenge. Relying on a cane for mobility, Blake notes her monthly shopping trip has become a significant hardship, "I get to the grocery store about once a month because getting around is so hard for me."
Originally from Georgia, Blake relocated to Milwaukee in 2018. She now lives with her youngest son, Kyle, in a two-bedroom just south of Brewer's Hill. "I came here after I retired," Blake shares. "I worked for the Georgia Department of Labor processing unemployment appeals. Even though I was working full-time, I still could not make enough money to live on."
Blake's role as a mother is intertwined with her added responsibility as caregiver. Her son Kyle requires the use of a wheelchair and depends on her for assistance. Injured during a home invasion in 2012, Kyle's paraplegia is another element their household deals with daily. With her son as a significant priority for Blake, Hunger Task Force was able to step up to the plate and make sure her monthly grocery trip was a little bit easier moving forward.
"I didn't really know about Hunger Task Force – I actually found out about their services through Facebook. I happened to see a post about the Stockbox DoorDash program the week before I signed up to receive food. I knew you could donate, but I didn't realize I was eligible to receiving anything."
The Stockbox DoorDash program provides income-eligible seniors with an opportunity to receive home delivery of a free Stockbox each month. Partnering with the United Way of Greater Milwaukee & Waukesha County and DoorDash, the pilot program has a capacity to serve up to 2,000 eligible seniors each month. Currently, over 400 Milwaukee and Waukesha County seniors are signed up to receive a monthly Stockbox of free, nutritious food right to their doors.
The food Blake receives in her Stockbox each month will decrease what she will need to purchase at the store and provides her and Kyle with healthy, shelf-stable food.
Elizabeth received her Stockbox for August directly to her third-floor apartment door. "There was a section in DoorDash for delivery specifications, so I requested the driver to come up to the door. I could track my delivery in the app and see exactly where the driver was at," Blake reveals. "He was very nice and even offered to bring the box in for me!"
Already shopping for two, the additional groceries from Hunger Task Force helps Blake stretch her monthly food budget. "I couldn't believe they got so much food into that little box! I was surprised by the variety and quality of the food – the Stockbox included food that I really like."
Blake, who is 63 years old, admits her generation strives for independence and was raised to make do with what they have. "I think seniors are hesitant to ask for help, and don't want to feel like a burden. I would tell them, for me, signing up was a no-brainer. Three days after finishing my application – ding-dong – there was my box! The whole process was super easy."
Eligible seniors are encouraged to register for the pilot program. In the wake of the COVID-19 pandemic, many seniors may no longer feel safe or do not have access to pick-up locations or senior dining sites they previously relied upon. Stockbox DoorDash aims to connect vulnerable seniors with additional food each month.
"The Stockbox helps us tremendously, and the whole process was quick, quick, quick." For Elizabeth Blake, getting to the grocery store is becoming a challenge. However, thanks to Hunger Task Force, the grocery store no longer is her only option.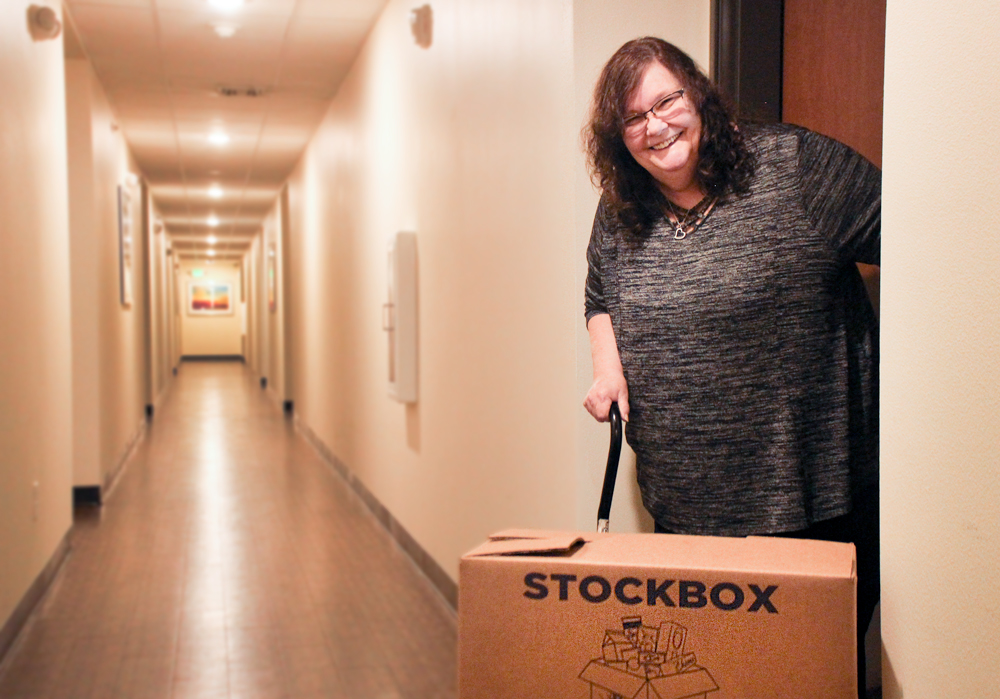 Hunger Task Force is Milwaukee's Free & Local food bank and Wisconsin's anti-hunger leader. The organization provides healthy and nutritious food to hungry children, families and seniors in the community absolutely free of charge. Hunger Task Force was founded in 1974 by a local advocacy group who then formed Milwaukee's first food bank. Today, Hunger Task Force is 100% supported by the community and provides a safety net of emergency food with dignity to a network of 75 food pantries, soup kitchens and homeless shelters. Through legislative analysis, education and community organizing, Hunger Task Force continues to advocate for anti-hunger policy at the local, state and federal level. For more information, visit HungerTaskForce.org.