The Farm
Hunger Task Force operates a 208-acre urban farm to grow more than 500,000 pounds of fresh, healthy produce for Milwaukee's hungry.
History
A farmer named Edmund Carman purchased 160 acres of farmland in 1839, creating the Carman family dairy farm and homestead (before Wisconsin was even a state!). The Burwood Stock Farm then purchased the property from the Carman's in 1930 and subsequently sold it in 1946, when the Milwaukee County House of Corrections Work Farm was established.
Farming
In 2012, Hunger Task Force signed a historic, 30-year lease with Milwaukee County Parks, allowing Hunger Task Force farmers to operate more than 200 acres of farmland and natural areas. Today, more than 25 different varieties of fruits and vegetables are grown each season to feed children, seniors and families in our community. An average of 500,000 pounds of fresh produce are distributed within 24 hours of its harvest all summer long.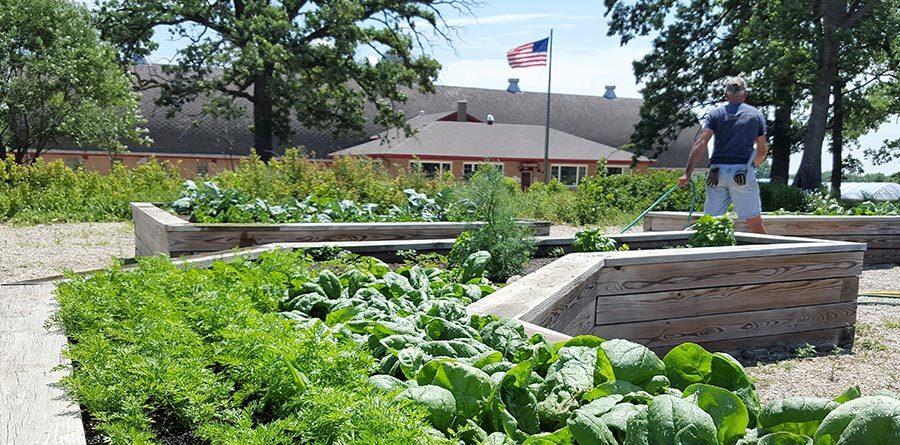 We practice sustainable agriculture at The Farm to ensure the health of the land and of the community we serve. From crop rotation and integrated pest management to beekeeping and cover cropping to sustainable practices that allow us to grow a bountiful yield each year for our network and ensure that The Farm will be productive for generations to come.
Nutrition Education
We don't just feed kids—we also teach them about healthy eating! During the school year, our on-staff Dietitian Educator travels to local Milwaukee Public Schools teaching nutrition education to low-income kids. Then we bring them out to The Farm where they gain valuable, hands-on experience working in the school garden and demonstration kitchen. Interested in bringing a children's group out to the Farm? Contact Kate Holter 414-588-7193 or kate.holter@hungertaskforce.org.
Adopt-a-Crop!
The Adopt-A-Crop program is an opportunity to take your support of The Farm to the next level. The Hunger Task Force Farm relies on the generosity of the community to continue providing healthy, fresh food to hungry Milwaukee families.
• $25: Supplies a bushel of sweet corn to a local food pantry
• $50: Provides 40 lbs of green beans to local seniors
• $100: Grows 100 heads of lettuce for local families in need
•$250: Sponsors an acre's worth of broccoli seed
Adopt Your Crop Today!