Help for Seniors
Hunger Task Force's Senior Outreach Program helps connect low-income seniors to programs, like FoodShare, that provide access to adequate nutrition. The Senior Benefit Specialist travels to senior centers and apartment buildings and can help with the application process, including interviews and submitting verification, in order to ease the burden of the application process for home-bound seniors.
To learn more, contact Senior Benefits Specialist, Tammy Keen, at [email protected] or 414-588-7132.
FoodShare
FoodShare is a federal program and Wisconsin's first line of defense against hunger. Funded 100% by the USDA, FoodShare is an entitlement program, meaning it assists people who have low incomes and difficulty affording food get monthly help to make ends meet.
FoodShare provides food buying power at the grocery store through an EBT card called Quest. Eligibility is based on household income and size.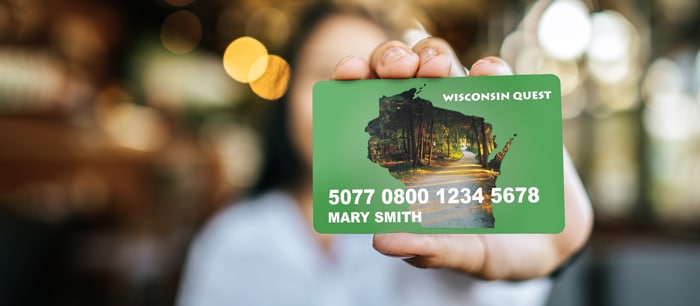 Senior Stockbox Program
Hunger Task Force administers the Commodity Supplemental Food Program – known locally as Stockbox. A Stockbox is a free box of healthy food for people age 60+ who have a monthly income of $1,580 or less per month ($2,137 for a two-person household).
All Stockboxes include cereal, milk, canned veggies and fruits, pasta or rice, protein, fruit juice, canned meats and two pounds of fresh Wisconsin cheese.
To apply for Stockbox, call Rick Lewandowski at 414-777-0483 or call IMPACT at 211 to apply. 2-1-1 can also connect callers to the nearest Stockbox site.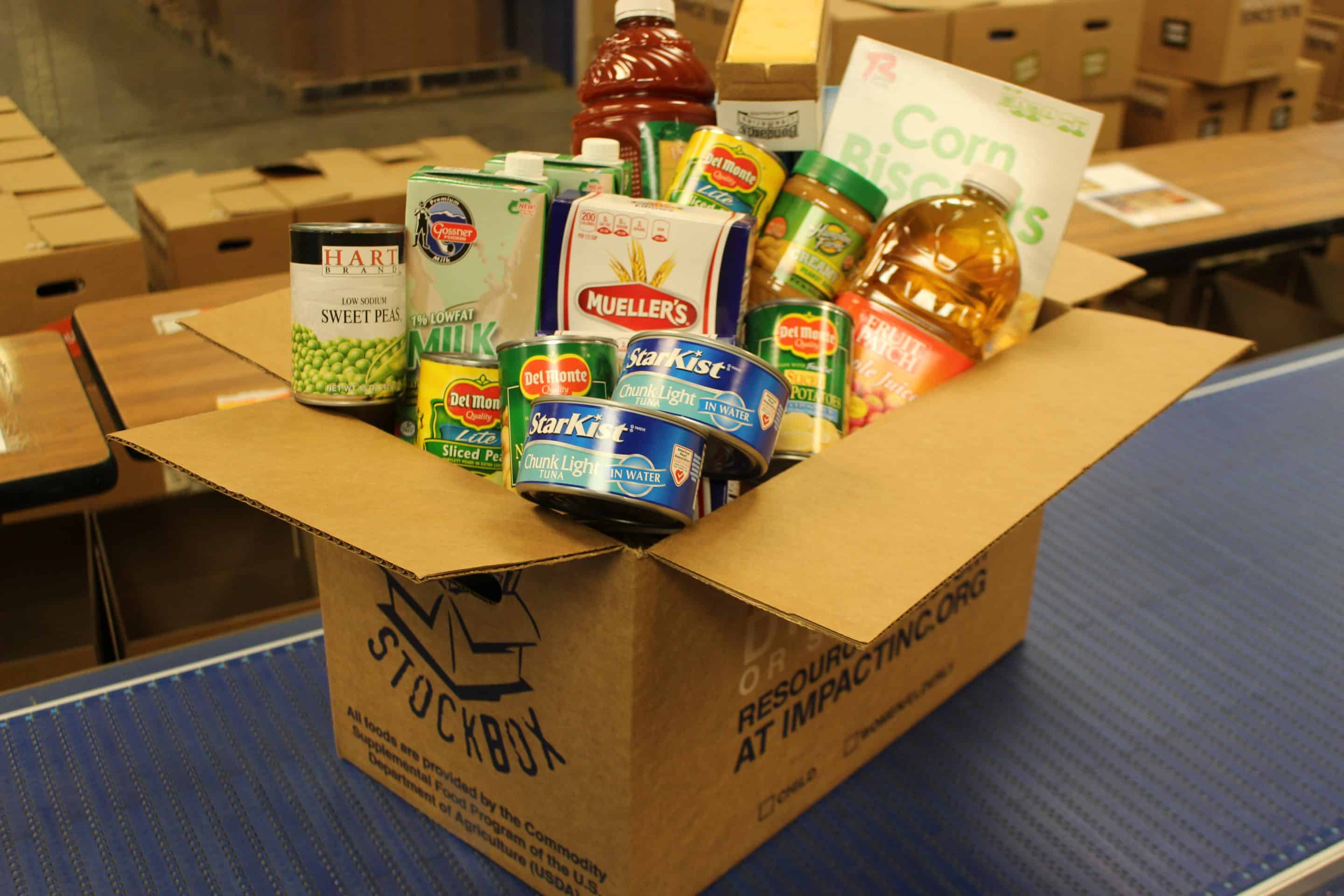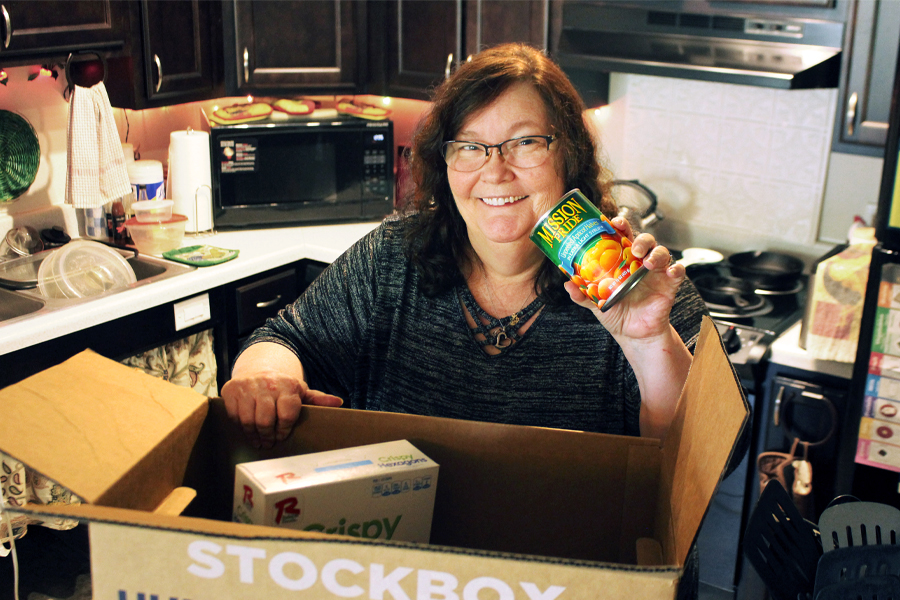 Stockbox DoorDash Delivery
Hunger Task Force partners with DoorDash and United Way of Greater Milwaukee & Waukesha County to provide nutritious food to seniors – directly to their doors – living in Milwaukee and Waukesha County through the Stockbox DoorDash program. Launched during the pandemic, Stockbox DoorDash expanded access of the program to homebound seniors, and seniors who do not live near a traditional pick-up site, with convenience and dignity.
Eligible seniors are encouraged to register for the program. In the wake of the COVID-19 pandemic, many seniors may no longer feel safe or do not have access to pick-up locations or senior dining sites they previously relied upon.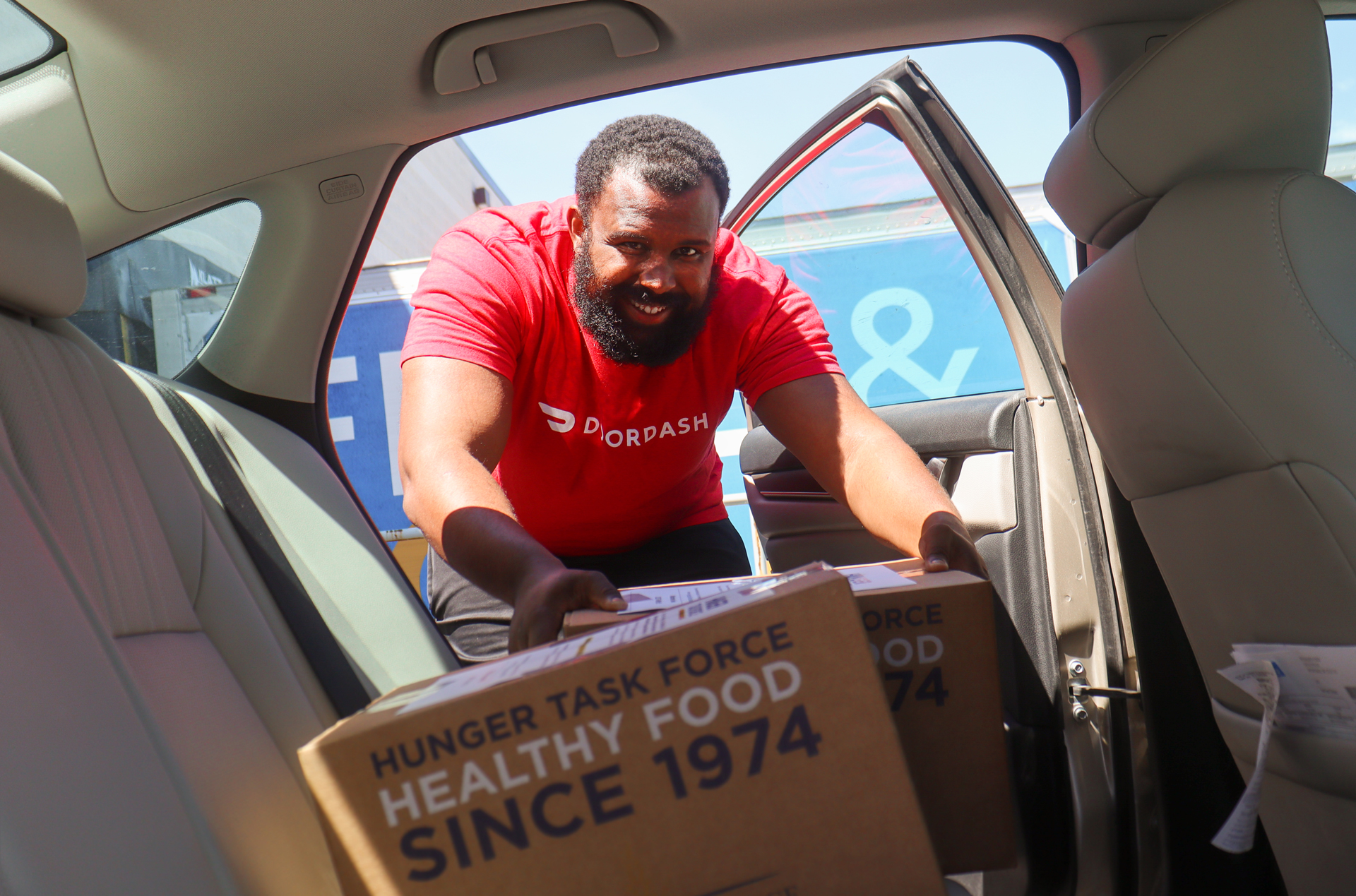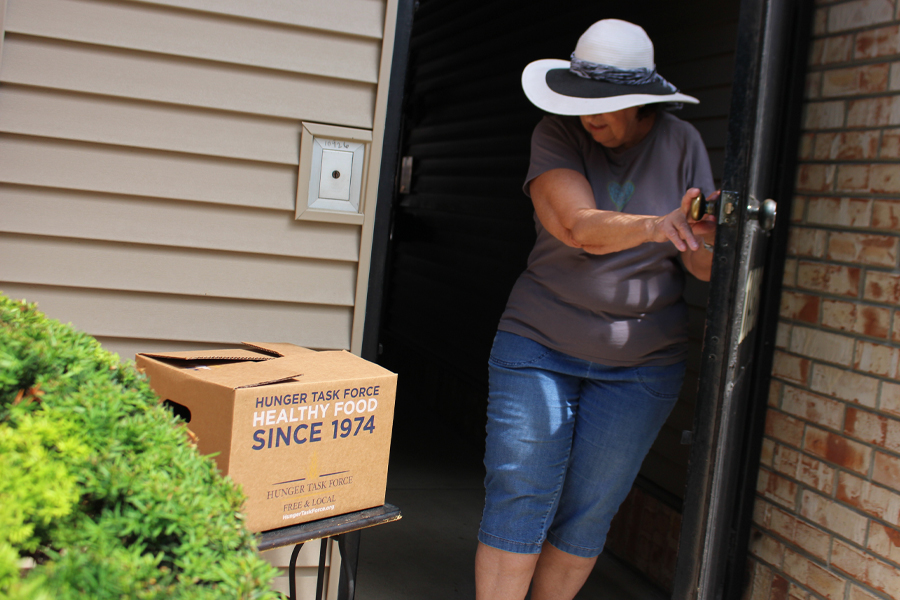 Senior Farmers' Market Nutrition Program
The Senior Farmers' Market Nutrition Program provides low-income seniors with vouchers that can be exchanged for eligible foods (fruits, vegetables, honey, and fresh-cut herbs) at farmers' markets, roadside stands, and community supported agriculture programs.
Hunger Task Force administers the Senior Farmers' Market Voucher Program, providing seniors with a $35 voucher to purchase fresh produce at local farmers' markets. New for 2023: Each eligible senior in a shared household may apply. The program has been expanded to include all seniors who may share a household.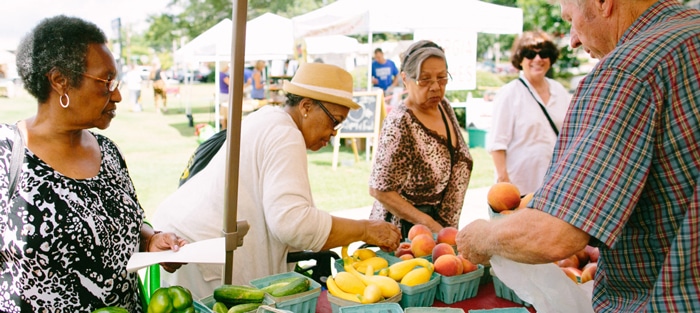 Mobile Market
Hunger Task Force and Piggly Wiggly are proud to partner on the Mobile Market. This grocery store on wheels travels throughout Milwaukee County to visit neighborhoods and communities that have limited access to fresh and healthy foods.
The Mobile Market schedule includes several senior centers and assisted living facilities to help make individualized shopping as easy as possible. The market is an active store, not a food pantry or donation center.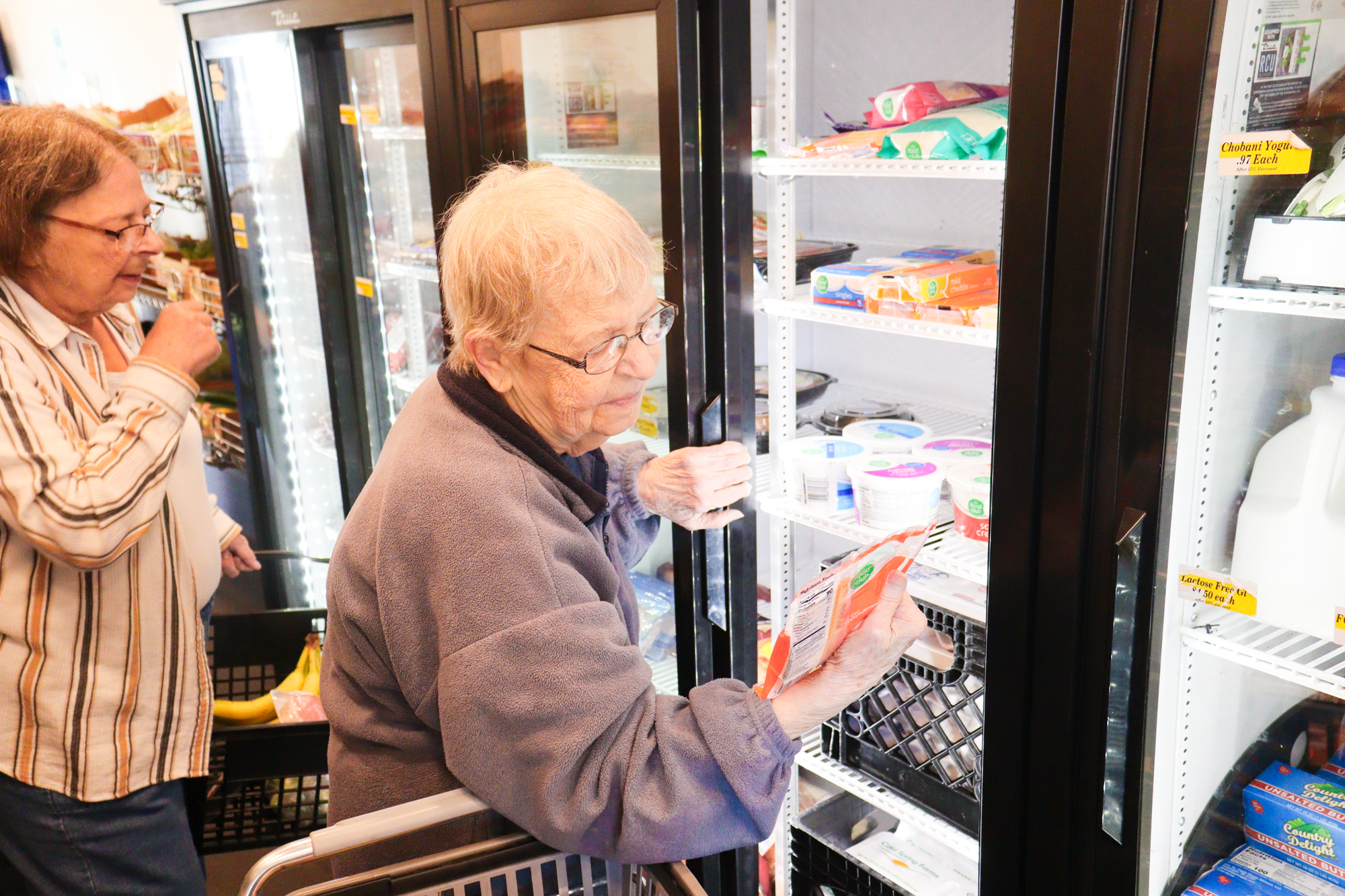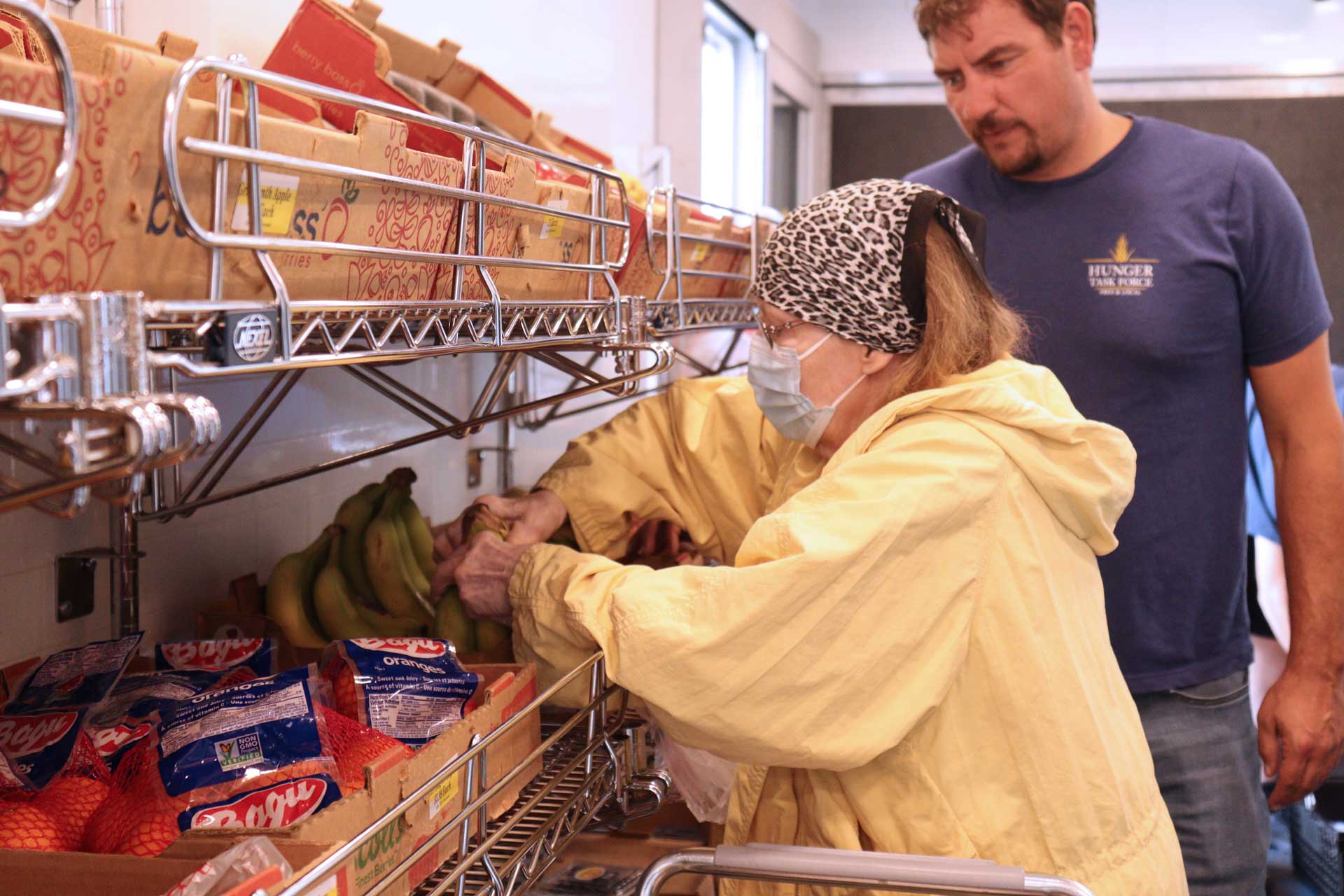 Emergency Food Network
Hunger Task Force is a food bank that supplies food to emergency food pantries, meal sites and homeless shelters. Hunger Task Force has created a list of confirmed, trusted sites that continue to provide food safely and reliably. Click below for a map and additional resources.
If you or someone you know needs emergency food now, please dial 2-1-1. To call using a cell phone or pay phone, dial 414-773-0211 or toll free 1-866-211-3380. An operator will help you locate the closest emergency food pantry and/or meal program in your area.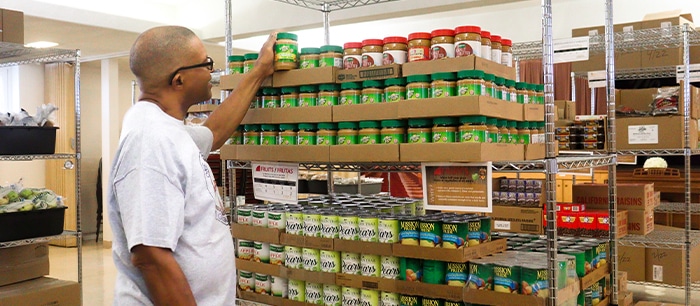 Additional Resources for Seniors