Q&A with Fue Xiong, FoodShare Supervisor at Alicia's Place Resource Center
Hunger Task Force provides one-on-one FoodShare (food stamp) assistance to tens of thousands of people. In 2021, Hunger Task Force opened the second FoodShare Resource Center, and the first on Milwaukee's north side. Named "Alicia's Place" after one of the first FoodShare Advocates, this innovative center allows families to get one-on-one assistance with food benefits, with dignity and in their preferred language.
Fue Xiong is a FoodShare Supervisor at Alicia's Place FoodShare Resource Center and has been with Hunger Task Force since May 2009. Fue was among the first Hunger Task Force FoodShare Advocates assisting local communities with accessing benefits and resources.
Q: What is Alicia's Place FoodShare Resource Center?
Fue: Alicia's Place is a FoodShare Resource Center where the community can come in for hands-on assistance accessing FoodShare benefits. Our team of full-time FoodShare Advocates work with seniors, families and individuals, advocating for them, but more importantly – helping them advocate for themselves. 
Q: Where is Alicia's Place?
Fue: We're located at 4144 N. 56th Street, right in the Midtown Center shopping complex, providing resources in an area that needed it most. Rather than having to take multiple trips across Milwaukee to state offices, those in need can receive help all at one place – just a short walk, or bus ride, from their homes. 
Q: What are resources available?
Fue: Staff at Alicia's Place are committed to helping the community with FoodShare benefits or working alongside the client to resolve issues with their cases. While we mainly focus on FoodShare, our team can also assist with Badger Care and childcare benefits.  
Clients come here to apply for FoodShare on our computers, fax verification materials – such as a pay stub, income documentation or proof of identity – directly to the state and use our lines to complete application or renewal interviews over the phone. 
Q: What makes Alicia's Place different than other resource offices in Milwaukee?
Fue: Clients coming in can work with staff one-on-one. That's huge. Our team will help educate clients about their cases so they can fully understand their benefits and the process. We also make sure that people we're working with know how to use the MyACCESS mobile app so they can connect to their benefits anywhere, anytime. Because our staff speak multiple languages including Hmong, Lao & Thai, you can get service in your preferred language.
Q: What else should people know?
Fue: We are FoodShare advocates. While we do not have the authority to confirm cases, we do assist clients with much of the process and connect them directly with the state worker to confirm the case over the phone.
Q: Who is served at Alicia's Place?
Fue: Since opening in June of 2021, our team has assisted 1,277 individuals. The estimated total received, per month, by those assisted is around $58,964 in benefits. Additionally, 44% of those served spoke another language. Our team was purposely built to best represent our diverse Milwaukee community. In addition to English, other languages spoken by our staff include Hmong, Burmese, Lao, Thai, Burmese and Spanish.
Q: What might surprise people about your work?
Fue: People typically only know Hunger Task Force as a food-bank. While we are Milwaukee's only Free & Local food bank, providing emergency food to our network of 70 pantries, meal programs and homeless shelters and serving 50,000 people a month, Hunger Task Force also invests in broad anti-hunger work. You may be surprised to learn we have an extensive Advocacy team of staff dedicated to FoodShare assistance, community and school nutrition programs and policy work.
Q: What's next for Alicia's Place?
Fue: We want more people to know about Alicia's Place and services offered here. We have been canvassing the local area to inform neighbors about this location, encouraging them to come by if they need assistance.
Word-of-mouth is huge, and we are hoping that people will share our location with neighbors, friends and family who may need some help with FoodShare benefits – whether that is applying for benefits, renewing, or just getting questions answered. Alicia's Place can be your local office and we can't wait to serve you!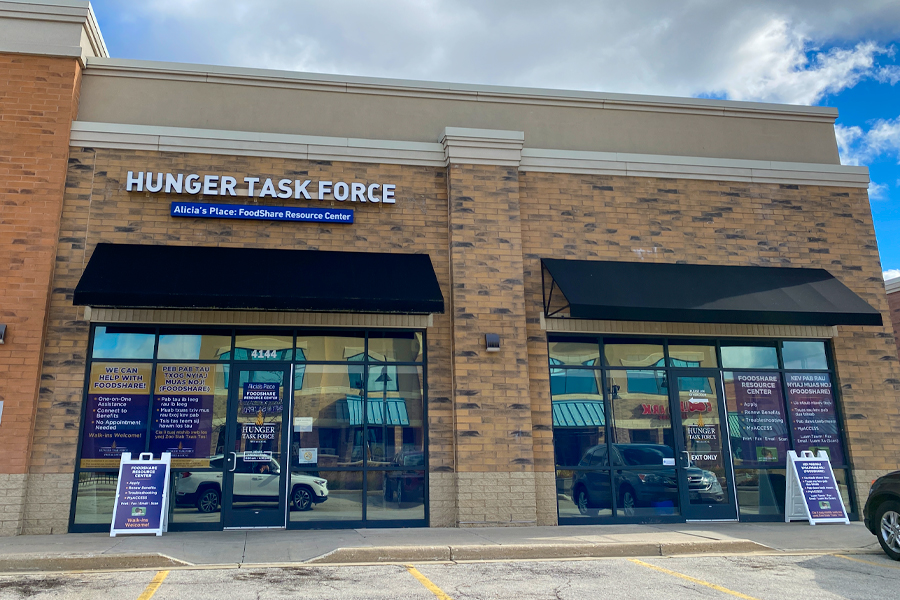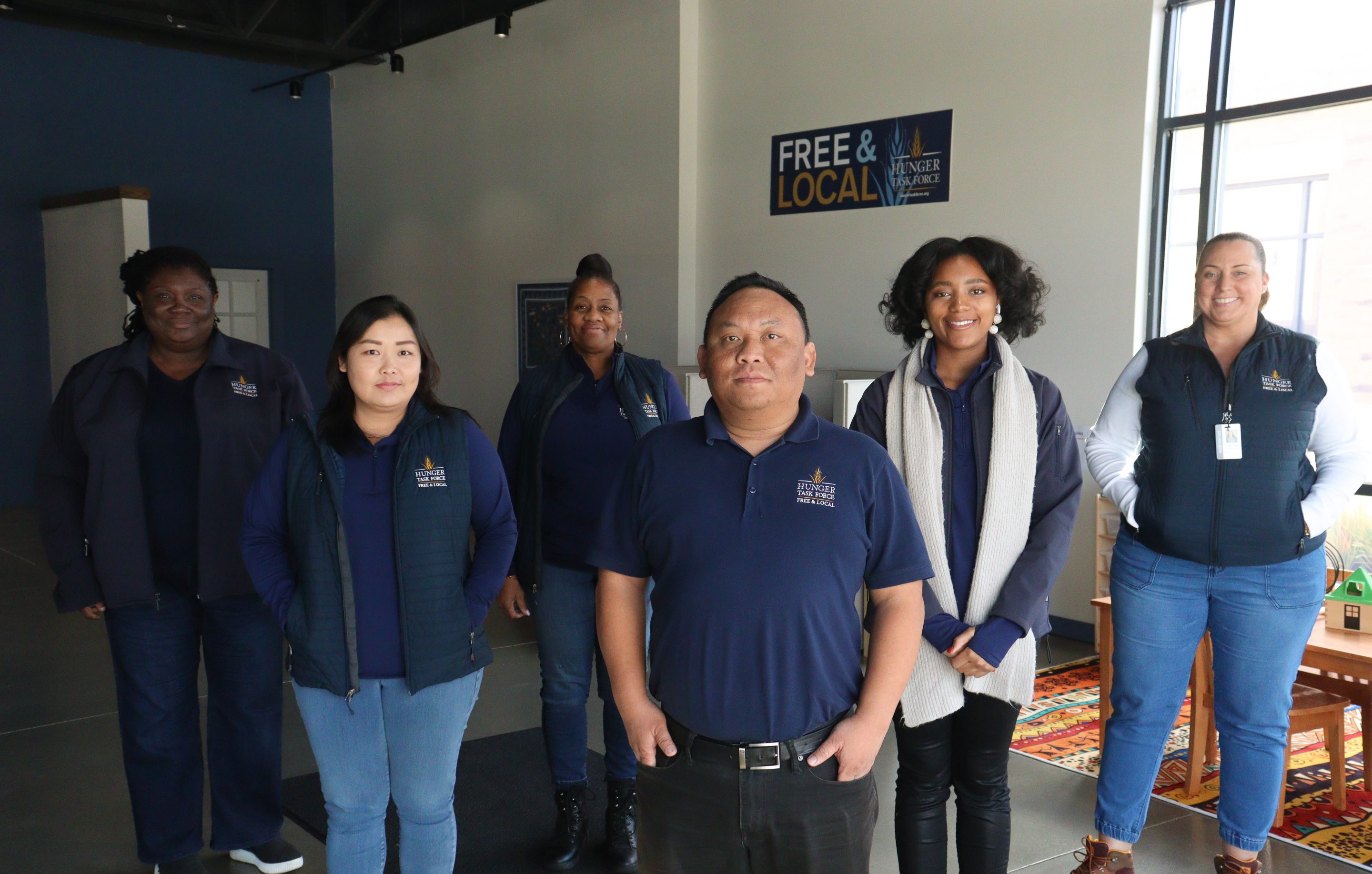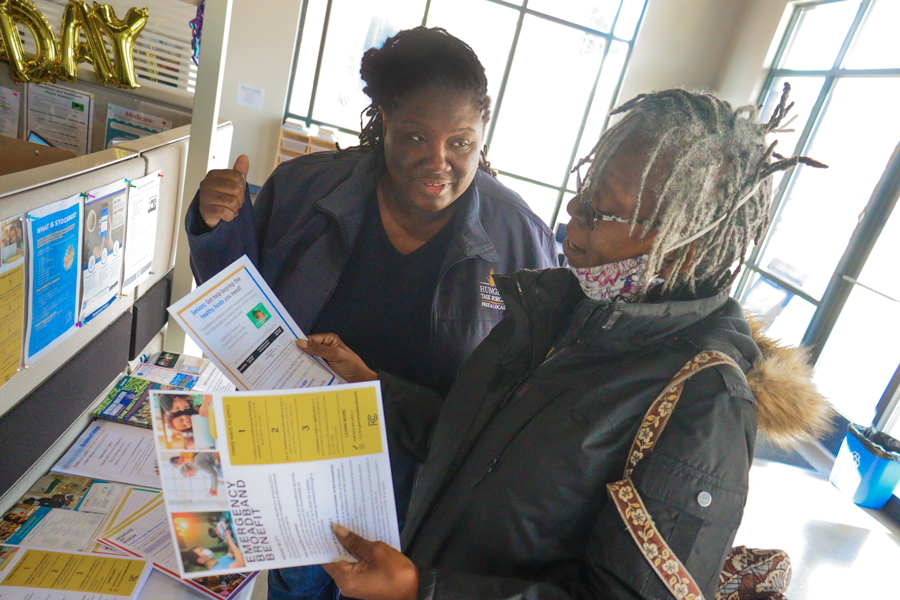 For assistance, visit Alicia's Place Food Resource Center at:
4144 N. 56th Street

(Midtown Center) or call

414.988.6501
This institution is an equal opportunity provider.
Hunger Task Force is Milwaukee's Free & Local food bank and Wisconsin's anti-hunger leader. The organization provides healthy and nutritious food to hungry children, families and seniors in the community absolutely free of charge. Hunger Task Force was founded in 1974 by a local advocacy group who then formed Milwaukee's first food bank. Today, Hunger Task Force is 100% supported by the community and provides a safety net of emergency food with dignity to a network of 75 food pantries, soup kitchens and homeless shelters. Through legislative analysis, education and community organizing, Hunger Task Force continues to advocate for anti-hunger policy at the local, state and federal level. For more information, visit HungerTaskForce.org.