Stories of Those Who Served: Hunger Task Force Honors Veterans – David McCarter, Client
November 11 is Veterans Day, and Hunger Task Force honors those who are serving, or have served, in the Armed Forces. In line with our core values – Justice, Compassion, Stewardship and Dignity – Hunger Task Force extends our deepest gratitude to clients, staff, donors and volunteers who have served our country.
David McCarter has lived in Milwaukee for the last two decades. An Army veteran of eight years, David is one of the countless working veterans struggling with hunger in Milwaukee. "I was in the Army from 1983 to 1992," shares David. "I was 19 and had just graduated high school when I enlisted." Originally from Chicago, IL, David saw the service as his opportunity to travel and acquire new skills for his future.
His fondest memory of the Army was his experience in basic training. "I met a lot of friends, and I got skills for the rest of my time in the service." After completing his training, David took up the post of Mechanical Operator, servicing radios and other machines. During his time in the service, David's desire to travel was fully realized. He was stationed all over the United States – Oklahoma, California, Texas and Georgia, to name a few.
After leaving the Army in 1992 David returned to the Midwest. In 2000, David moved to Milwaukee and found a job working for the telephone company as a Technical Operator for 15 years. He found fixing equipment and phone lines similar to what he performed while serving. "I used skills I learned working on radios in the Army at the phone company."
Though working, David still found it difficult to make ends meet. Despite holding down several jobs, David experienced homelessness and often relied on food benefits to get by. He then became aware of Hunger Task Force and was assisted by FoodShare Advocates in accessing FoodShare benefits and housing resources through the Wisconsin Veterans Network (VETSNET).
"Hunger Task Force helped me with my housing and food – they were good to me."
In 2018, David required heart surgery. "I have a medical valve in my chest now," says David. He continued working with Hunger Task Force and other veteran resource partners to access benefits to assist him with the various bills he's now balancing. "Receiving food from Hunger Task Force makes a big difference." David has also received additional health food directly from Hunger Task Force during several drive-thru distributions that took place in June through October of this year. "Milwaukee is a nice area to be in. There are a lot of people and resources helping me out here."
Each year, Hunger Task Force serves hundreds of veterans like David McCarter, providing access to healthy food and working towards a hungry-free future. This November, we thank David for his service and wish all veterans a Happy Veterans Day.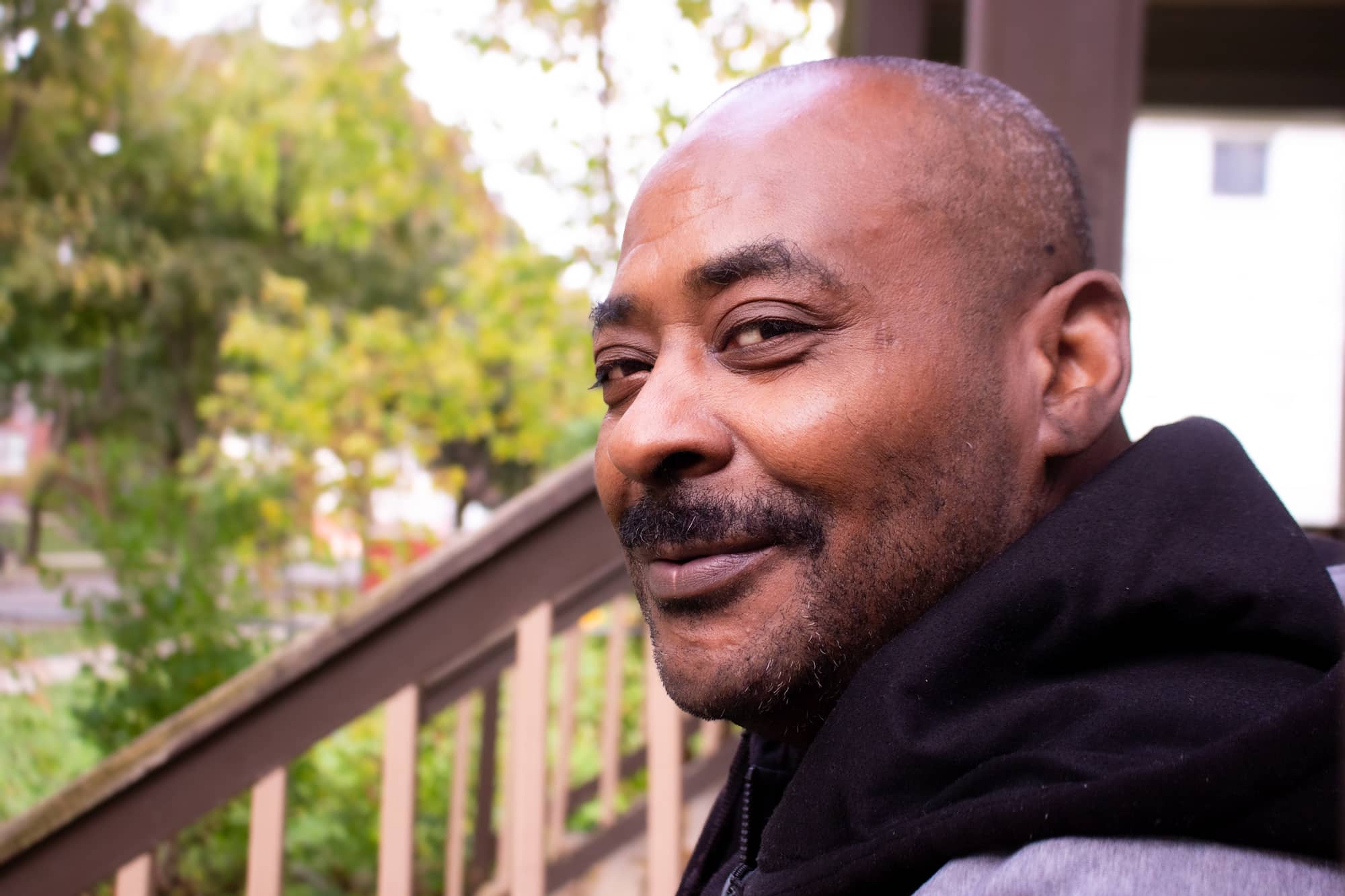 Hunger Task Force is Milwaukee's Free & Local food bank and Wisconsin's anti-hunger leader. The organization provides healthy and nutritious food to hungry children, families and seniors in the community absolutely free of charge. Hunger Task Force was founded in 1974 by a local advocacy group who then formed Milwaukee's first food bank. Today, Hunger Task Force is 100% supported by the community and provides a safety net of emergency food with dignity to a network of 75 food pantries, soup kitchens and homeless shelters. Through legislative analysis, education and community organizing, Hunger Task Force continues to advocate for anti-hunger policy at the local, state and federal level. For more information, visit HungerTaskForce.org.