Hunger Task Force rolls out Stockbox program to new Wisconsin county with aid of delivery "spokes-person"

After being let go of his job at a local university during the pandemic, Trevor Roark of Stevens Point took the opportunity to make a shift in his career – a "gear" shift if you will. In September 2020, Roark launched his new venture, Curbwise LLC – a bicycle-powered delivery service. As Owner and Pilot, Roark partners with more than 20 local vendors to pedal orders, sometimes hundreds of pounds, year-round – rain, snow or shine.
Using a utility tricycle with a large freight box in the front and rack trailing behind him, most of Roark's deliveries are boxed goods, food, supplies, books and equipment. This fall he added Hunger Task Force Stockboxes to his delivery route each month. "It's a really good feeling," says Roark, reflecting on his experiences delivering Stockboxes of nutritious, supplemental food to low-income seniors in Stevens Point. "I get to be a component on the supply chain getting food and assistance to the people that need it most."
Hunger Task Force has administered the Commodity Supplemental Food Program, known locally as Stockbox, since 2002. Initially serving only Milwaukee and Waukesha counties, the program has grown over the last two decades to serve nearly 25% of Wisconsin counties. When need was at its peak during the COVID-19 pandemic, Fond du Lac, Shawano, Winnebago, Marathon and Portage counties were added to the program.
Roark admits he wasn't previously aware of Hunger Task Force serving seniors across his community. "I actually reached out to the Aging & Disability Resource Center in Portage County to find out if they had any transportation needs." After attending a meeting between the Center, FoodWIse – UW Extension, and Hunger Task Force, Roark became a reliable source of transportation for Stevens Point area Stockboxes.
"Interacting with Hunger Task Force has been wonderful. Everything seemed to click into place," says Roark. "Everyone seemed excited about the program and were happy to get rolling…well maybe that was my job."
Now, Roark will be pedaling on each month through all kinds of weather, providing seniors with the most important necessity – healthy food. "I don't think the seniors expected their box to arrive on a bicycle," jokes Roark. "I get that sometimes."
To learn more about Curbwise LLC, visit gocurbwise.com.
For more information on Hunger Task Force and the Senior Stockbox Program, visit hungertaskforce.org/get-help/help-for-seniors.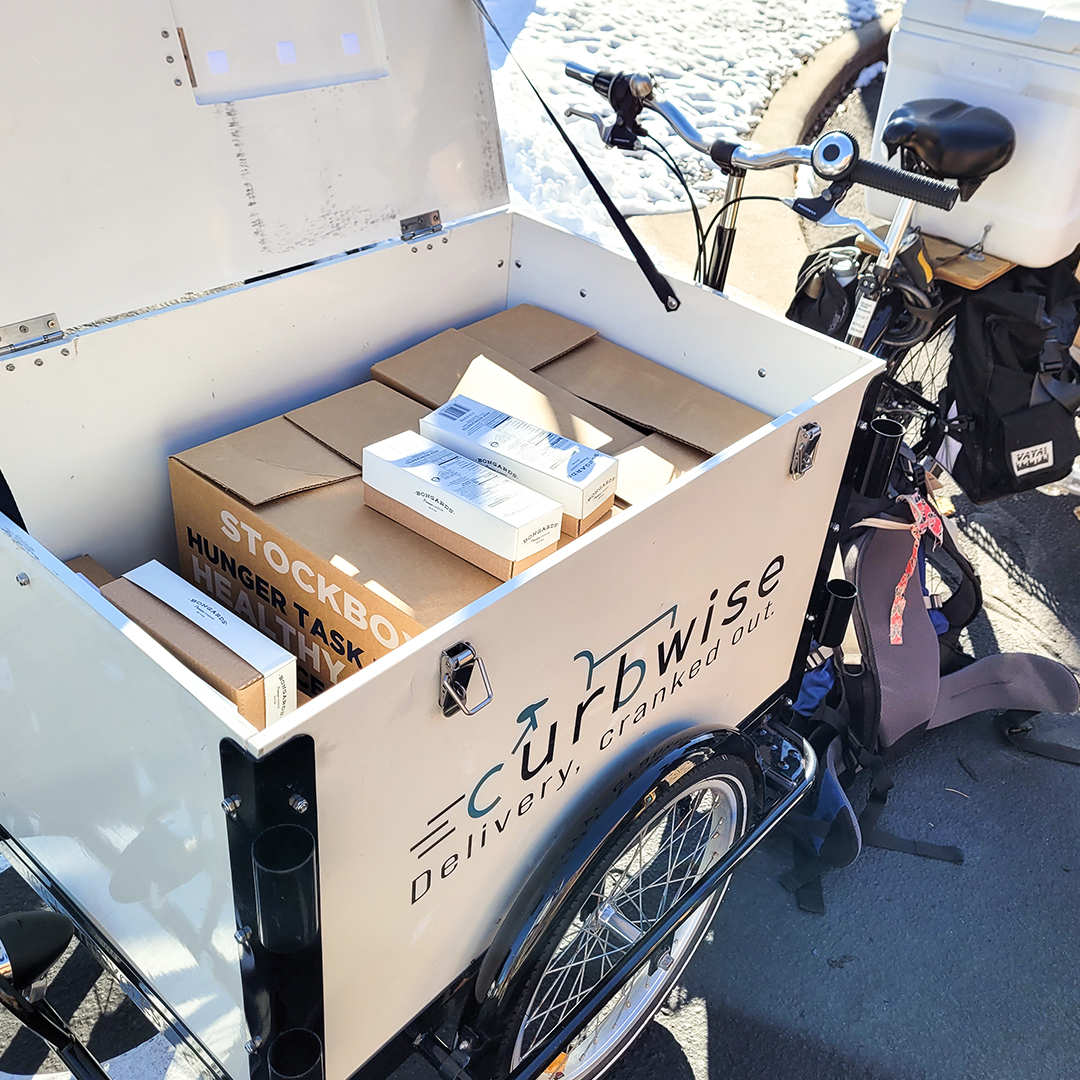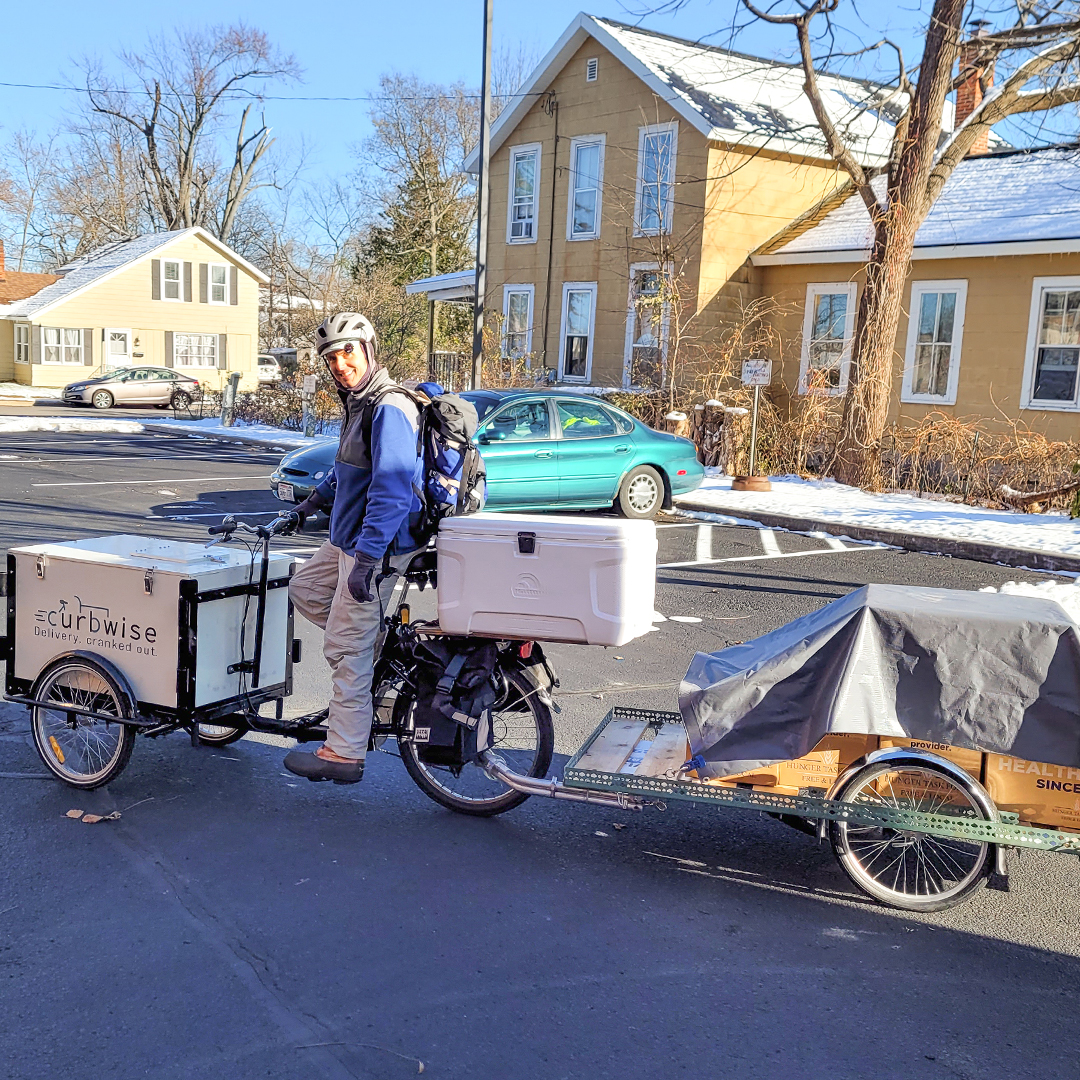 Hunger Task Force is Milwaukee's Free & Local food bank and Wisconsin's anti-hunger leader. The organization provides healthy and nutritious food to hungry children, families and seniors in the community absolutely free of charge. Hunger Task Force was founded in 1974 by a local advocacy group who then formed Milwaukee's first food bank. Today, Hunger Task Force is 100% supported by the community and provides a safety net of emergency food with dignity to a network of 75 food pantries, soup kitchens and homeless shelters. Through legislative analysis, education and community organizing, Hunger Task Force continues to advocate for anti-hunger policy at the local, state and federal level. For more information, visit HungerTaskForce.org.