Volunteer couple enjoys range of opportunities to serve at Hunger Task Force
Volunteers are an essential part of the DNA at Hunger Task Force. As critical to the mission as delivery trucks and pallets of food donations, volunteers allow Hunger Task Force to remain Milwaukee's only Free & Local food bank and Wisconsin's anti-hunger leader. Since welcoming back volunteers earlier this year, thousands of individuals and groups have supported Hunger Task Force in feeding those in need by sharing their time and talents in 2021.
Two longtime volunteers, Pat and Jay Mierendorf, couldn't wait to return as volunteers after the organization paused all outside assistance in 2020. "I'm a big believer in the organization," says Pat, a home health aide, who along with her husband, Jay, has been volunteering on and off with Hunger Task Force for nearly 30 years. "When I received the email that volunteers were welcome back earlier this year, I was so excited – I had been waiting for that!"
For a full year, as a result of the COVID-19 pandemic, Hunger Task Force went without assistance from volunteers. After managing 12 months of activities – utilizing only staff – Hunger Task Force safely brought back volunteers in March 2021. Since then, the Mierendorfs have joined nearly 6,500 volunteers who have returned to a variety of activities across the agency this year.
"It's enjoyable, and it's time spent with my wife," shares Jay, a maintenance technician at a senior residential community. "We feel so blessed. That is what drives us to give back." When not prepping a unit for a new inhabitant or assisting a resident with a maintenance issue, Jay enjoys giving his time on the Hunger Task Force Farm. "It's not easy work, but it's so rewarding."
A self-described people-person, Pat finds joy in the activities that expose her to other volunteers. Over the last several decades, the pair have contributed to a wide variety of activities and events. From Stamp Out Hunger food sorts, Mobile Market shifts, weeding at The Farm, administrative work, to collecting donations at Milwaukee summer festivals, Pat and Jay have tried their hand at just about everything. "We enjoy the variety of opportunities," says Pat. "There are so many people in the Milwaukee area that need food. We feel we're contributing to something bigger than us."
The pair choose to live by the mantra: There are two kinds of people in the world – 1) those that need help and 2) those that give help. "Since we don't need help right now," shares Pat, "we want to be the people that give help." Recently, the Mierendorfs assisted with a food distribution in the parking lot at Hunger Task Force. "It was our first time interacting directly with people receiving food," recalls Pat. Both Pat and Jay would love to see more individuals and groups volunteer with Hunger Task Force and are fierce advocates for others to get involved in any way they can with the food bank. "There's no one in this city that should be hungry," shares Jay. "The fact that everything is Free & Local – that's a wonderful thing. We're so happy to support that as volunteers."
For more information on volunteering at Hunger Task Force, visit: https://www.hungertaskforce.org/volunteer/.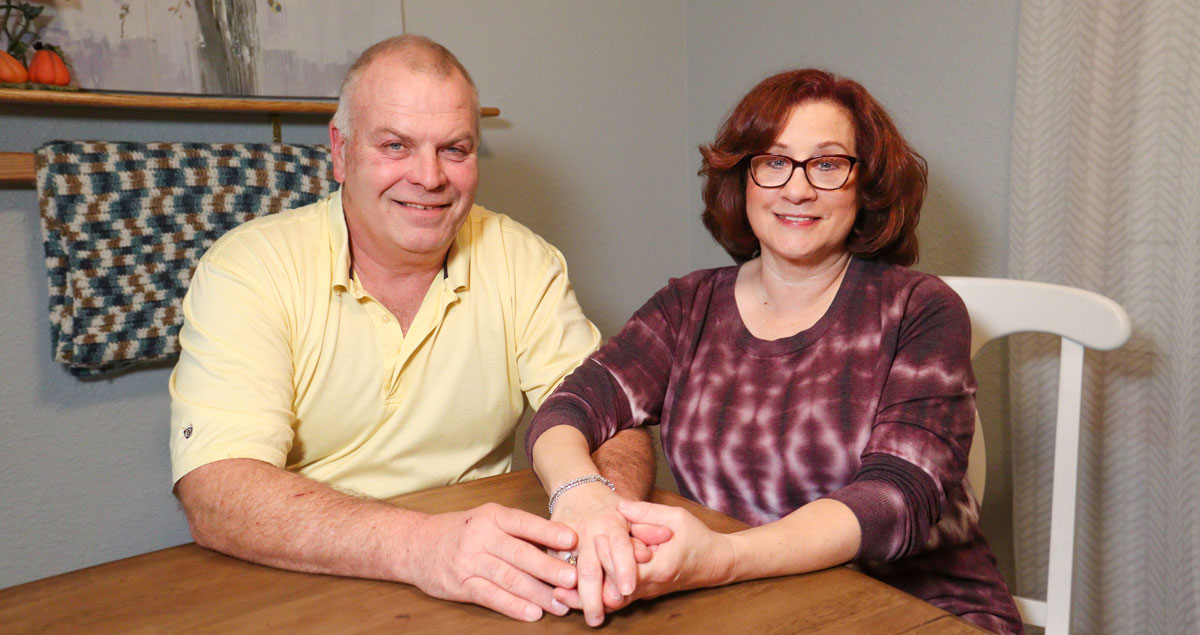 Hunger Task Force is Milwaukee's Free & Local food bank and Wisconsin's anti-hunger leader. The organization provides healthy and nutritious food to hungry children, families and seniors in the community absolutely free of charge. Hunger Task Force was founded in 1974 by a local advocacy group who then formed Milwaukee's first food bank. Today, Hunger Task Force is 100% supported by the community and provides a safety net of emergency food with dignity to a network of 75 food pantries, soup kitchens and homeless shelters. Through legislative analysis, education and community organizing, Hunger Task Force continues to advocate for anti-hunger policy at the local, state and federal level. For more information, visit HungerTaskForce.org.