Hunger Next Door photo exhibit continues tour through Wisconsin communities

Hunger Next Door is a Hunger Task Force photo project that illustrates the reality of hunger in our community. While the project debuted back in 2014, the photo exhibit has been brought to various locations over the last seven years and has been seen by countless community members, students, civic leaders, legislators and anti-hunger partners along the way.
Matt Stienstra, FoodShare Program Manager, was among the Advocacy Team staff at Hunger Task Force who led the photo project's creation. "We were seeking better ways to tell the stories of people we help," says Stienstra. "Hunger Next Door was created to remove the stigma around hunger by sharing the experiences of those accessing FoodShare [food stamps]." At the time, Milwaukee families and seniors were experiencing an increased strain on food budgets as new rules resulted in massive cuts in benefits for a quarter million Wisconsinites.
Hunger Task Force FoodShare Advocates worked thoughtfully to identify Milwaukee residents they had previously assisted to participate. Five families were chosen and given digital cameras to tell their story through photos. "We were able to work with a courageous group of people," says Stienstra. "These families generously shared their privacy with the hope of changing how we view, understand and work to end hunger, with each capturing the challenges they faced daily making ends meet so they could continue to feed themselves." The images represent the untold stories of an alarming number of Wisconsinites who know what it's like to worry about having enough food.
Hunger Next Door's inaugural showing took place at Hudson Business Lounge during the 2014 Third Ward Gallery Night. With the participating families in attendance, the public was able to experience the photo project for the very first time. Professional portraits – taken by Darren Hauck, local freelance photographer and filmmaker – accompanied the images taken by each family, deepening the impact of their photo stories. After the success at Gallery Night, it was decided that Hunger Next Door would live on as a traveling exhibit.
The first stop was the rotunda at the Wisconsin State Capitol building. "We wanted to be at the Capitol when representatives were making decisions on the state budget," recalls Stienstra. "Every time legislators traveled to the chambers where they were deciding how to spend taxpayer money, they needed to pass these images of their constituents experiencing hunger." Hunger Next Door has made several returns to the Capitol over the last seven years, one of the few locations it has repeated. Other venues where it has been displayed include libraries, university campuses, city halls, community centers and private businesses.
Bard Meier, Advocacy Campaign Manager, now coordinates and manages the installation of the traveling exhibit. "It's a pretty unique way of advocating. It tells a powerful story really simply." When not at a large site, like the Wisconsin State Capitol, the photo project is typically paired down to 2-3 of the families at each new location. "Depending on the location and make-up of the community it's being shown in, the photos will be interchanged," says Meier.
In 2019 the Hunger Relief Federation took over as the exhibit sponsor. As a statewide coalition of anti-hunger organizations and advocates working alongside Hunger Task Force, the transition allows the exhibit to be shared even more strategically across Wisconsin. The exhibits most recent tour of Kenosha-area locations was co-organized with Sharon Pomaville, Executive Director of The Sharing Center, a Kenosha County based Hunger Relief Federation member. Hunger Next Door is currently on display inside the Kenosha YMCA from December 13 – 31, 2021 before moving to the ELCA Outreach Center in Kenosha in January 2022. This stop follows month-long installations at the Kenosha County Job Center, Carthage College and UW-Parkside.
"It's important these projects are seen by policy makers and officials at the Department of Health Services (DHS), but they are also created for the general public," says Stienstra. "I can remember seeing onlookers' faces as they read the captions and digested the images taken by people who could be their next-door neighbors. It's all very impactful."
Hunger Next Door has been seen across the state and will continue in circulation with the hopes of changing minds, building empathy and forging an understanding of what hunger looks like in Wisconsin. Hunger Next Door has been displayed at numerous locations, including those listed below.
Wisconsin State Capitol
Milwaukee City Hall
Chase Towers
Outpost Natural Foods
Milwaukee Police & Fire Safety Academy
Milwaukee Water Council
Roundy's Corporate Offices
Whole Foods
Bayshore Town Center
UW-Milwaukee
Milwaukee Public Libraries
Ashland Community Center
Kenosha City Hall
Racine City Hall
LaCrosse Public Library
Waukesha Public Library
Greenfield Public Library
Pewaukee Public Library
Whitefish Bay Public Library
West Bend Public Library
Cedarburg Public Library
Burlington Public Library
Muskego Public Library
Hudson Business Lounge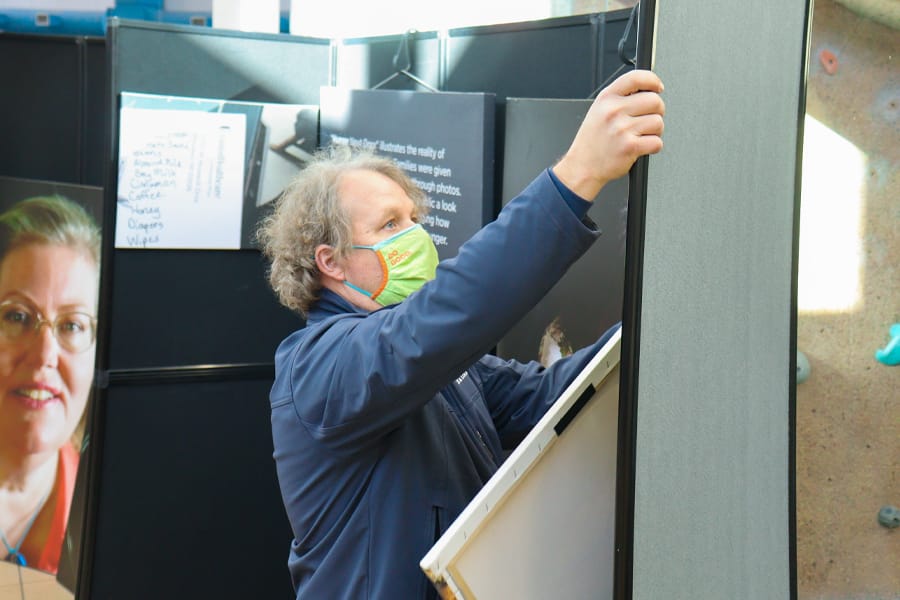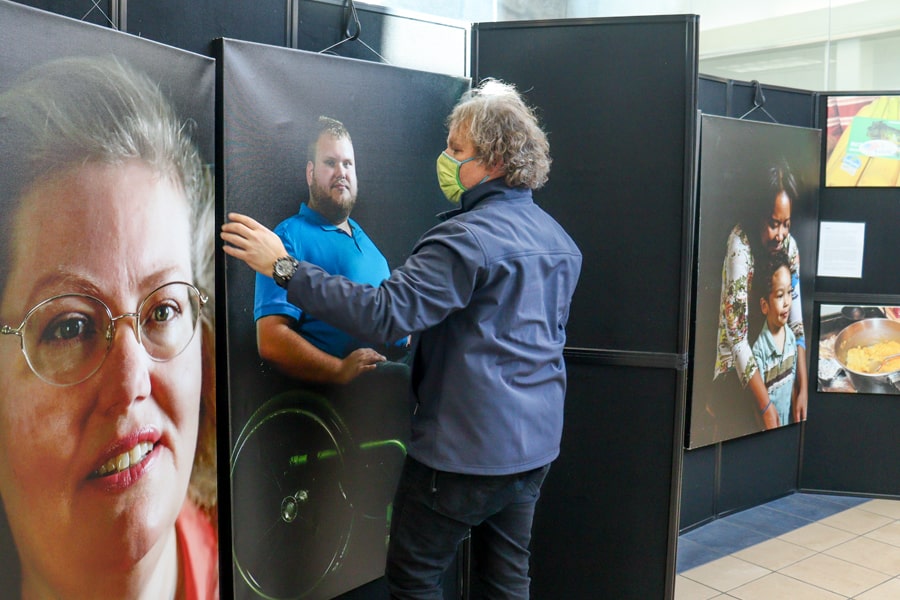 Bard Meier, Advocacy Campaign Manager, installs Hunger Next Door at the Kenosha YMCA.
2014 Third Ward Gallery Night | Hudson Business Lounge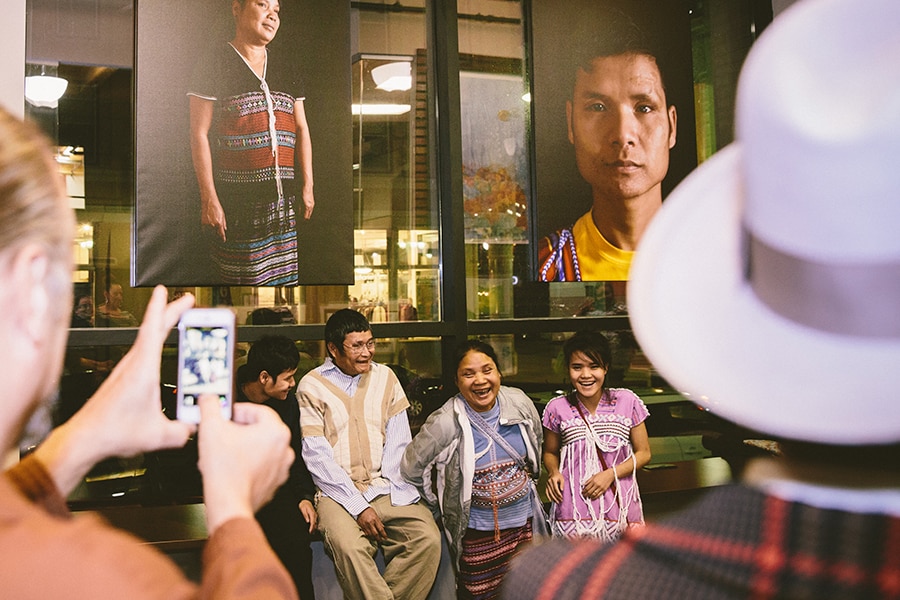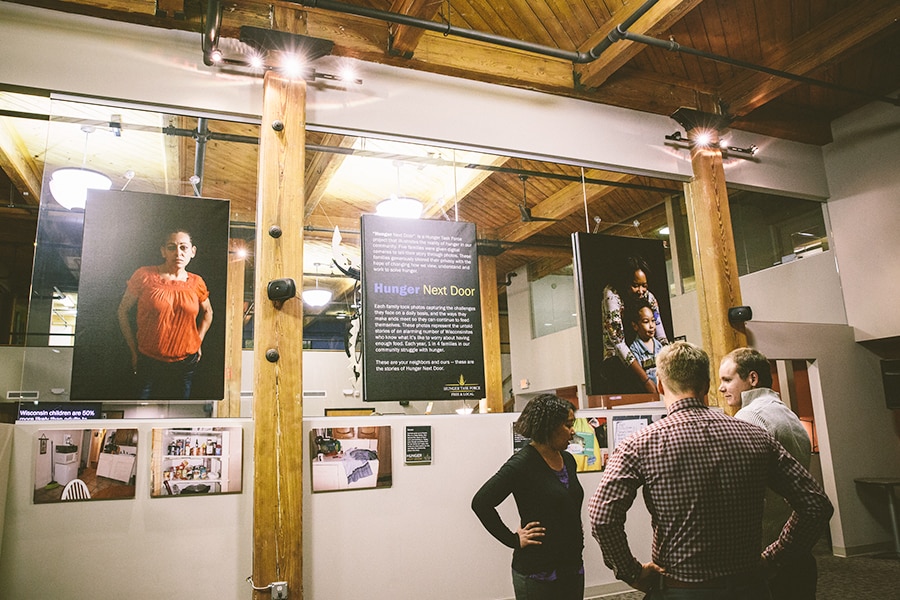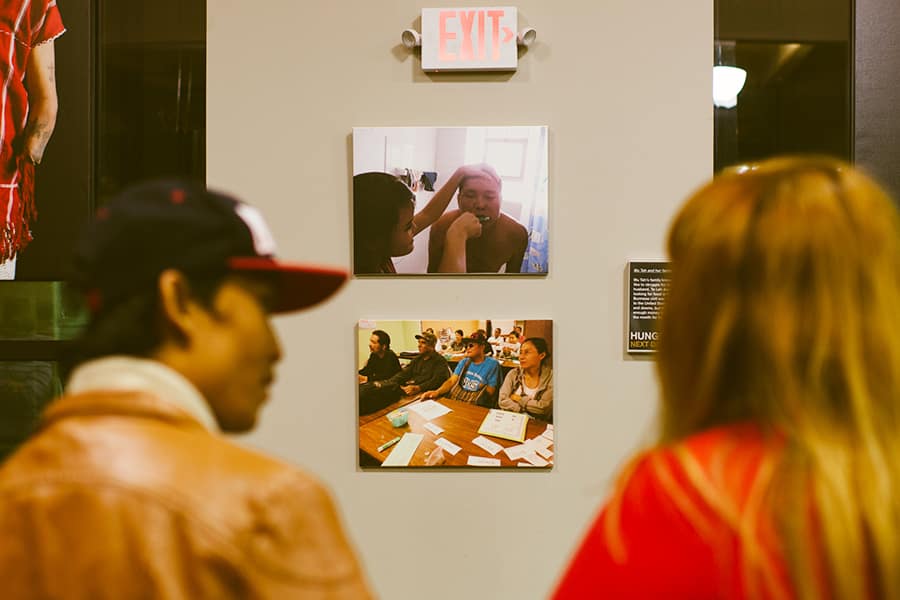 Photos courtesy of Ren Lenhof, Studio 29 Photography.
Wisconsin State Capitol | Madison, WI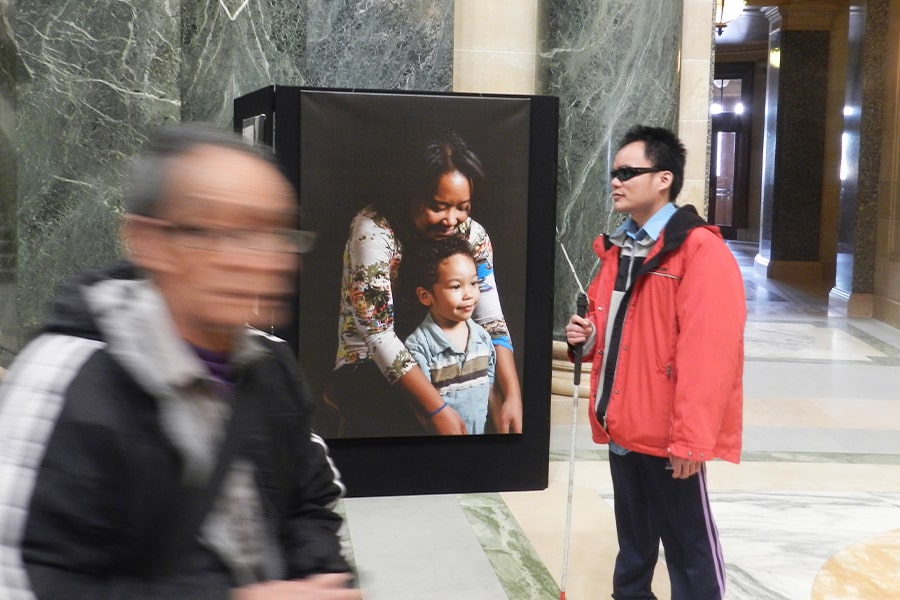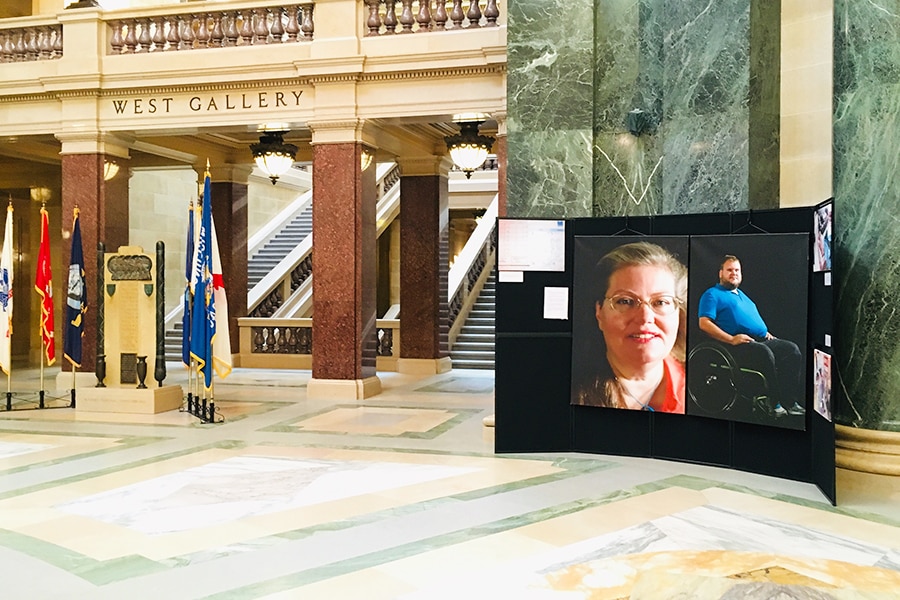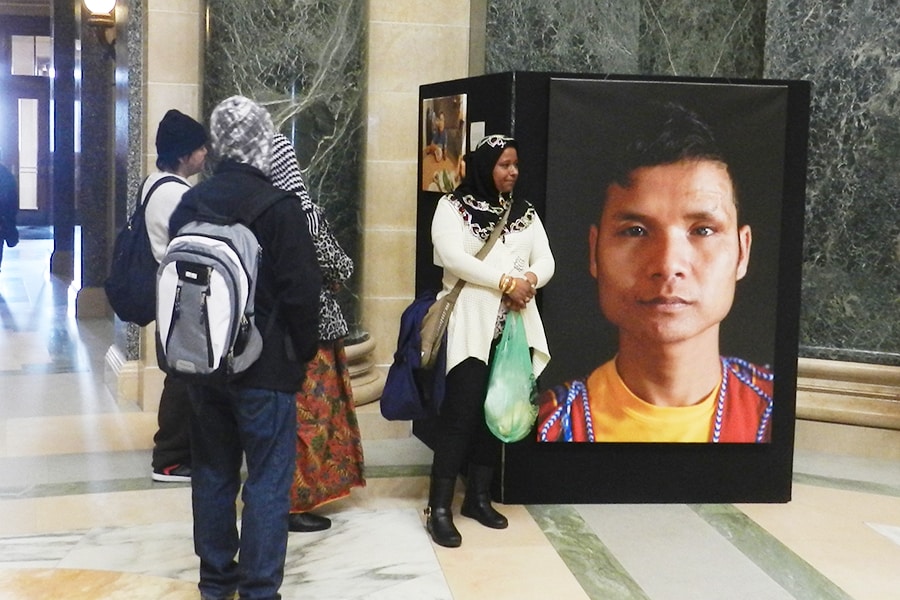 Hunger Task Force is Milwaukee's Free & Local food bank and Wisconsin's anti-hunger leader. The organization provides healthy and nutritious food to hungry children, families and seniors in the community absolutely free of charge. Hunger Task Force was founded in 1974 by a local advocacy group who then formed Milwaukee's first food bank. Today, Hunger Task Force is 100% supported by the community and provides a safety net of emergency food with dignity to a network of 75 food pantries, soup kitchens and homeless shelters. Through legislative analysis, education and community organizing, Hunger Task Force continues to advocate for anti-hunger policy at the local, state and federal level. For more information, visit HungerTaskForce.org.