Touchdowns for Hunger celebrates 19th season: Packers WR Valdes-Scantling attends virtual tailgate and Sargento presents $57,300 donation
Touchdowns for Hunger is in its 19th season and has raised more than $1.5 million to fight hunger in Wisconsin. On Tuesday, December 21, Sargento Foods Inc., in partnership with the Green Bay Packers, presented a donation to Hunger Task Force as part of the annual Touchdowns for Hunger program.
"We're proud to partner with the Sargento Foods and the Green Bay Packers for another Packers season," said Sherrie Tussler, Executive Director of Hunger Task Force. "The money raised during Touchdowns for Hunger makes a huge difference in the community and brings hope to families who might otherwise go hungry,"
As the Official Cheese of the Green Bay Packers, Sargento donates $2,000 to hunger relief efforts in Wisconsin for every touchdown the Packers score during the regular season. So far, the Packers have scored 43 touchdowns during the 2021 regular season, for a total of $86,000 – benefitting Hunger Task Force and Paul's Pantry in Green Bay.
"We believe that real food builds stronger communities; that's why we're proud to partner with Hunger Task Force for another season of Touchdowns for Hunger," said Sargento CEO Louie Gentine. "Hunger Task Force is on the front lines of hunger in our community and they share our belief that families should have access to nutritious food, no matter who they are or where they're from. We're glad to be able to thank the staff and volunteers at Paul's once again this year to celebrate Packers touchdowns."
Following the check presentation, Packers WR Marquez Valdes-Scantling visited Hunger Task Force volunteers and members of the Hunger Relief Federation through Zoom for a "virtual tailgate party" with trivia, bingo and prizes.
Since it began in 2002, Touchdowns for Hunger has raised over $1.5 million to help alleviate hunger in Wisconsin and has provided more than one million meals to help those in need.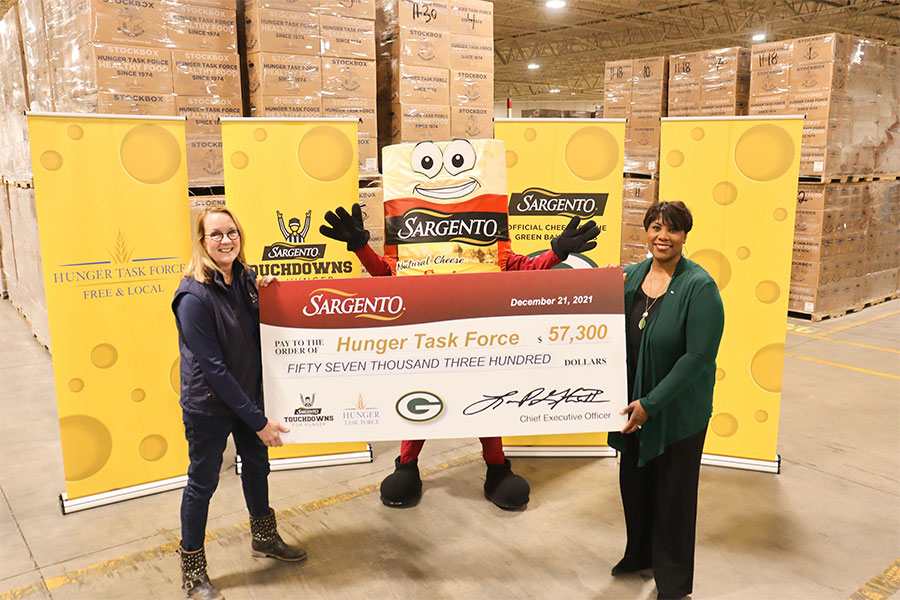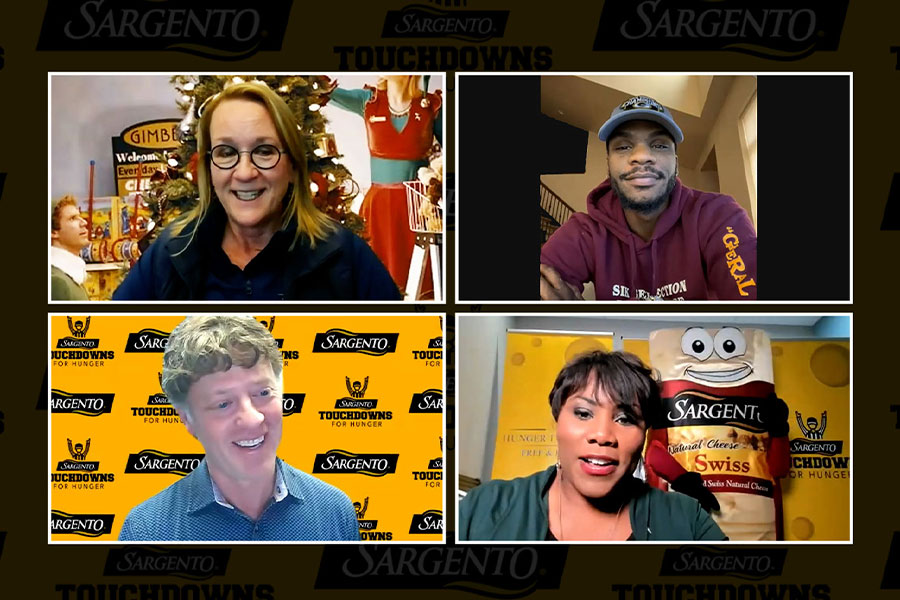 About Hunger Task Force
Hunger Task Force is Milwaukee's Free & Local food bank and Wisconsin's anti-hunger leader. The organization provides healthy and nutritious food to hungry children, families and seniors in the community absolutely free of charge. Hunger Task Force was founded in 1974 by a local advocacy group who then formed Milwaukee's first food bank. Today, Hunger Task Force is 100% supported by the community and provides a safety net of emergency food with dignity to a network of 75 food pantries, soup kitchens and homeless shelters. Through legislative analysis, education and community organizing, Hunger Task Force continues to advocate for anti-hunger policy at the local, state and federal level. For more information, visit HungerTaskForce.org.