Hunger Task Force celebrates another season of Block Out Hunger with Cousins Subs and the Bucks
For the seventh consecutive season, Cousins Subs and the Milwaukee Bucks teamed up to fight hunger across the state of Wisconsin through the Block Out Hunger campaign. For every blocked shot by the Bucks during the 2021-22 regular season, Cousins Subs donated $50 to Hunger Task Force. As a result of the Milwaukee Bucks blocking 326 shots, Cousin Subs donated $16,300 to provide nutritious foods, including milk, to the nearly 50,000 Milwaukee residents served each month by Hunger Task Force.
"We work to make sure that all kids, families and seniors have healthy food on the table," said Jonathan Hansen, Development Director at Hunger Task Force. "Hunger Task Force's role as an anti-hunger leader has grown over the last few years to include the entire state. These partnerships make it possible to provide strong support for our growing networks throughout Wisconsin."
"Through our Make It Better Foundation, we provide financial support to address the vital community need of hunger," said Justin McCoy, Vice President of Marketing at Cousins Subs and Vice President of the Make It Better Foundation. "Fighting hunger is near and dear to Cousins Subs' heart, and we couldn't be prouder to support our community."
The check presentation was held on the Bucks' home court at the Fiserv Forum and included special guests from Story School and Longfellow Elementary School. Excited students were gifted Bucks swag before meeting Bango and enjoy a delicious lunch provided by Cousins Subs.
Kareeda Chones-Aguam, Senior Vice President for Partnership Strategy and Management for the Milwaukee Bucks and Fiserv Forum, shared, "As a proud board member of Hunger Task Force, I'm excited to help celebrate this achievement."
Since its inception in the 2015-16 season, the Block Out Hunger campaign has raised more than $131,000 to support Hunger Task Force. "The need continues to be very high in our community, and across the state," said Hansen. "We would encourage others to follow Cousins Subs' leadership example to get involved and support Hunger Task Force."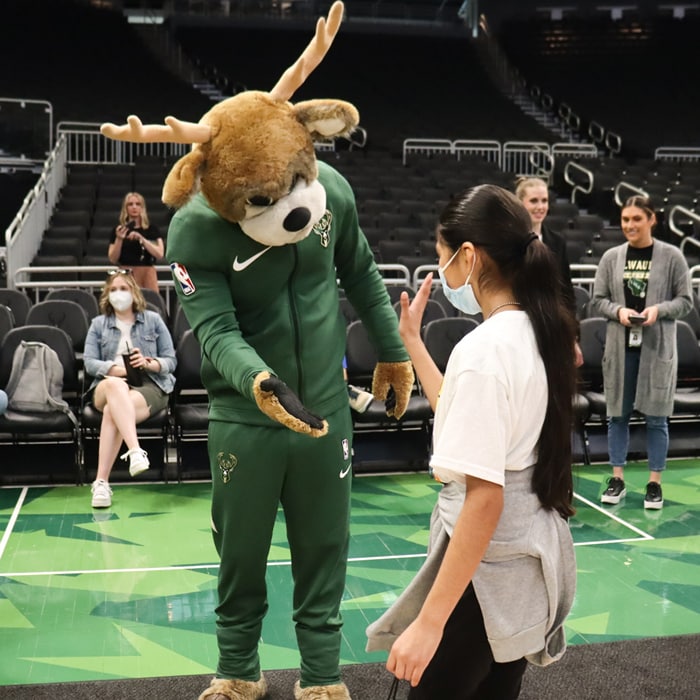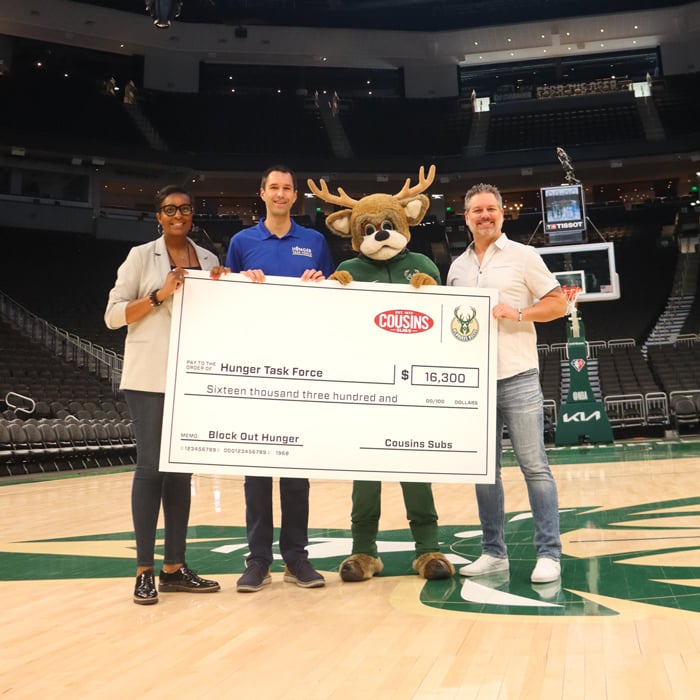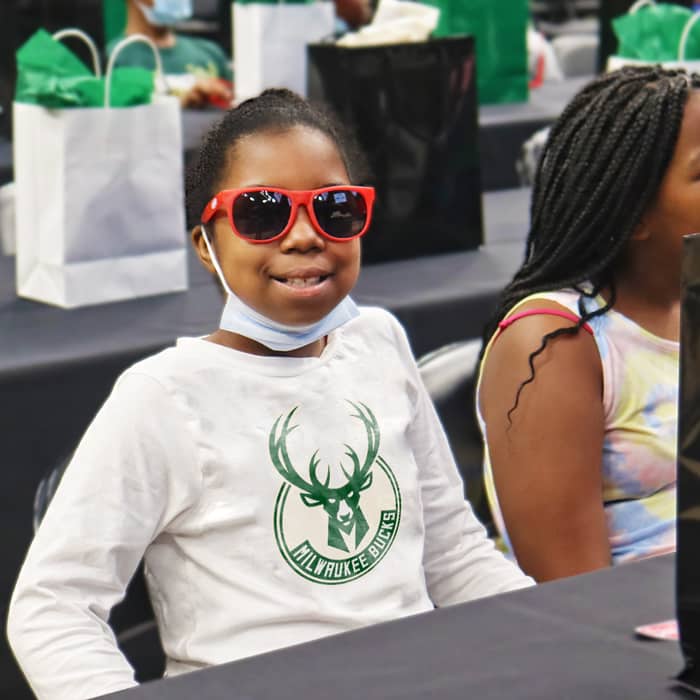 Hunger Task Force is Milwaukee's Free & Local food bank and Wisconsin's anti-hunger leader. The organization provides healthy and nutritious food to hungry children, families and seniors in the community absolutely free of charge. Hunger Task Force was founded in 1974 by a local advocacy group who then formed Milwaukee's first food bank. Today, Hunger Task Force is 100% supported by the community and provides a safety net of emergency food with dignity to a network of 75 food pantries, soup kitchens and homeless shelters. Through legislative analysis, education and community organizing, Hunger Task Force continues to advocate for anti-hunger policy at the local, state and federal level. For more information, visit HungerTaskForce.org.