Stamp Out Hunger returns with online option to support letter carriers' drive for 2022
After being cancelled the last two years due to the COVID-19 pandemic, the nation's largest single-day food drive returned this month. The National Association of Letter Carriers (NALC) Stamp Out Hunger campaign, ordinarily the second Saturday in May, is happening right now – virtually! Founded in the mid-1990s by the NALC, Stamp Out Hunger was created in response to the poverty letter carriers saw each day through their service routes.
"Letter carriers deliver mail six days a week to every address across the county," shares Ron Kania, President, Branch 2. "We see our customers struggling to get by and wanted to help solve the pervasive hunger we saw throughout our community."
Stamp Out Hunger typically has letter carriers performing double duty by collecting bags of donated food along their mail routes. Previously, residents filled plastic bags with donated food and set them by their mailboxes. Letter carriers would then pick up the food donations and deliver them to Hunger Task Force. The decision to host this annual drive online was made in January during the height of the omicron subvariant surge. "We wanted to air on the side of caution to keep our staff and the volunteers safe."
"People can still participate in the food drive this year," ensures Kania. "You can donate directly to local pantries or give through our online drive to Hunger Task Force. Right now, this is the safest way to still help out families who are struggling."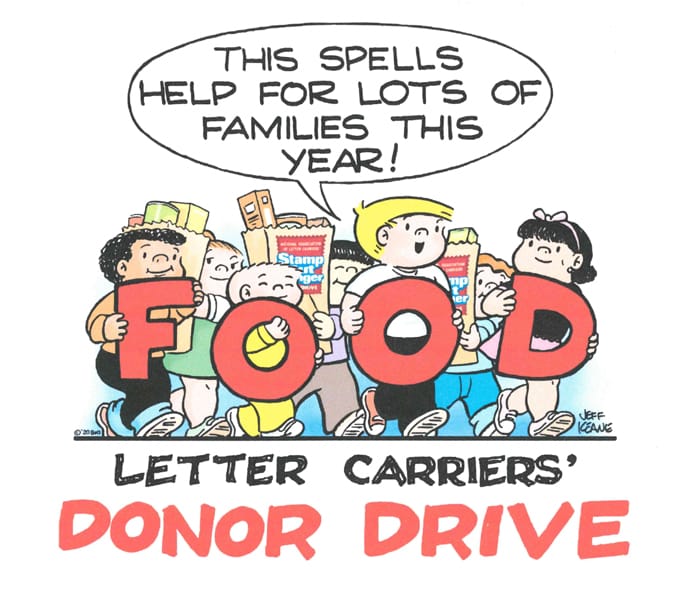 Hunger Task Force is Milwaukee's Free & Local food bank and Wisconsin's anti-hunger leader. The organization provides healthy and nutritious food to hungry children, families and seniors in the community absolutely free of charge. Hunger Task Force was founded in 1974 by a local advocacy group who then formed Milwaukee's first food bank. Today, Hunger Task Force is 100% supported by the community and provides a safety net of emergency food with dignity to a network of 75 food pantries, soup kitchens and homeless shelters. Through legislative analysis, education and community organizing, Hunger Task Force continues to advocate for anti-hunger policy at the local, state and federal level. For more information, visit HungerTaskForce.org.