Volunteer of the Month: Larry Halter | October 2022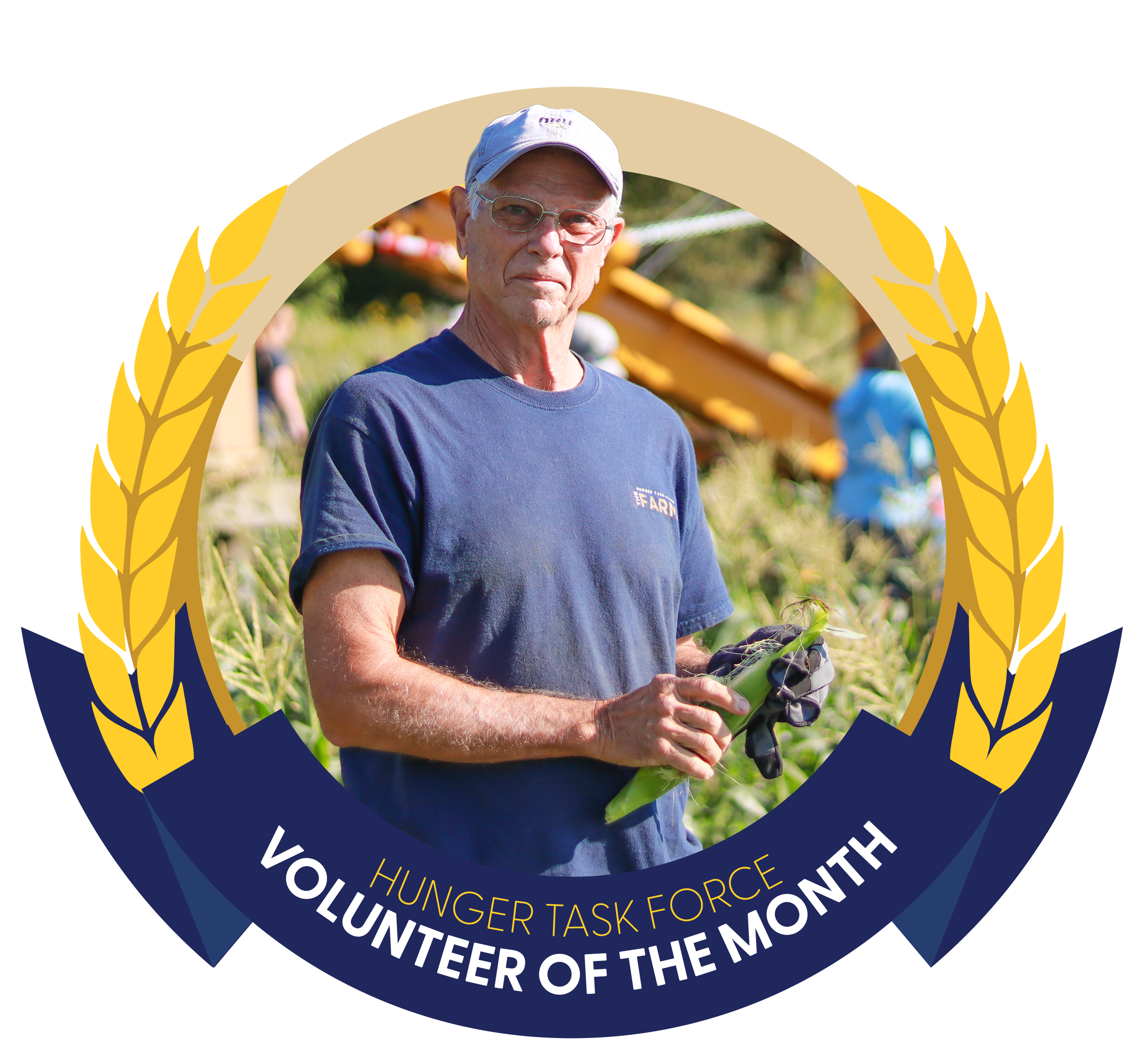 Each month Hunger Task Force is honored to recognize an individual or organization that goes above and beyond in their service to the organization.
Hunger Task Force relies on the help of more than 16,000 generous volunteers every year. From food sorting and building healthy food boxes for seniors to helping individuals shop the Mobile Market and harvesting at The Farm, volunteers help Hunger Task Force feed people today and support our work in ending future hunger.
Larry Halter has a long history of volunteering at the Hunger Task Force Farm. Since 2012, Larry has been a regular presence at The Farm, volunteering one or twice a week during the full harvest season (May – October). His consistency, dependability and passion to feed others has made Larry an exemplary volunteer at Hunger Task Force. We couldn't be happier to honor Larry Halter as our Volunteer of the Month for October 2022.
Q: When did you start volunteering with Hunger Task Force?
Larry: I've been volunteering with Hunger Task Force since the spring of 2012. Most of my efforts have been dedicated to The Farm.
Q: What volunteer activities do you help with?
Larry: I've helped with food sorts and Stockbox builds at the food bank, but I mostly volunteer at the Hunger Task Force Farm in Franklin. I've planted, harvested, assisted in the fish hatchery, cleaned up trails in the oak savannah natural area, split wood for county firewood, net fish and delivered fish to the parks, built hoop houses, helped in the orchards and participated in cleaning fish each year at the Brew City Fishing Tournament at McKinley Marina.
Q: What's your favorite part about volunteering?
Larry: Working at the fish hatchery at The Farm. I also really appreciate the flexible volunteer schedule. I feel trusted by the Hunger Task Force staff and appreciate the independence during my shifts to get stuff done. I've had the ability to participate in almost everything [the Hunger Task Force staff] do at The Farm, so I feel like a natural leader when working with first-time volunteers. Lastly, the staff is always super appreciated and share a "thank you" every time I volunteer.
Q: How did you get involved?
Larry: My grandfather owned a dairy farm on 40th and Ryan Road, so I grew up around agriculture. I currently live in Franklin and was interested in learning more about the fish hatchery at The Farm, so I called Matt King, who is currently Hunger Task Force's Associate Director, but who previously held the role of Farm Manager. I also live my life by certain teachings and have always connected with John 21:17 [Jesus said, "Feed my sheep."]. I work to help do that through volunteering with this incredible organization.
Q: Why do you continue to volunteer with Hunger Task Force?
Larry: I enjoy the variety of projects to help with, and I'm continuously impressed by the dedication and professionalism of the staff. The work is well organized, and I've enjoyed being involved in many aspects of the total operation happening at the Hunger Task Force Farm.
Q: What would you tell someone who is thinking about volunteering at Hunger Task Force?
Larry: I've been impressed with the overall organization! The Hunger Task Force team is professional, effective, quality-focused and dedicated to continuous improvement. I always appreciated knowing that I'm contributing to a larger goal.
Hunger Task Force is Milwaukee's Free & Local food bank and Wisconsin's anti-hunger leader. The organization provides healthy and nutritious food to hungry children, families and seniors in the community absolutely free of charge. Hunger Task Force was founded in 1974 by a local advocacy group who then formed Milwaukee's first food bank. Today, Hunger Task Force is 100% supported by the community and provides a safety net of emergency food with dignity to a network of 75 food pantries, soup kitchens and homeless shelters. Through legislative analysis, education and community organizing, Hunger Task Force continues to advocate for anti-hunger policy at the local, state and federal level. For more information, visit HungerTaskForce.org.