Hunger Task Force Kicks Off Annual Food For Families Holiday Drive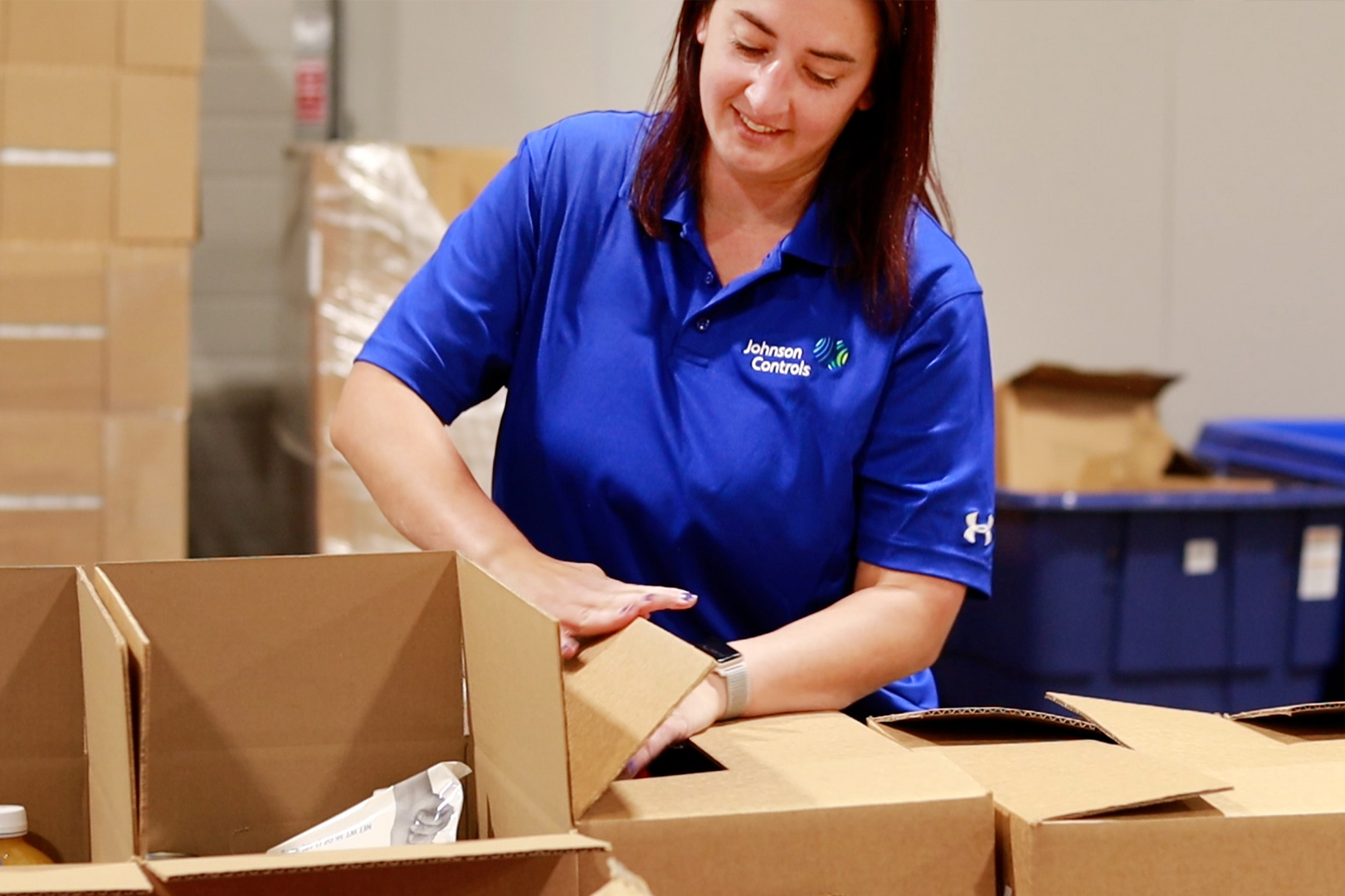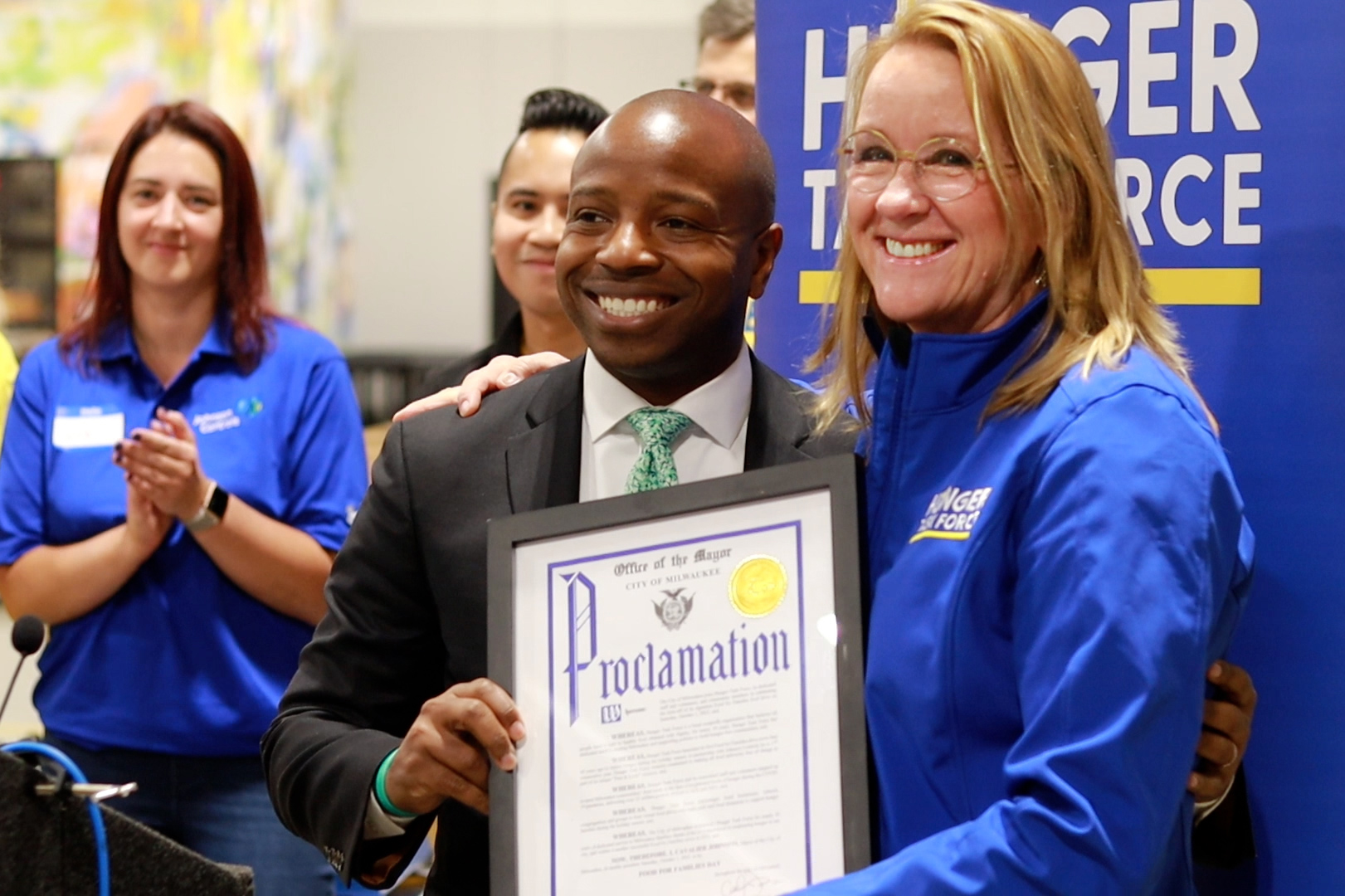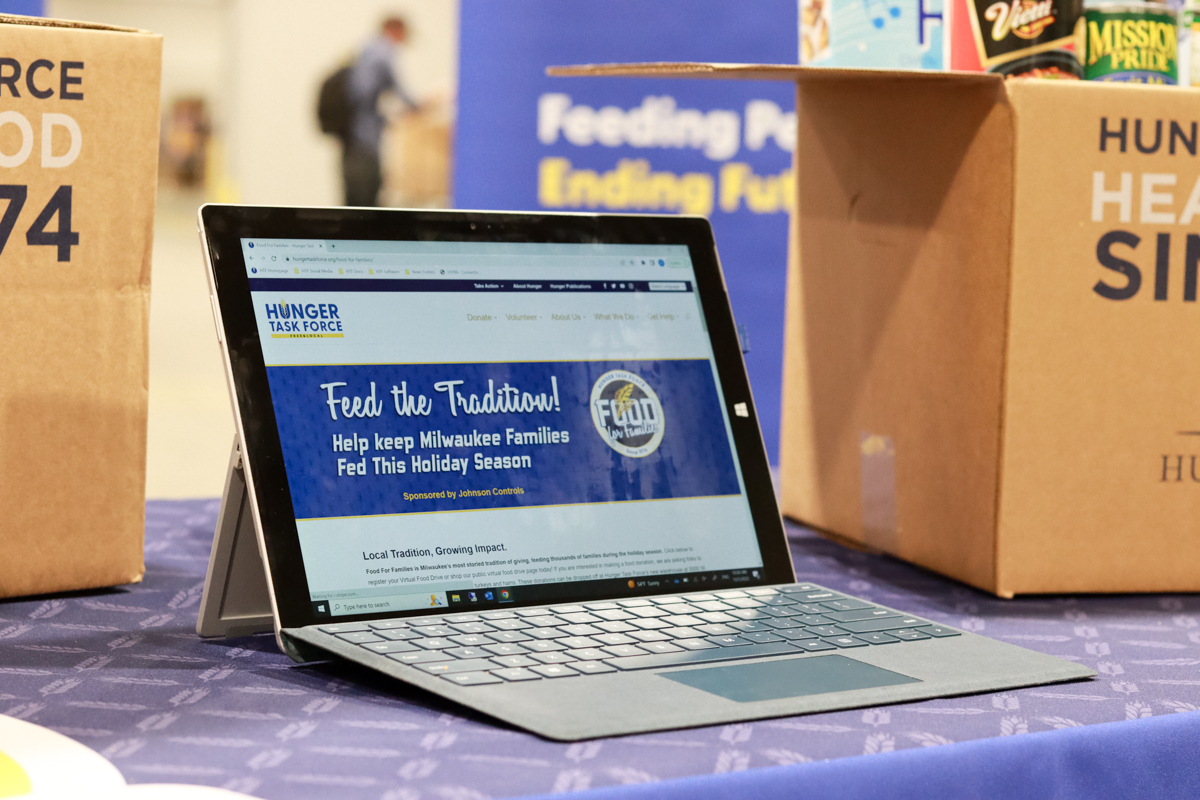 Milwaukee Mayor and County Executive Honor Food For Families with City and County Proclamations 
Hunger Task Force and Johnson Controls have teamed up for the 17th year to kick off the Food For Families holiday drive. Johnson Controls has been the Food For Families signature sponsor since 2006, with the signature holiday drive launching more than 40 years ago to reduce hunger during the holiday season, with the tradition of giving carrying on today! This year's Food For Families holiday drive runs from October 1 – December 31, 2022.
Hunger Task Force was honored to have two special guests at this year's event. Milwaukee Mayor Cavalier Johnson proclaimed Saturday, October 1 as Food For Families Day and Luis Hernandez on behalf of the office of the Milwaukee County Executive, David Crowley, proclaimed Monday, October 3, as Food For Families Day.
"Hunger Task Force has been such an incredible partner in addressing the issues of not only poverty but hunger in our community for a number of years," said Mayor Johnson. "It is my pleasure to be here to deliver a proclamation from the City of Milwaukee to recognize this occasion."
"For weeks, the media and social media has been talking about fall traditions, leaves and sweaters and of course pumpkin spice lattes," said Luis Hernandez. "But today, we're talking about a real tradition, a Milwaukee tradition that makes an impact in people's lives – the Food for Families drive."
This year's campaign will once again offer the easy and popular Virtual Food Drive option as a way for the community to make the biggest impact on local hunger during Food For Families holiday drive. Virtual Food Drives are crucial to supplying hungry families in the Milwaukee community with the holidays' most important necessity—healthy food.
"At Johnson Controls, we've already kicked off our Food For Families campaign, and I'm excited to share that we raised $14,430 for the Food Families campaign," said Brenna Holly, Senior Director, Corporate Philanthropy, Johnson Controls. "We hope our example inspires many companies, organizations and even book clubs and friend groups to host Virtual Food Drives and support Hunger Task Force this year!"
This fall, local families will need the community's support like never before. In Milwaukee, nearly 30% of children live in poverty and go to bed hungry. With rising food and gas prices, Milwaukee pantry traffic has steadily increased throughout the year to over 31,000 people each month. Hunger Task Force and Johnson Controls are calling on all local businesses, large and small, worship groups, book clubs, neighbors, friends and family to join in on Milwaukee's tradition of generosity and participate in this year's Food for Families campaign.
The Food For Families drive is "about kids, it's about families, it's about our community, it's about helping somebody else and that somebody else might be your neighbor or someone who lives very close to you," said Sherrie Tussler, executive Director, Hunger Task Force to close out the event. "You can make a difference; all you have to do is make this decision to give food or money during the holidays to make sure someone else can have a great holiday season."
For more information on Food For Families and Virtual Food Drives, visit: www.HungerTaskForce.org/food-for-families
Hunger Task Force is Milwaukee's Free & Local food bank and Wisconsin's anti-hunger leader. The organization provides healthy and nutritious food to hungry children, families and seniors in the community absolutely free of charge. Hunger Task Force was founded in 1974 by a local advocacy group who then formed Milwaukee's first food bank. Today, Hunger Task Force is 100% supported by the community and provides a safety net of emergency food with dignity to a network of 75 food pantries, soup kitchens and homeless shelters. Through legislative analysis, education and community organizing, Hunger Task Force continues to advocate for anti-hunger policy at the local, state and federal level.