Volunteer of the Month: Harley-Davidson | November 2022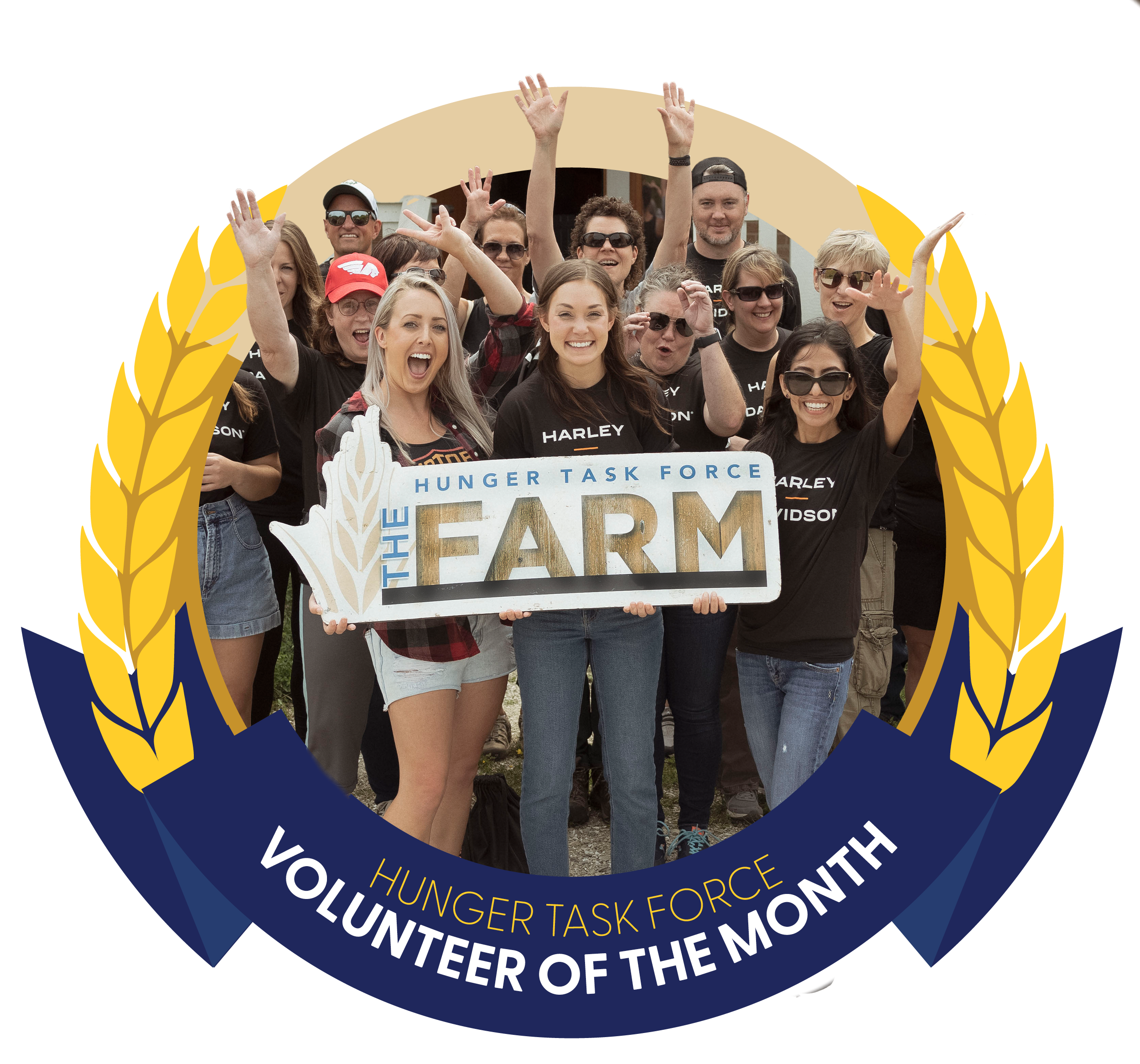 Each month Hunger Task Force is honored to recognize an individual or organization that goes above and beyond in their service to the organization.
Hunger Task Force relies on the help of more than 16,000 generous volunteers every year. From food sorting and building healthy food boxes for seniors to helping individuals shop the Mobile Market and harvesting at The Farm, volunteers help Hunger Task Force feed people today and support our work in ending future hunger.
The Harley-Davidson Foundation has been The Farm's signature sponsor for the past 10 years! Hunger Task Force appreciates Harley-Davidson's continued partnership in the fight against hunger, and their support, leadership and volunteerism has helped grow over five million pounds of fresh fruits and vegetables for those in need. In 2022, the Foundation renewed its commitment to the Hunger Task Force Farm with a 3-year, $1.5 million grant. We are thrilled to have their continued partnership in the fight against hunger, and we couldn't be happier to honor our friends at Harley-Davidson as Volunteer(s) of the Month for November 2022.
Why is it important to your organization to give back?
Harley-Davidson is proud of our longstanding commitment to Milwaukee's Near West Side and signature partnership initiative with Hunger Task Force that helps to feed our local community. Our communities across the globe are at the heart of what we do. Together with the Harley-Davidson Foundation, we are committed to driving shared prosperity, addressing inequity, and making a positive impact in our communities. As part of Harley-Davidson's Inclusive Stakeholder Management approach to business, we work every day to deliver social profit and ensure that as we thrive, our communities do as well.
How does volunteering as an organization affect the culture of your workplace?
Harley-Davidson employees make up the majority of volunteers who power the engine of The Farm's labor force, helping farmers weed, seed, plant, harvest and package fresh fruits and vegetables donated to benefit families in our hometown. Our employees are driven by a sense of purpose and the positive impact they personally can have through volunteering in the communities where they work and/or live. Our employees also benefit by connecting with others through their volunteering experiences.
What's been your most memorable experience volunteering, and what types of activities have you participated in?
As a founding partner of The Farm with Hunger Task Force in 2012, our continued support and role to help nurture families in our hometown communities, with more than 4.2 million pounds of fresh locally grown produce at no cost, is truly special. Working the land in support of real people in our home community is an energizing and rewarding experience for our employees. Year after year, the majority of our employees return to The Farm to continue to support this important initiative and share their rewarding experience with others.
Why do you continue to pick Hunger Task Force?
The Harley-Davidson Foundation has been a long-standing supporter of Hunger Task Force. Last year we celebrated our 10-year anniversary and reflected on the impact we've made since 2012 including, providing more than 4,500 Harley-Davidson employee to volunteer a cumulative 12,500 hours dedicated to harvesting 500,000 pounds of fresh produce, restoring 25 acres of mixed habitat (woodlands, wetlands, & riparian buffer zones) to improve water quality of the Root River and Lake Michigan, planting 23 acres of prairie for pollinators and constructing over 2 miles of hiking trails for the community to enjoy.
We continue to nurture our partnership with Hunger Task Force to support a hunger-free community through access to fresh produce, innovative food solutions, and strong sustainability practices and look forward to further engaging our employees and with the community to make an impact.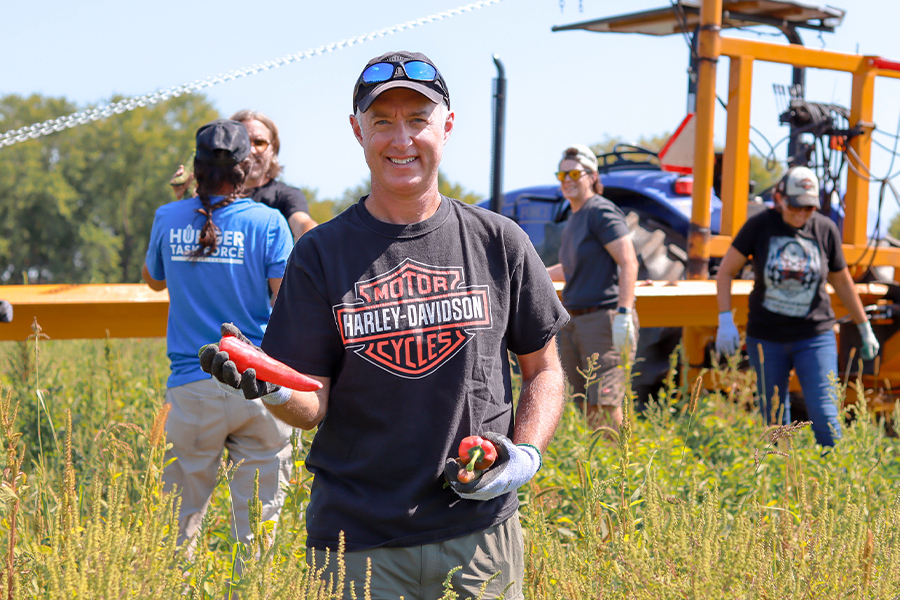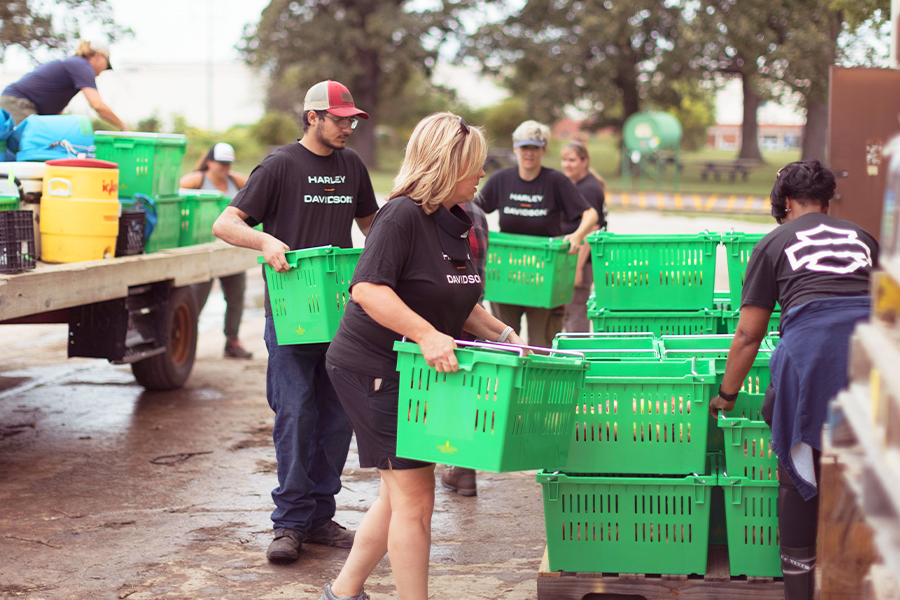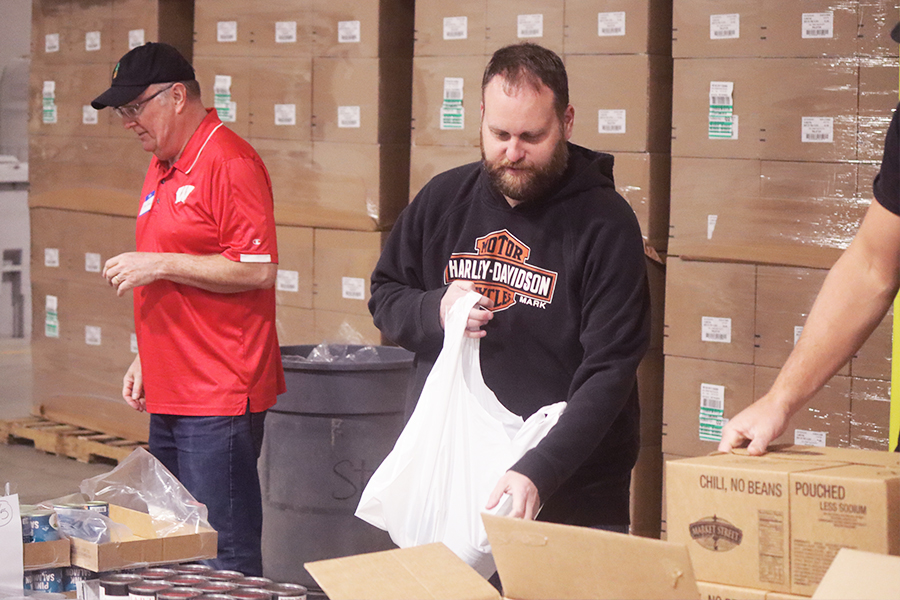 Hunger Task Force is Milwaukee's Free & Local food bank and Wisconsin's anti-hunger leader. The organization provides healthy and nutritious food to hungry children, families and seniors in the community absolutely free of charge. Hunger Task Force was founded in 1974 by a local advocacy group who then formed Milwaukee's first food bank. Today, Hunger Task Force is 100% supported by the community and provides a safety net of emergency food with dignity to a network of 75 food pantries, soup kitchens and homeless shelters. Through legislative analysis, education and community organizing, Hunger Task Force continues to advocate for anti-hunger policy at the local, state and federal level. For more information, visit HungerTaskForce.org.