Volunteer of the Month: Mary Burgoon | December 2022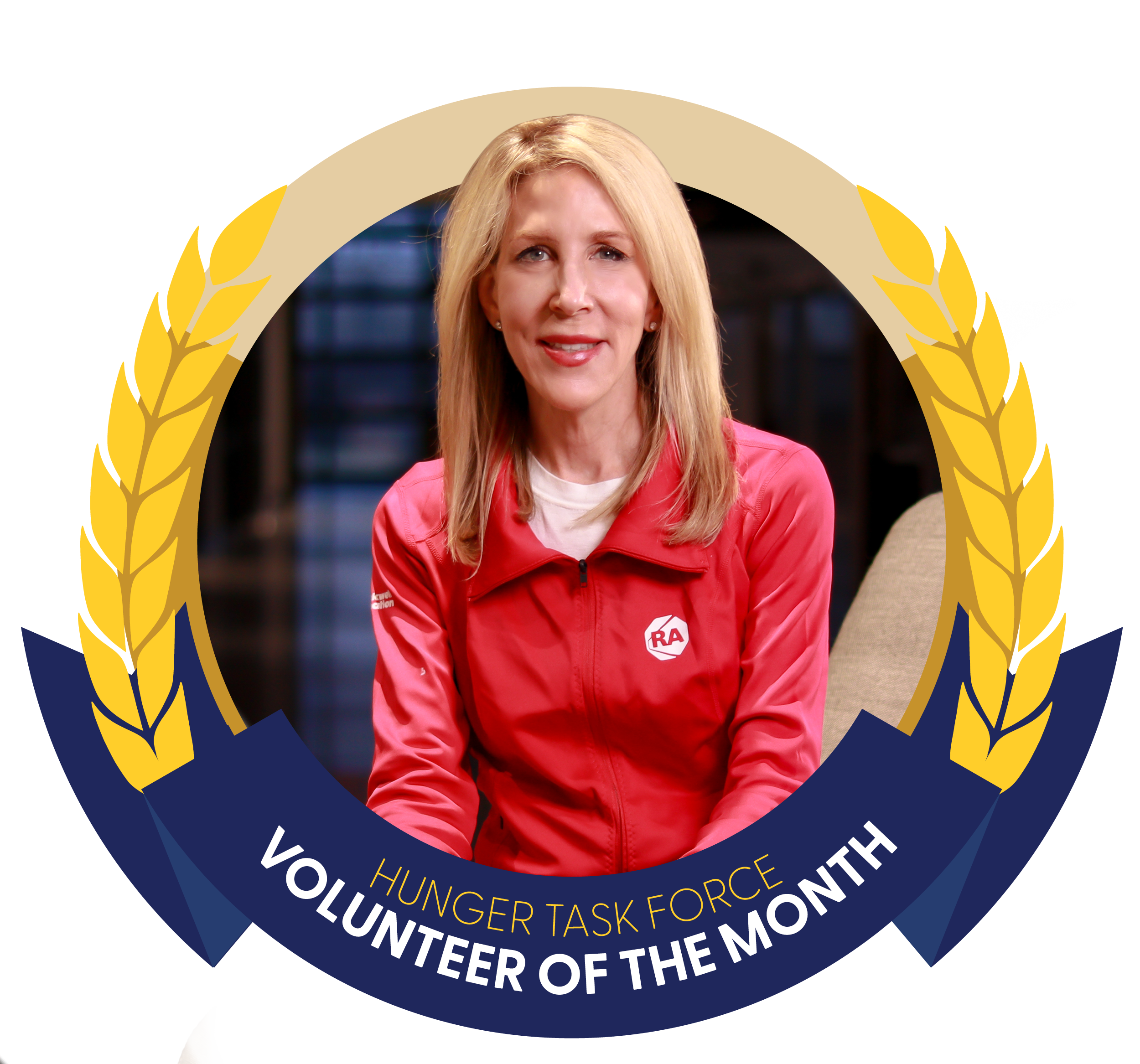 Each month Hunger Task Force is honored to recognize an individual or organization that goes above and beyond in their service to the organization.
Hunger Task Force relies on the help of more than 16,000 generous volunteers every year. From food sorting and building healthy food boxes for seniors to helping individuals shop the Mobile Market and harvesting at The Farm, volunteers help Hunger Task Force feed people today and support our work in ending future hunger.
Mary Burgoon, Global Portfolio Manager at Rockwell Automation, has a long history of volunteering at Hunger Task Force. Since 2005, Mary has been an engaged member of the Hunger Task Force Board of Directors and currently serves as Board Secretary. Mary was recently recognized as BizTimes Media's 2022 Corporate Volunteer of the Year. Beyond the boardroom, Mary has given her time, energy, and talents with numerous volunteer tasks across the organization. Her dedication, history, and passion to feed children has made Mary an exemplary presence at Hunger Task Force. We couldn't be happier to honor Mary Burgoon as our Volunteer of the Month for December 2022.
Q: How did you get involved with Hunger Task Force?
Mary: When I moved to Milwaukee, I was seeking an opportunity to volunteer with an organization that was making a meaningful impact in the community. Hunger Task Force was doing just that, and the mission to provide food with dignity aligned with my values. I met with Executive Director Sherrie Tussler, and she mentioned that Hunger Task Force was forming an advocacy group – Voices Against Hunger – designed to help community advocates take more direct action in fighting hunger, specifically focusing on school meals. I had the opportunity to work with several other Board members and volunteers to launch the group.
Q: What volunteer activities do you help with?
Mary: I'm happy doing whatever Hunger Task Force needs, and I've helped out with a wide variety of volunteer activities. I've packed holiday boxes for Thanksgiving, collected food at opening day of the Wisconsin State Fair, taken donations at several phone banks, packed Senior Stockboxes, sorted food during the letter carrier's annual Stamp Out Hunger program, organized food drives at work and called donors on behalf of Hunger Task Force.
Q: What's your favorite part about supporting the mission at Hunger Task Force?
Mary: Making a difference in people's lives every day and advocating to eliminate food insecurity into the future. Food is a basic human right, and it's important to advocate for school meals so students have the fuel to learn and shape their future.
Q: What made you want to volunteer?
Mary: I come from a family that believes we should give back and share what we have.  I have volunteered with many organizations – literacy, mentoring, suicide prevention hotlines, STEM organization, and now Hunger Task Force. It is important to me to help others, and I am proud to volunteer with a tremendous organization like Hunger Task Force. My role on the Board allows me to see – from a broad view, as well as in detail – the impact Hunger Task Force is having on hungry families here in Milwaukee and across the state of Wisconsin.
Q: Why do you continue to support Hunger Task Force?
Mary: I believe in the mission of Hunger Task Force and see the dedication to feeding people with dignity from the leadership team, staff and volunteers. The committed people working at this organization act as a voice for those that cannot speak for themselves and advocate for all to have equitable access to healthy food. Hunger Task Force continues to evolve to meet challenges and have expanded outside of Milwaukee County to build capacity in organizations across the state so that they can better serve their local communities. I'm also proud to see the Hunger Task Force Farm evolve from an idea into a driving force that provides fresh, local produce to seniors, families and children.
Q: What's been your most memorable experience with Hunger Task Force?
Mary: There are so many, but I would say that I am proud to support the advocacy work of Voices Against Hunger. I am most driven to ensure that all children have meals at school, regardless of their family's ability to pay for it.
Q: What would you tell someone who is thinking about volunteering at Hunger Task Force?
Mary: I would strongly encourage them to volunteer! There are so many opportunities – volunteering at The Farm, working festivals, packing Stockboxes, you name it.  It is a great way to make an immediate impact on our community.
Hunger Task Force is Milwaukee's Free & Local food bank and Wisconsin's anti-hunger leader. The organization provides healthy and nutritious food to hungry children, families and seniors in the community absolutely free of charge. Hunger Task Force was founded in 1974 by a local advocacy group who then formed Milwaukee's first food bank. Today, Hunger Task Force is 100% supported by the community and provides a safety net of emergency food with dignity to a network of 75 food pantries, soup kitchens and homeless shelters. Through legislative analysis, education and community organizing, Hunger Task Force continues to advocate for anti-hunger policy at the local, state and federal level. For more information, visit HungerTaskForce.org.