Hunger Task Force Receives $900,000 from Anthem Blue Cross and Blue Shield to Address Health and Food Insecurity
Hunger Task Force and Anthem Blue Cross and Blue Shield renewed its three-year partnership during a check presentation and unveiled a new 53-foot co-branded Hunger Task Force & Anthem semi-truck. Anthem has generously committed $900,000 over the next three years to support Hunger Task Force's Mobile Market and senior outreach programs. This collaboration represents one of Anthem's most significant philanthropic investments in Wisconsin.
During the day-long event, representatives from Anthem and Hunger Task Force addressed the impact of the partnership in supporting seniors around the state during a morning press conference. The conference also featured a check presentation and unveiling of a new 53-foot co-branded Hunger Task Force & Anthem semi-truck. Immediately following the event, representatives from Anthem toured the Hunger Task Force headquarters and ended the day packing Stockboxes for seniors in the Hunger Task Force Volunteer Action Center.
"We continue to redefine healthcare with a commitment to whole health that takes a broad view of the physical, social, and behavioral factors affecting the health of our communities," said Anthem's Regional Vice President of Medicare Market Performance Mark Schneider. "Consistent access to nutritious food is an essential part of maintaining better health and that's why we are supporting Hunger Task Force and its innovative programming that addresses food insecurity by helping individuals reach optimal health through good nutrition and education."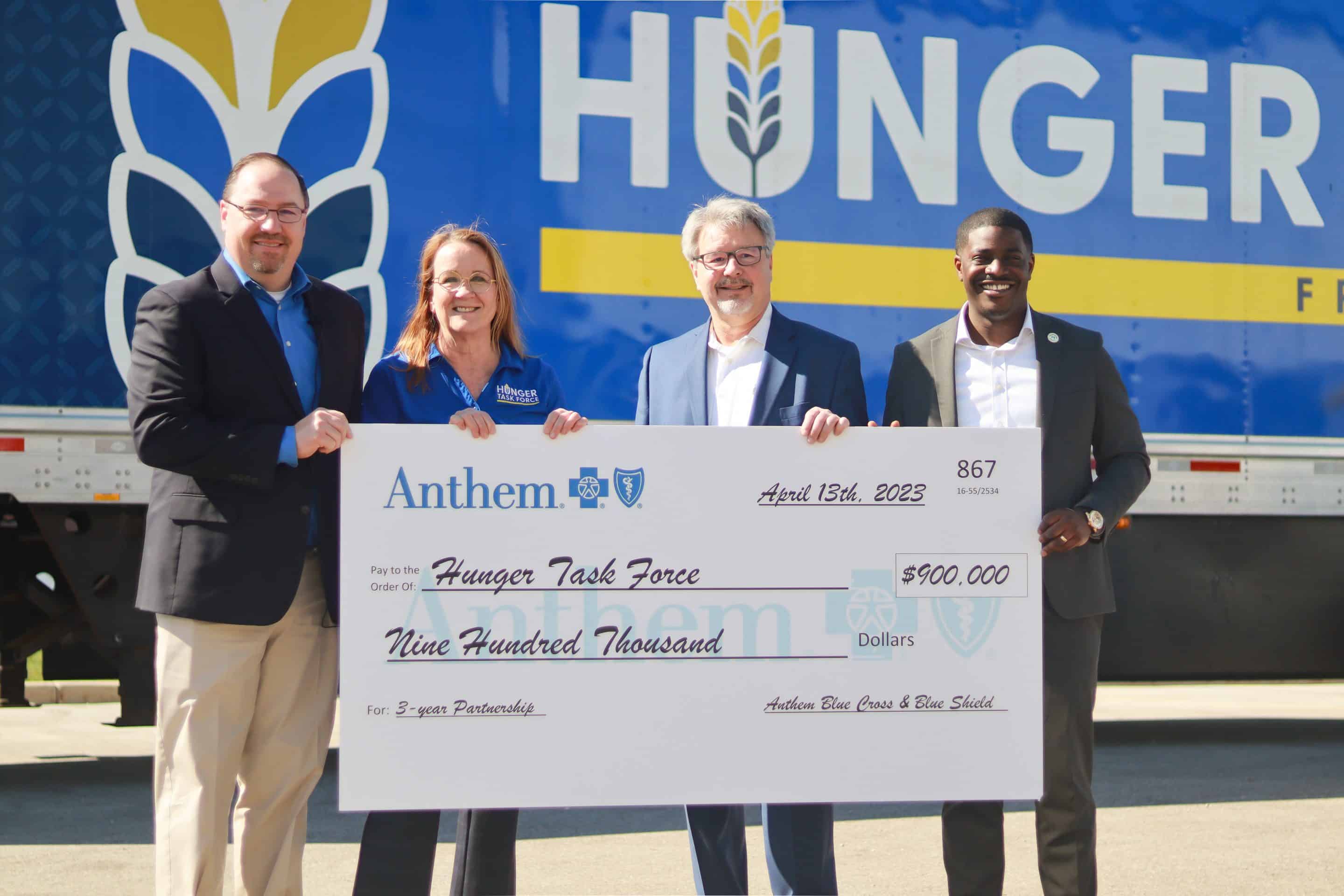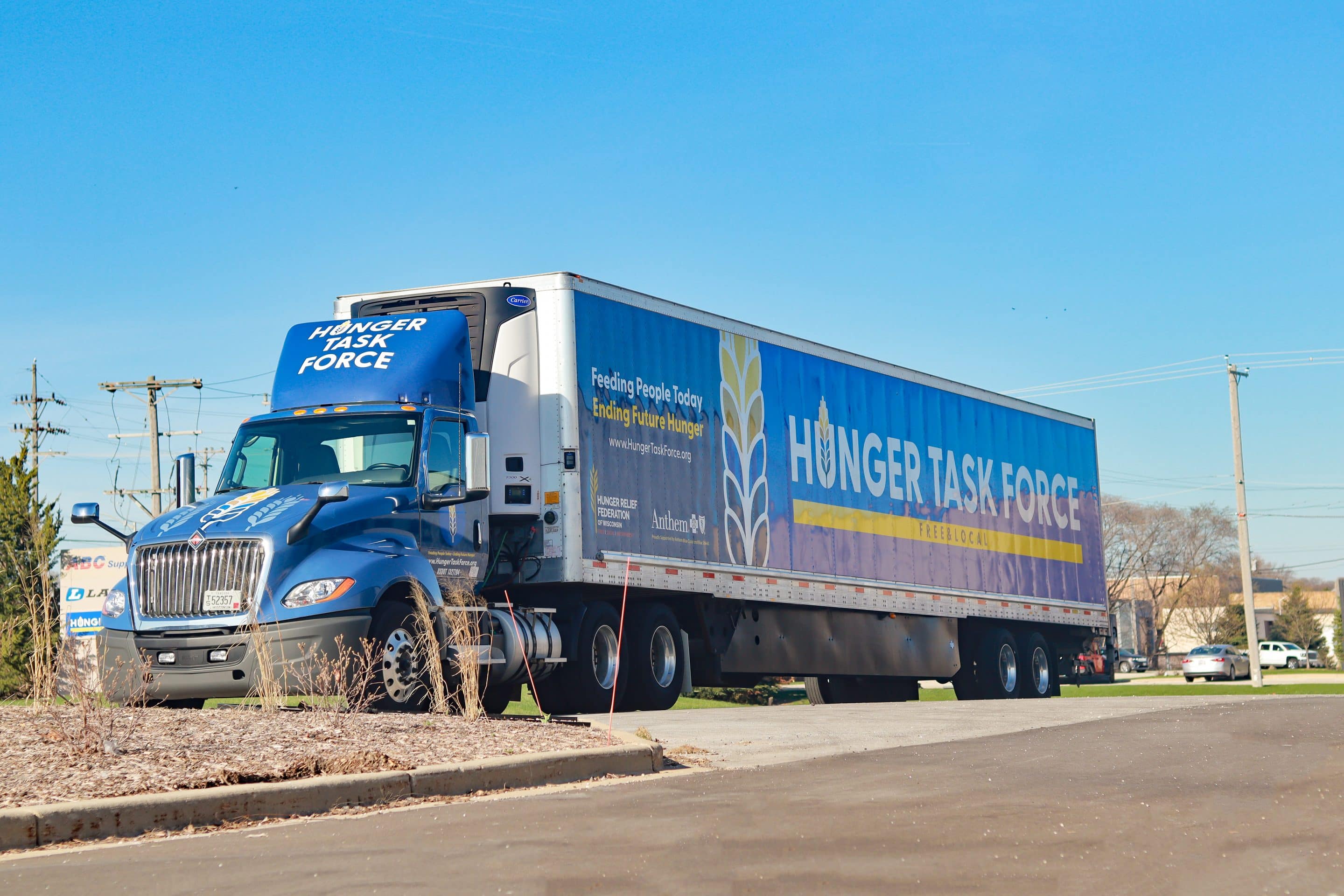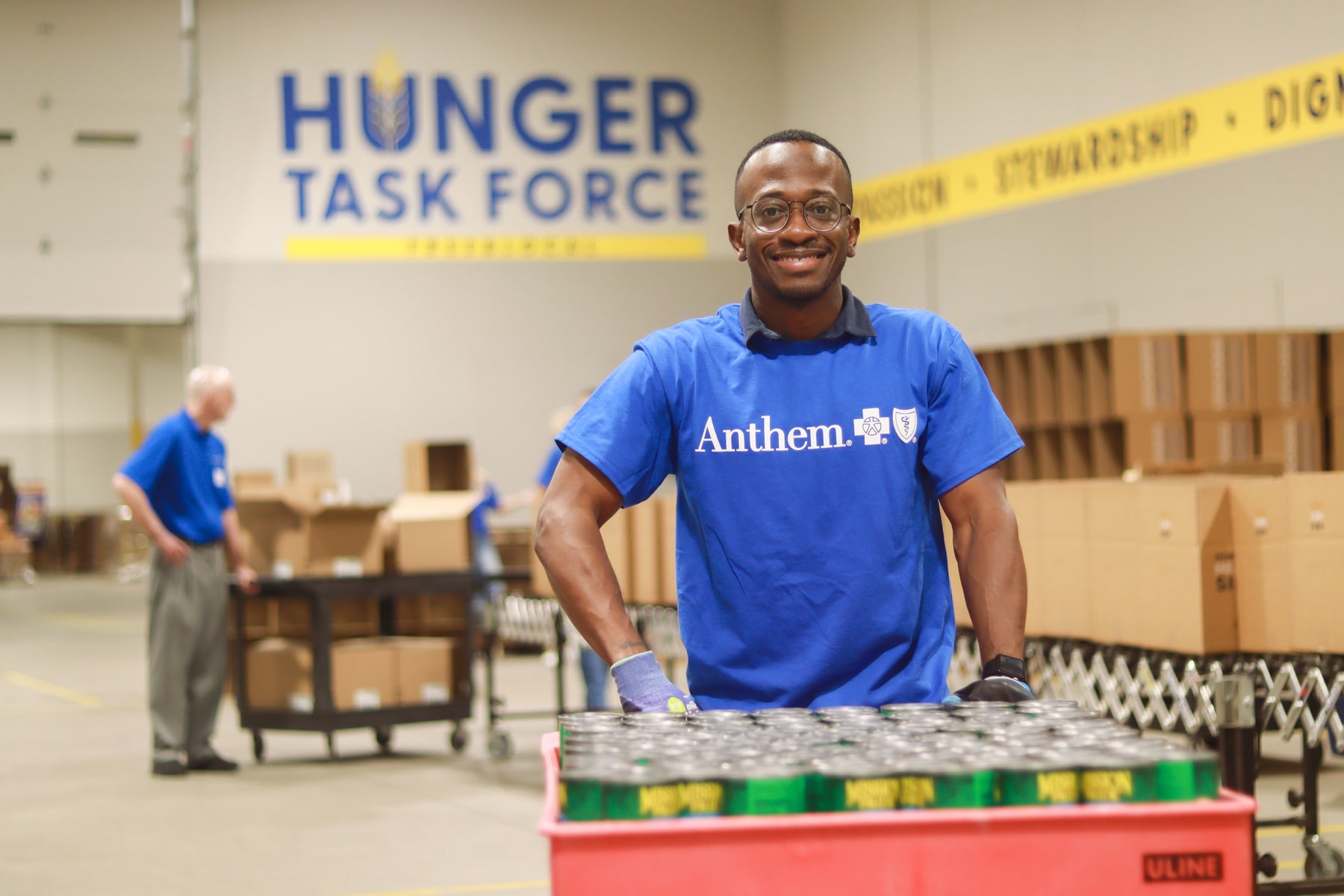 "Partnering with Anthem has helped improve the health outcomes and has made healthcare more accessible to the people we assist," said Hunger Task Force Executive Director, Sherrie Tussler. "We are grateful for Anthem's continued partnership that will ensure healthy food to seniors in need across the state." 
"Since 2019, our community has made a commitment to addressing 'health' as just not the absence of disease but to include the holistic health needs of the individual as well. I'm glad to see the Hunger Task Force and Anthem working together to take to make an even greater impact in the lives of some of our most vulnerable residents," said Milwaukee County Executive David Crowley. "We all have a stake in the health of our fellow Wisconsinites. An all-hands-on-deck approach is necessary to improving health outcomes across the board. On behalf of Milwaukee County, I want to thank these two incredible organizations for coming together to help address the gaps in healthcare access in all our neighborhoods."
As part of a commitment to improving the communities in which it operates, Anthem Blue Cross and Blue Shield is working with Hunger Task Force in the Greater Milwaukee Area and across the state to increase older adults' access to healthy food to help them improve their health and well-being. Anthem will also provide a representative at Mobile Market stops to be a resource to Medicare-eligible individuals seeking information about their health insurance options. 
Hunger Task Force is Milwaukee's Free & Local food bank and Wisconsin's anti-hunger leader. The organization provides healthy and nutritious food to hungry children, families and seniors in the community absolutely free of charge. Hunger Task Force was founded in 1974 by a local advocacy group who then formed Milwaukee's first food bank. Today, Hunger Task Force is 100% supported by the community and provides a safety net of emergency food with dignity to a network of 75 food pantries, soup kitchens and homeless shelters. Through legislative analysis, education and community organizing, Hunger Task Force continues to advocate for anti-hunger policy at the local, state and federal level.