Local Artist Creates One-of-a-Kind Installations for Volunteer Welcome Center
Hunger Task Force is wholly community-supported, and volunteers are vital to the food bank's mission. Each year, over 15,000 volunteers come through the doors of Hunger Task Force, and thanks to a local artist, their experience at Hunger Task Force just got a bit more prismatic.
Volunteers arriving at the Hunger Task Force Volunteer Welcome Center are greeted by three massive visual installations created by Milwaukee artist, Rosy Petri. Petri, a self-taught mixed media and textile artist, is a former Pfister Artist in Residence, Mary L. Nohl Fellow, Milwaukee Arts Board Artist of the Year and inaugural artist in residence at the bell hooks center at Berea College.
"Being a mixed media artist means that there are no materials that are off the table," says Petri. "I use textile the most because I think it's very approachable and forgiving, but pretty much anything that I can get my hands on, I will use."
Petri's collection of works for Hunger Task Force includes three substantial, quilted pieces titled Agriculture, Distribution and Advocacy. Aligning with the Hunger Task Force mission, these pieces provide a warm and inspiring welcome to those helping Hunger Task Force in its mission to provide healthy food with dignity to local families.
"We wanted people to be inspired," says Jonathan Hansen, Development Director at Hunger Task Force. "Hunger Task Force is excited for the community to come through the Volunteer Welcome Center on a day-to-day basis and experience this amazing art Rosy has created."
The Hunger Task Force Volunteer Welcome Center was named in celebration of sisters Vera Cavaliere and Rosemarie Raiola. Vera and Rosemarie were both avid crafters with a long family history of service.
"Vera and Rosemarie loved to knit," shares Jonathan Raiola, Rosemarie's son. "My grandmother was an avid crocheter and both Vera and Rosemarie picked up her love of creating blankets and hats for the entire family. I learned from them at a very young age that art and service to others are expressions of love. I can't think of a better tribute to them."
As Milwaukee's free and local food bank, it was important for Hunger Task Force to commission a local artist to create one-of-a-kind pieces for the Volunteer Welcome Center. "We hoped to have an artist connected to our community who has ties to our mission and the people that we serve," says Hansen. "When we met with Rosy, we knew she was the one. We were excited to have her on board."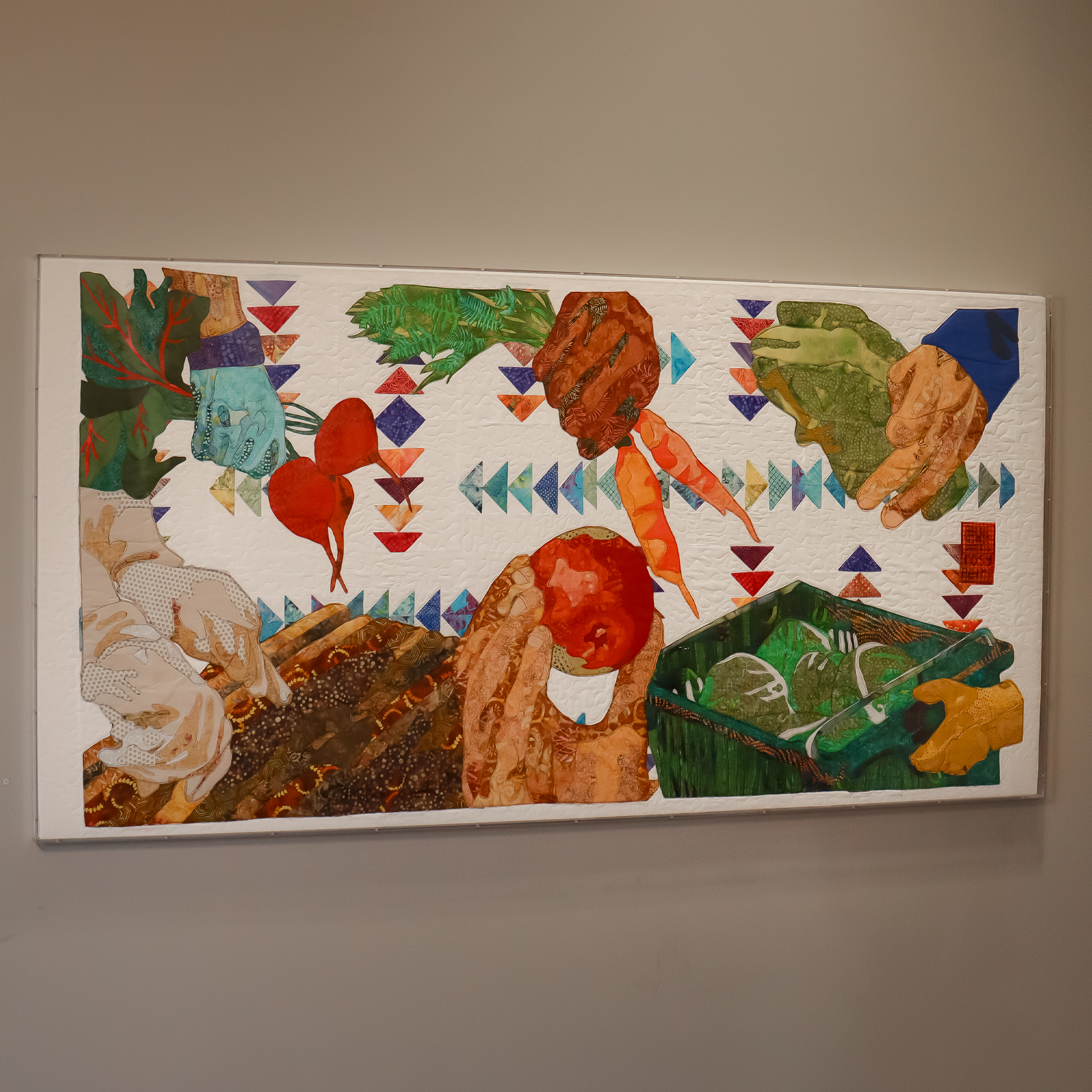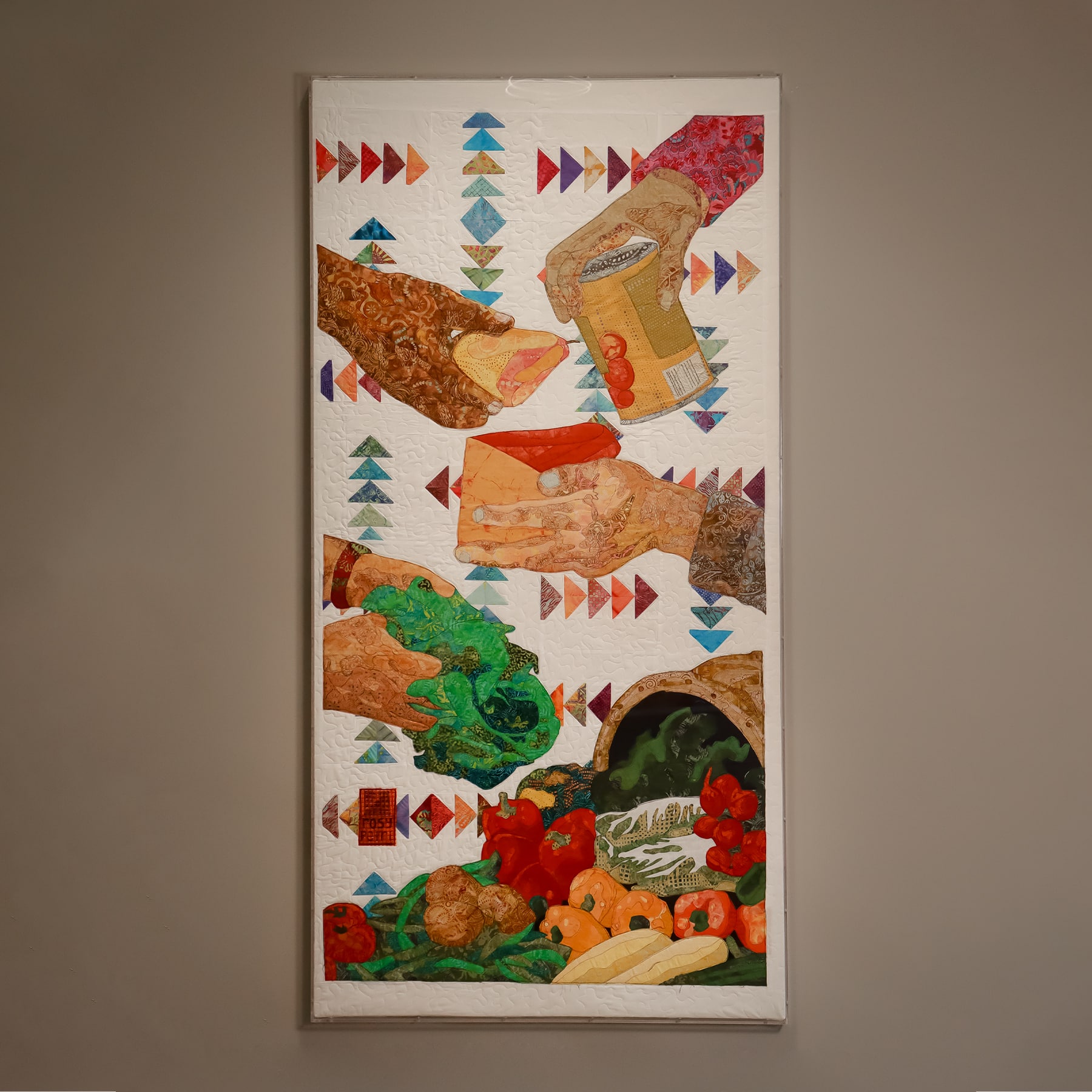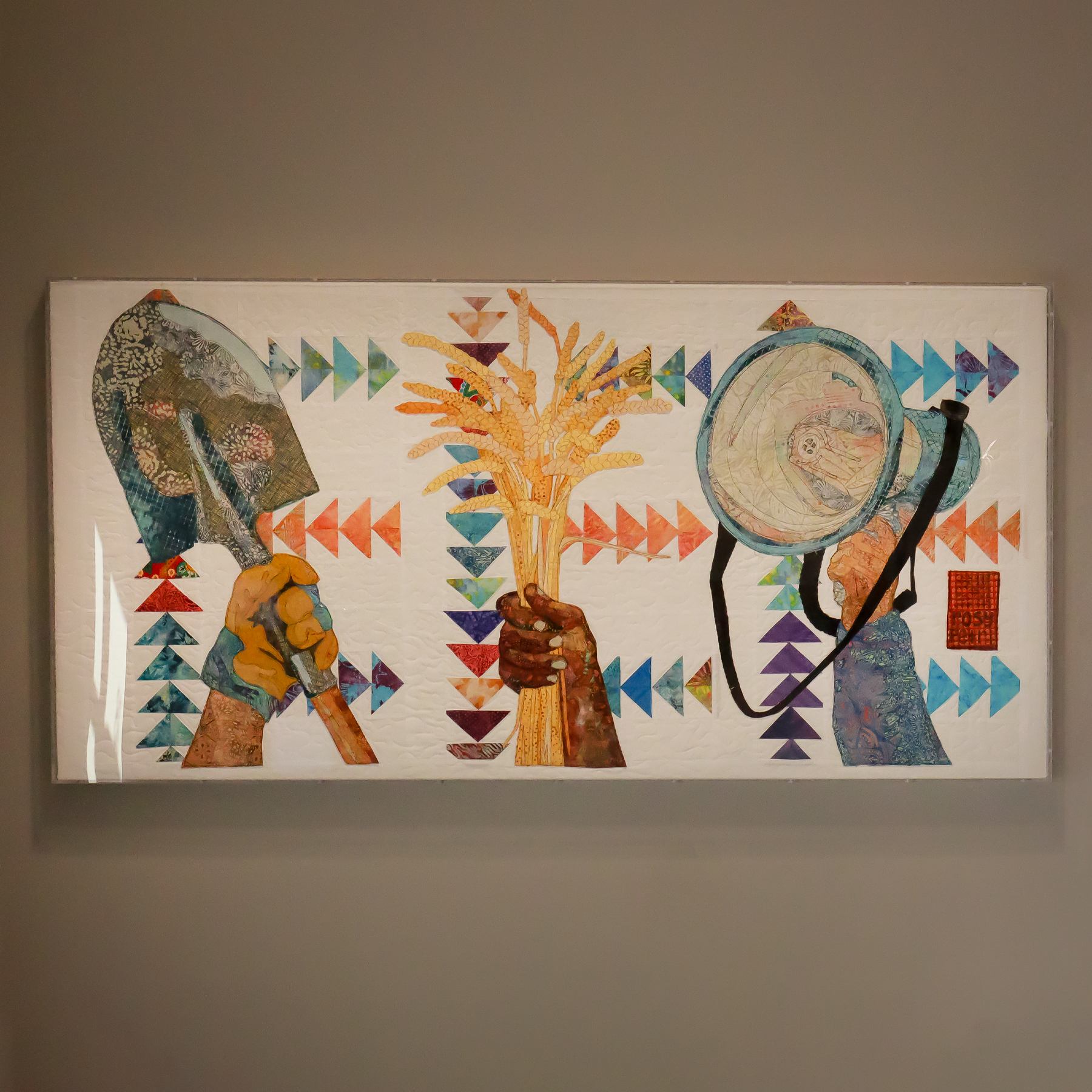 Before becoming a full-time artist, Petri worked at a variety of nonprofit organizations. She has run homeless shelters and soup kitchens and completed two terms as an AmeriCorps Public Ally. "Twelve years ago, one of my placements was at Hunger Task Force," said Petri. "Part of my job here was to help set up food drives and get people organized." While working at Hunger Task Force, Petri began learning more about the many pantries and meal programs supported by the food bank and later went on to work as several of the organizations in the Hunger Task Force network.
Her knowledge and personal experience at Hunger Task Force allowed Petri to get to the core of the anti-hunger work done by the organization. "I decided hands would be a good fit for this project," explains Petri. "Unlike a traditional portrait where you're seeing somebody's face, when it's just hands, you can imagine those hands being anybody's hands – even yours." When constructing art intended for public spaces, Petri works to make the content inclusive and reflective for those experiencing it.
Petri hopes Agriculture, Distribution and Advocacy inspire the community to reflect on their personhood. "I think it's really important to remember that everything that has been done, or can be done, is done by people – usually together." She hopes volunteers who view her art understand how their service and contributions lead to a better, more empowered world.
Louis Cavaliere, Vera and Rosemarie's brother, is a retired US Navy Captain now living in Philadelphia. "Although Vera died at the young age of 45, Rosemarie carried on into her 80s and passed just two years ago," he shares. "No matter how long you live, it is what you commit to that life. Both of my sisters were passionate about service to others."
Hunger Task Force encourages the community to volunteer at the food bank and experience the amazing works by Petri. "Help us build Stockboxes. Help us sort food," says Hansen. "Come help, see this art and embrace it. It was created by someone in our community and there's great inspiration behind it. We hope the community can draw from that in their service to Hunger Task Force."
To sign up to volunteer or for more information on how you can get involved, visit www.HungerTaskForce.org/volunteer.
Explore more art from Rosy Petri on her Instagram at @thisisparadisehome or on her website at www.thisisparadisehome.com.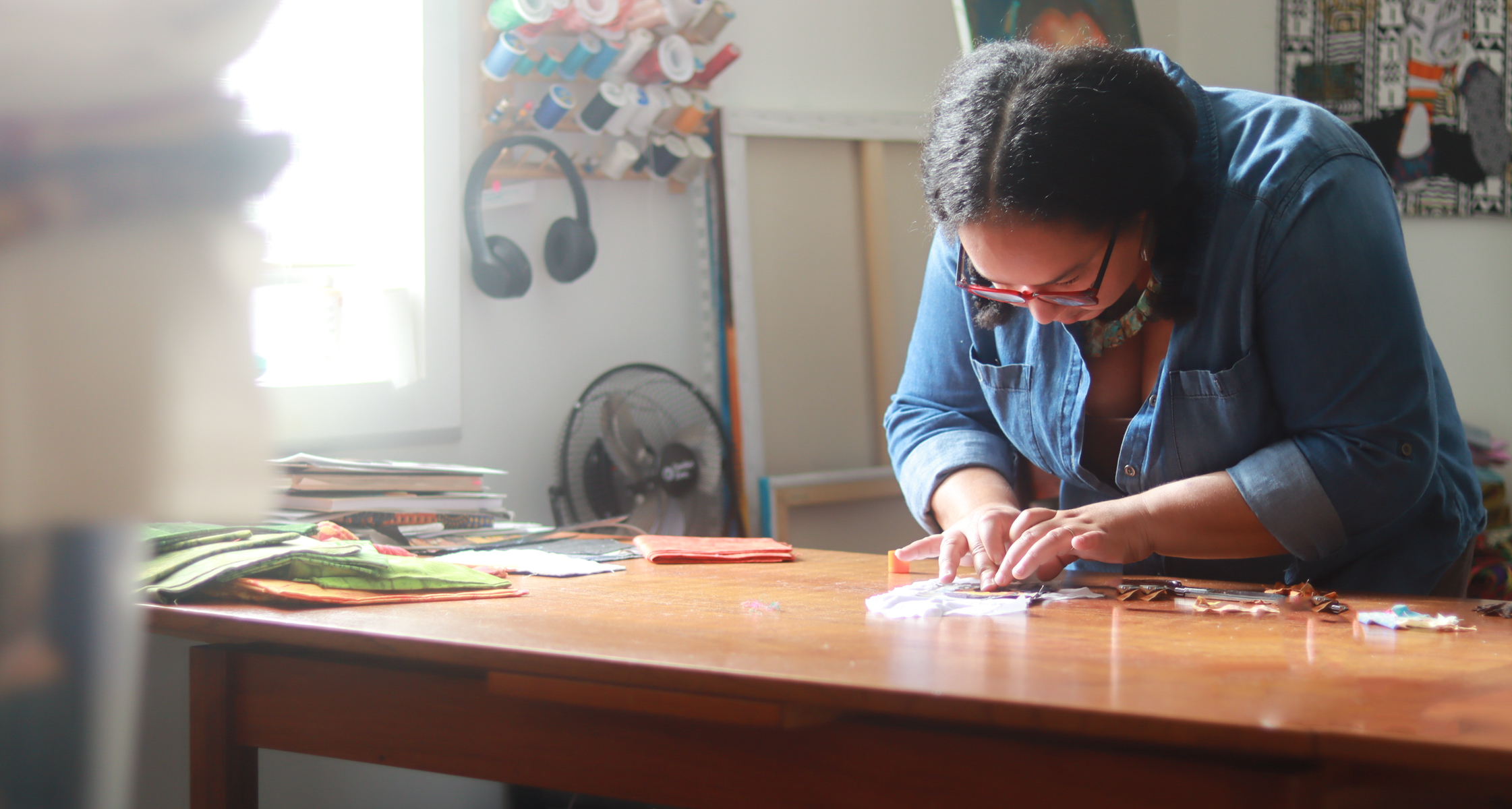 Hunger Task Force is Milwaukee's Free & Local food bank and Wisconsin's anti-hunger leader. The organization provides healthy and nutritious food to hungry children, families and seniors in the community absolutely free of charge. Hunger Task Force was founded in 1974 by a local advocacy group who then formed Milwaukee's first food bank. Today, Hunger Task Force is 100% supported by the community and provides a safety net of emergency food with dignity to a network of 75 food pantries, soup kitchens and homeless shelters. Through legislative analysis, education and community organizing, Hunger Task Force continues to advocate for anti-hunger policy at the local, state and federal level.