Volunteer of the Month: Ned Goede | August 2023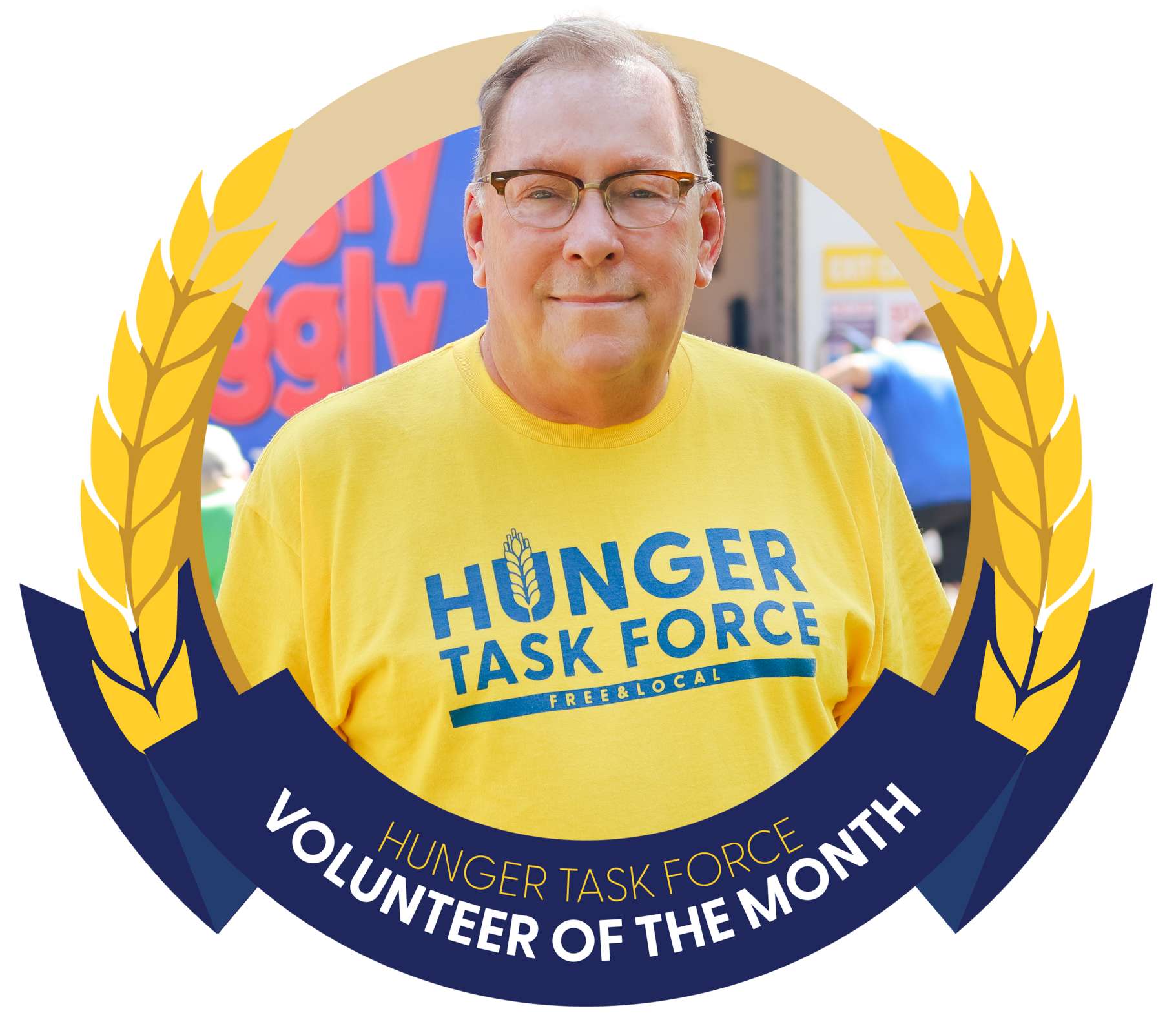 Each month Hunger Task Force is honored to recognize an individual or organization that goes above and beyond in their service to the organization.
Hunger Task Force relies on the help of more than 16,000 generous volunteers every year. From food sorting and building healthy food boxes for seniors to helping individuals shop the Mobile Market and harvesting at The Farm, volunteers help Hunger Task Force feed people today and support our work in ending future hunger.
Ned Goede is a dedicated volunteer that has been consistently serving with Hunger Task Force since 2021. Since his retirement several years ago, Ned has become a regular presence across the organization – lending a hand at The Farm, on the Mobile Market, in the Volunteer Action Center and wherever he's needed! His positive energy and willingness to take on new volunteer opportunities has made Ned a dependable presence at Hunger Task Force. We couldn't be happier to honor Ned Goede as our Volunteer of the Month for August 2023.
Q: When did you start volunteering with Hunger Task Force?
Ned: When I retired in June 2021 I applied to volunteer and was quickly on the schedule at Hunger Task Force.  My first activity was a Stockbox build in the Volunteer Action Center, and by the end of the activity, I decided I was "all in" as a volunteer at the organization. I've been regularly volunteering since!
Q: What volunteer activities do you help with?
Ned: What I appreciate most about Hunger Task Force is the variety of opportunities a volunteer can be involved with. I have helped pack and distribute Stockboxes, assisted out at The Farm with the Nutrition Education program and School Garden and, as of late, I have been heavily involved helping shoppers at the Mobile Market. I've enjoyed every one of these various activities. 
Q: What is your favorite part of volunteering?
Ned: I enjoy connecting with a vast spectrum of people, and having the opportunity to interact with other volunteers and the individuals and families we are helping is especially satisfying. 
Q: What made you want to volunteer?
Ned: Before I retired, I knew I would need to fill my retirement years involved in service activities. During my career as a high school principal, my students were involved with Hunger Task Force activities (at the old Hawley Street facility.) I was impressed with what I observed and knew several years even before I retired that Hunger Task Force was an organization I wanted to work with when I had the time.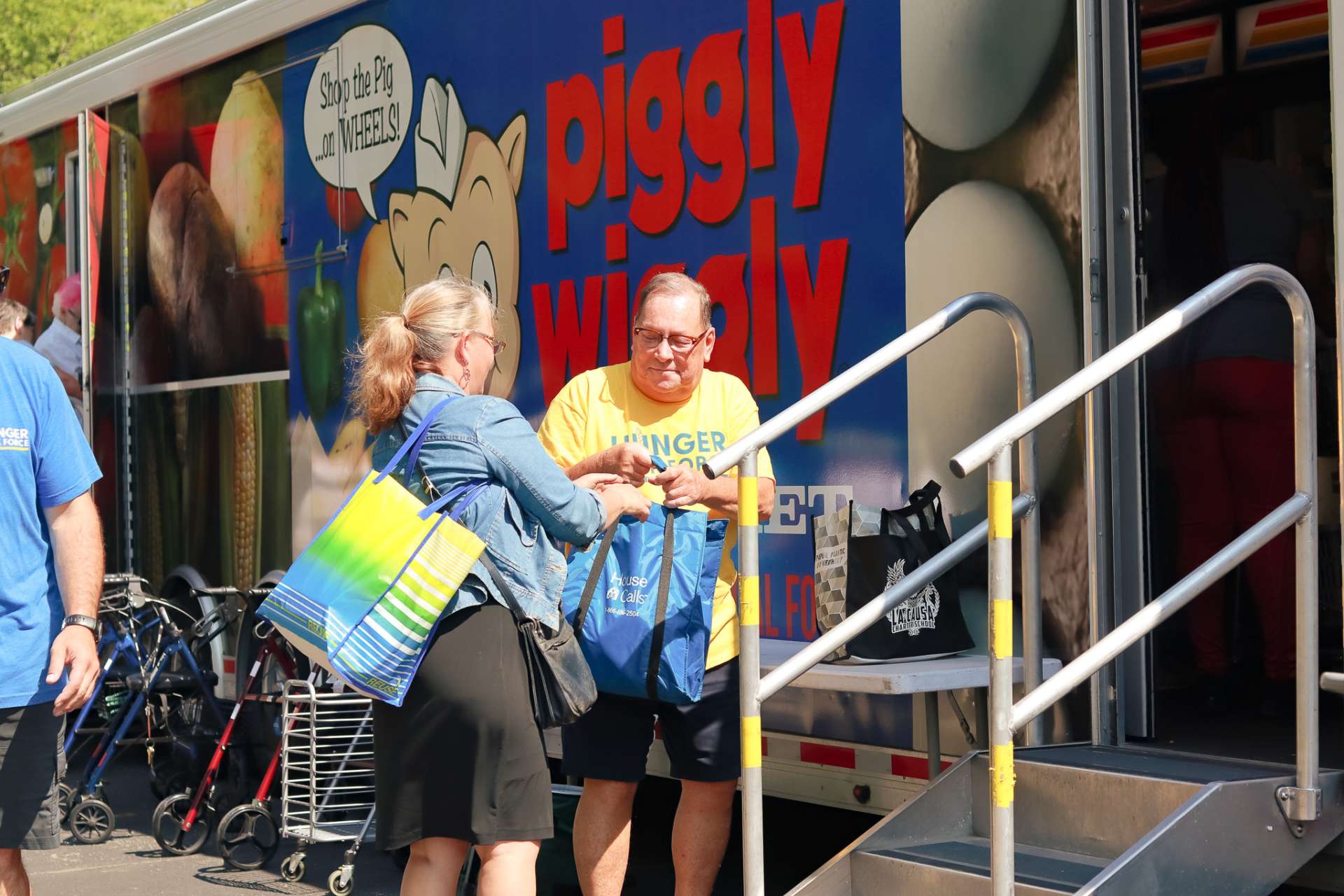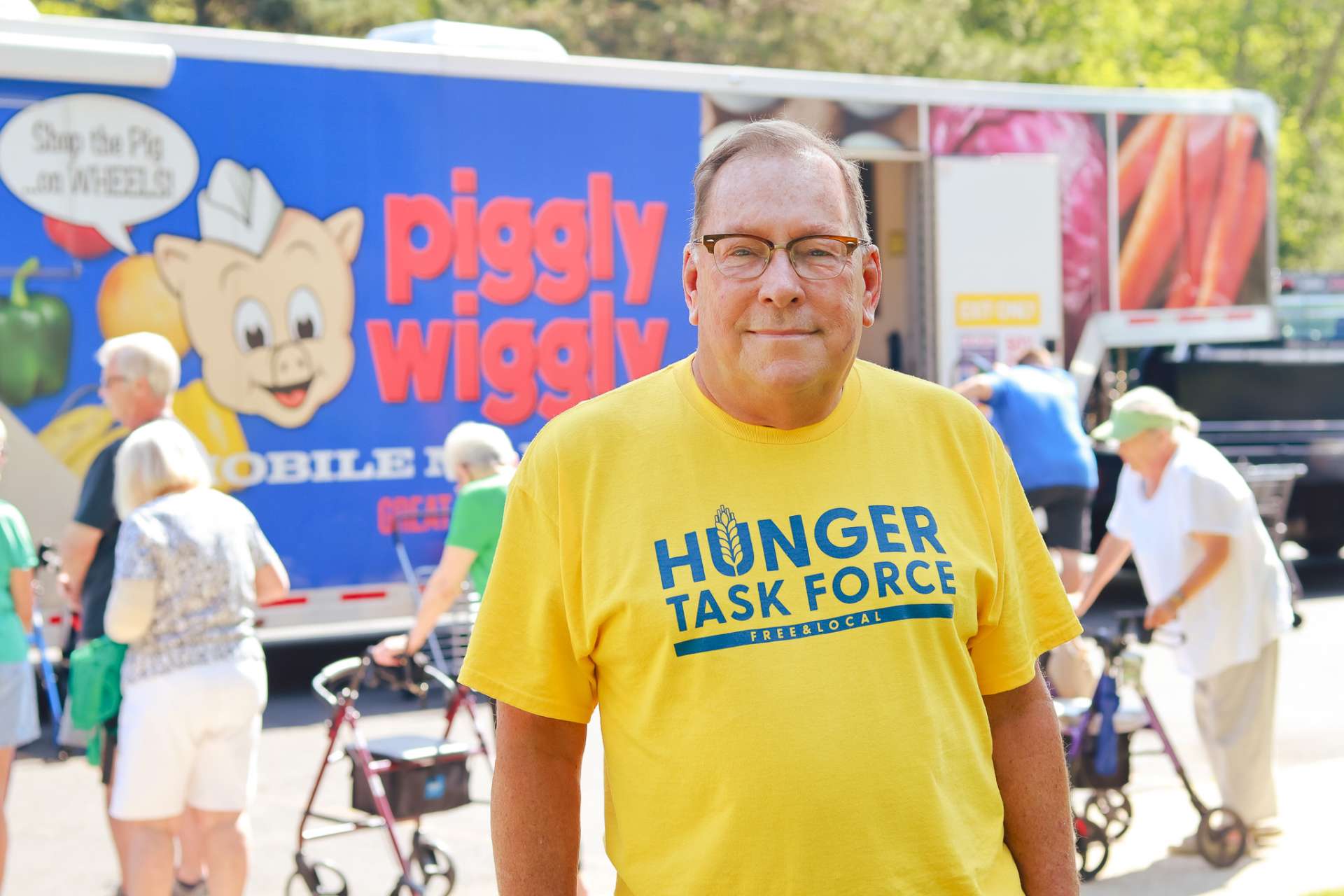 Q: Why do you continue to pick Hunger Task Force?
Ned: I fully embrace the mission at Hunger Task Force. Providing food Free & Local and with dignity aligns with my personal code of conduct, spiritual beliefs and values. Also, as stated before, I really enjoy working with other volunteers providing their time and energy at Hunger Task Force.   
Q: What's been your most memorable experience volunteering?
Ned: I began my career in education teaching third through fifth graders. Serving as a volunteer for the Nutrition Education program, enables me to work with young students again and brings back many happy memories of my time in the classroom. I always leave each lesson feeling happy, which happens when working with curious and funny young people. Through snack testing with the kids, I also realized I like food I would never normally choose. (Kudos, to Patrice the SNAP-Ed Assistant!) 
Q: What would you tell someone who is thinking about volunteering at Hunger Task Force?
Ned: Go for it! You will realize you have made a very good choice.
Hunger Task Force is Milwaukee's Free & Local food bank and Wisconsin's anti-hunger leader. The organization provides healthy and nutritious food to hungry children, families and seniors in the community absolutely free of charge. Hunger Task Force was founded in 1974 by a local advocacy group who then formed Milwaukee's first food bank. Today, Hunger Task Force is 100% supported by the community and provides a safety net of emergency food with dignity to a network of 75 food pantries, soup kitchens and homeless shelters. Through legislative analysis, education and community organizing, Hunger Task Force continues to advocate for anti-hunger policy at the local, state and federal level. For more information, visit HungerTaskForce.org.