Volunteer of the Month: Dina Karim | September 2023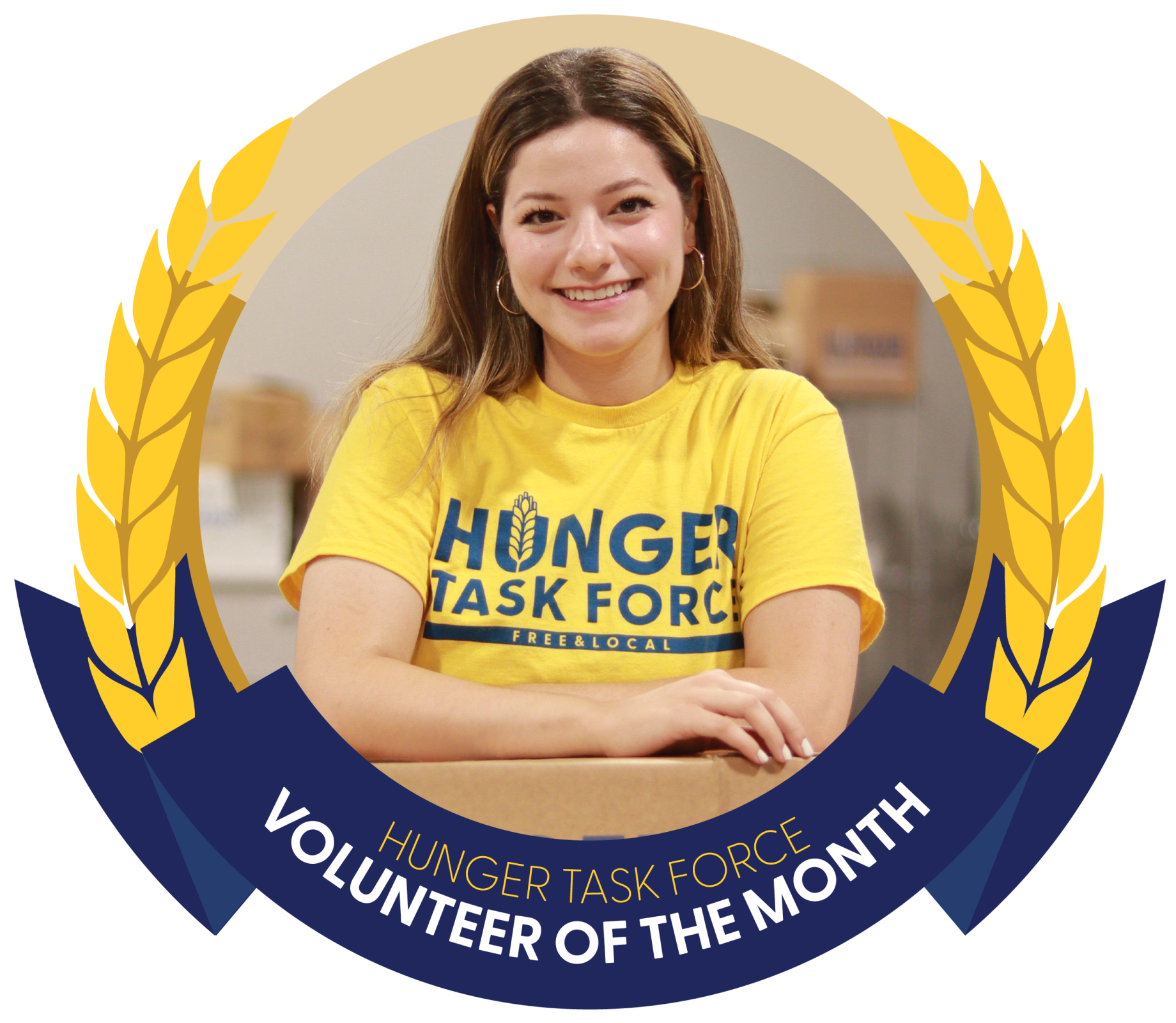 Each month Hunger Task Force is honored to recognize an individual or organization that goes above and beyond in their service to the organization.
Hunger Task Force relies on the help of more than 16,000 generous volunteers every year. From food sorting and building healthy food boxes for seniors to helping individuals shop the Mobile Market and harvesting at The Farm, volunteers help Hunger Task Force feed people today and support our work in ending future hunger.
After learning about the Hunger Task Force Farm and Hunger Task Force's commitment to delivering fresh, nutritious food to the community, Dina Karim began volunteering – supporting our mission of providing healthy food with dignity. Over the last year, Dina has become a regular volunteer and has shared her time and talents at The Farm, on the Mobile Market and in the Volunteer Action Center. Her enthusiasm and dedication have made Dina a welcome presence at Hunger Task Force. We couldn't be happier to honor Dina Karim as our Volunteer of the Month for September 2023.
Q: When did you start volunteering with Hunger Task Force?
Dina: I started volunteering at the Hunger Task Force in the summer of 2022.

Q: What volunteer activities do you help with?
Dina: I initially began my volunteer experience serving exclusively at The Farm in Franklin, but now I also help build Stockboxes and sort food in the Volunteer Action Center at Hunger Task Force's main headquarters.
Q: How did you initially get involved?
Dina: Living in Milwaukee, I grew up participating in Girl Scout food drives and remember collecting non-perishable food items and sharing them with people in need through religious spaces. I would always think it wasn't enough to just send food items because it's likely most of the donations people receive contain very little nutritional value. Then I found out about the Hunger Task Force Farm, and I was relieved to know that other people felt the same way. It means a lot to me that people in need can receive healthy, freshly picked foods and I couldn't pass up the opportunity to be a part of it.
Q: Why do you continue to volunteer at Hunger Task Force?
Dina: Even after achieving the service hour requirement for my academic program, I chose to continue volunteering at Hunger Task Force because of the incredibly kind and welcoming group of staff and volunteers. The environment in the warehouse, as well as on The Farm, is overwhelmingly positive and friendly. Hunger Task Force is managed by individuals who are truly passionate about the work they are doing for our community, and it shows through their dedication and commitment to helping others.
Q: What's been your most memorable experience volunteering?
Dina: My most memorable experience was volunteering on the Mobile Market. While assisting shoppers, I was able to personally meet people that Hunger Task Force helps. After spending time at the Volunteer Action Center packing boxes of food, it felt like a "full circle" moment having the opportunity to see the faces of people who otherwise wouldn't be able to travel to a grocery store.
Q: What's your favorite part about volunteering?
Dina: You do not need to travel far to find hungry people in need. My favorite part about volunteering at the Hunger Task Force is knowing that I am helping people right here in Milwaukee. I appreciate that Hunger Task Force tackles food insecurity locally and provides families in need with a dignified experience.
Q: What would you tell someone who is thinking about volunteering at Hunger Task Force?
Dina: Do it! Volunteering at Hunger Task Force is a great opportunity to help people in need and work with an amazing organization. Hunger Task Force is tackling hunger head-on right here in Milwaukee, and it feels very special to be a part of it.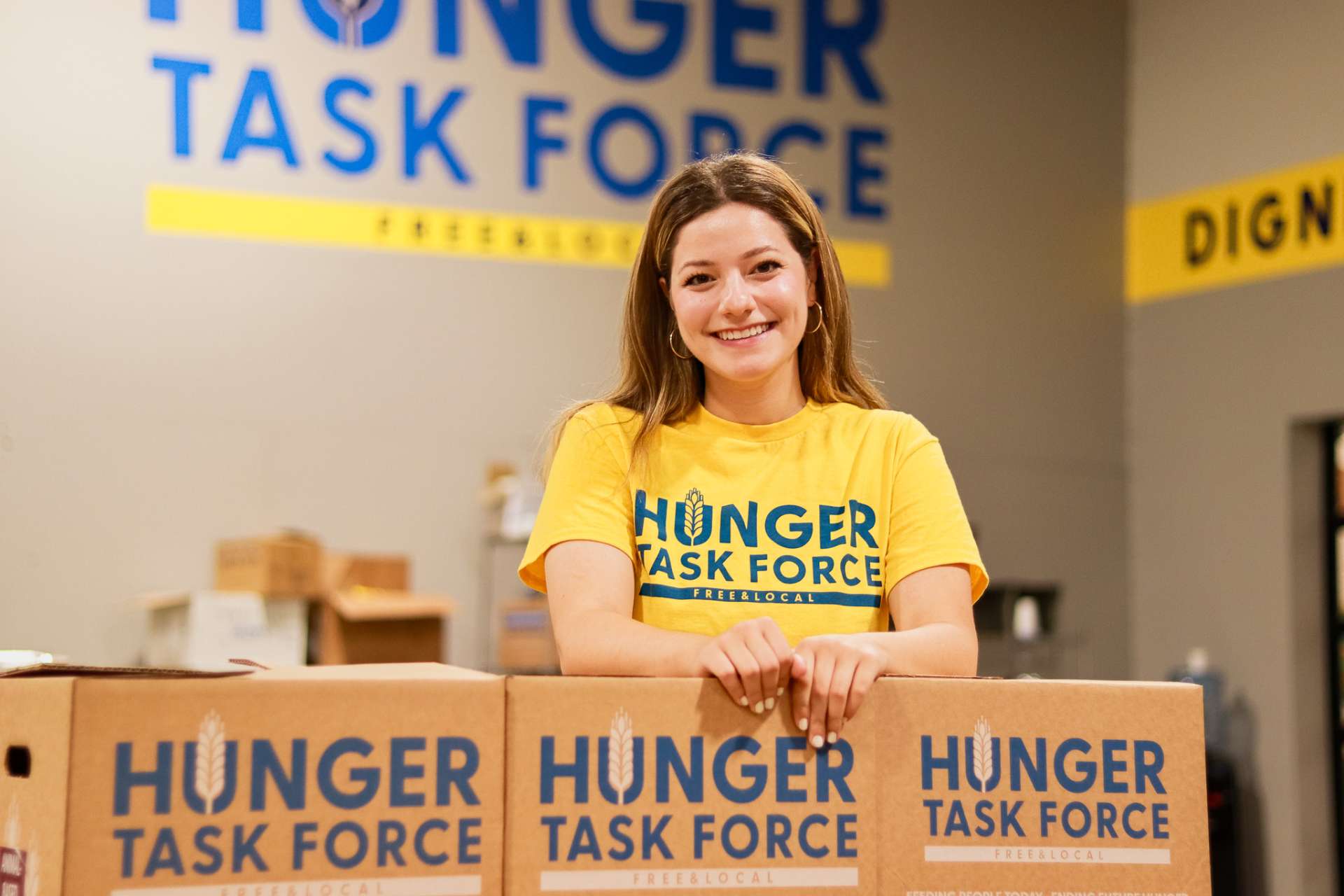 Hunger Task Force is Milwaukee's Free & Local food bank and Wisconsin's anti-hunger leader. The organization provides healthy and nutritious food to hungry children, families and seniors in the community absolutely free of charge. Hunger Task Force was founded in 1974 by a local advocacy group who then formed Milwaukee's first food bank. Today, Hunger Task Force is 100% supported by the community and provides a safety net of emergency food with dignity to a network of 75 food pantries, soup kitchens and homeless shelters. Through legislative analysis, education and community organizing, Hunger Task Force continues to advocate for anti-hunger policy at the local, state and federal level. For more information, visit HungerTaskForce.org.