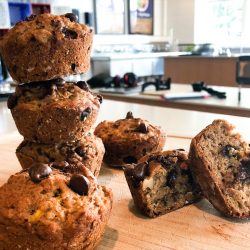 Zucchini Bread
You can use zucchini or summer squash to make this sweet treat. Eat it warmed up for breakfast or as a healthy dessert while getting in a serving of vegetables – yum! Enjoy as a loaf or muffins.
Ingredients
¾

cups

all-purpose flour

¾

cups

whole-wheat flour

optional, you can use all-purpose

½

tbsp

baking powder

½

tbsp

cinnamon

½

tsp

cinnamon

set aside

¼

tsp

salt

1

egg

lightly beaten

½

cup

sugar

1

medium zucchini (or summer squash)

coarsely shredded (about 1 cup)

⅓

canola or olive oil

½

cup

water

½

tbsp

vanilla extract

½

cup

chopped walnuts or pecans

optional

⅓

cup

raisins or chocolate chips
Instructions
Preheat oven to 350°F. Grease and flour a loaf pan or muffin tin and set aside.

In a large bowl, stir together flour, baking powder, ½ tablespoon cinnamon, and salt. Make a well in the center of the flour mixture; set aside

In a medium bowl, combine eggs, sugar, shredded zucchini, oil, water, and vanilla. Add zucchini mixture all at once to the flour mixture. Stir just until moistened (batter should be lumpy). If desired, fold in nuts, raisins and/or chocolate chips. Spoon batter into prepared pan. Sprinkle the remaining ½ teaspoon of cinnamon over the top of the loaf

Bake 50 minutes or until a wooden toothpick inserted in the center comes out clean. Cool in pan for 10 minutes. Remove from pan and cool completely on a wire rack. Slice and eat.
Video