Additional harvest volunteers needed at Hunger Task Force Farm

As September approaches, harvest is in full swing at the Hunger Task Force Farm, and Hunger Task Force needs extra volunteers to get the job done. Located in Franklin, WI, The Farm engages 5,500 volunteers throughout a typical season, from planning to harvest. With volunteers welcomed back to the Farm in 2021, Hunger Task Force has been coordinating with a variety of community members, business and foundation groups, to individuals and retired folks.
"The main purpose of The Farm is a strategic response to providing access to healthy, fresh produce," says Sarah Bressler, Farm Manager. "To be able to supply that and know that people are receiving nutrient rich food on a consistent basis, that's huge."
September is peak harvest for The Farm. Two shifts are available each weekday, 8:30 a.m. – 11:30 a.m. and 1:00 p.m. – 4:00 p.m. Shifts are structured with harvesting tasks throughout the morning with afternoons dedicated to washing and packing produce indoors.
"From there, food is ready to be picked up the next morning and is out to our network partners literally the next day," shares Bressler. "It's all extremely fresh, and I feel very grateful to be helping so many people."
In the coming weeks, volunteers can expect to help with the harvest of a variety of crops. Currently cabbage, sweet corn, collard greens, tomatoes and cucumbers are being harvested.
"Our first few plantings of corn were very strong, and watermelon has progressed nicely so far this season. Tomatoes in the hoop house, and in the field, are putting on weight and will be trickling in soon!"
Contact us!
For more information on volunteer opportunities, or to register yourself or a group, visit https://www.hungertaskforce.org/volunteer/farm/ or contact Megan Grosse, Farm Volunteer Coordinator, directly at [email protected].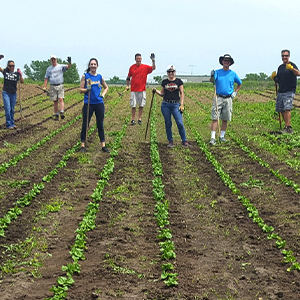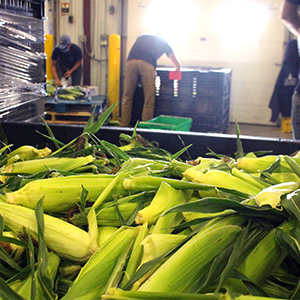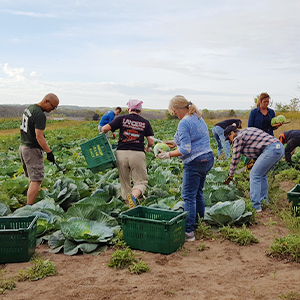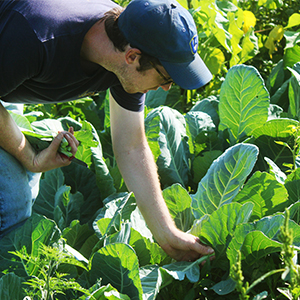 Hunger Task Force is Milwaukee's Free & Local food bank and Wisconsin's anti-hunger leader. The organization provides healthy and nutritious food to hungry children, families and seniors in the community absolutely free of charge. Hunger Task Force was founded in 1974 by a local advocacy group who then formed Milwaukee's first food bank. Today, Hunger Task Force is 100% supported by the community and provides a safety net of emergency food with dignity to a network of 75 food pantries, soup kitchens and homeless shelters. Through legislative analysis, education and community organizing, Hunger Task Force continues to advocate for anti-hunger policy at the local, state and federal level. For more information, visit HungerTaskForce.org.