Urgent Appeal for Afghan guests in Fort McCoy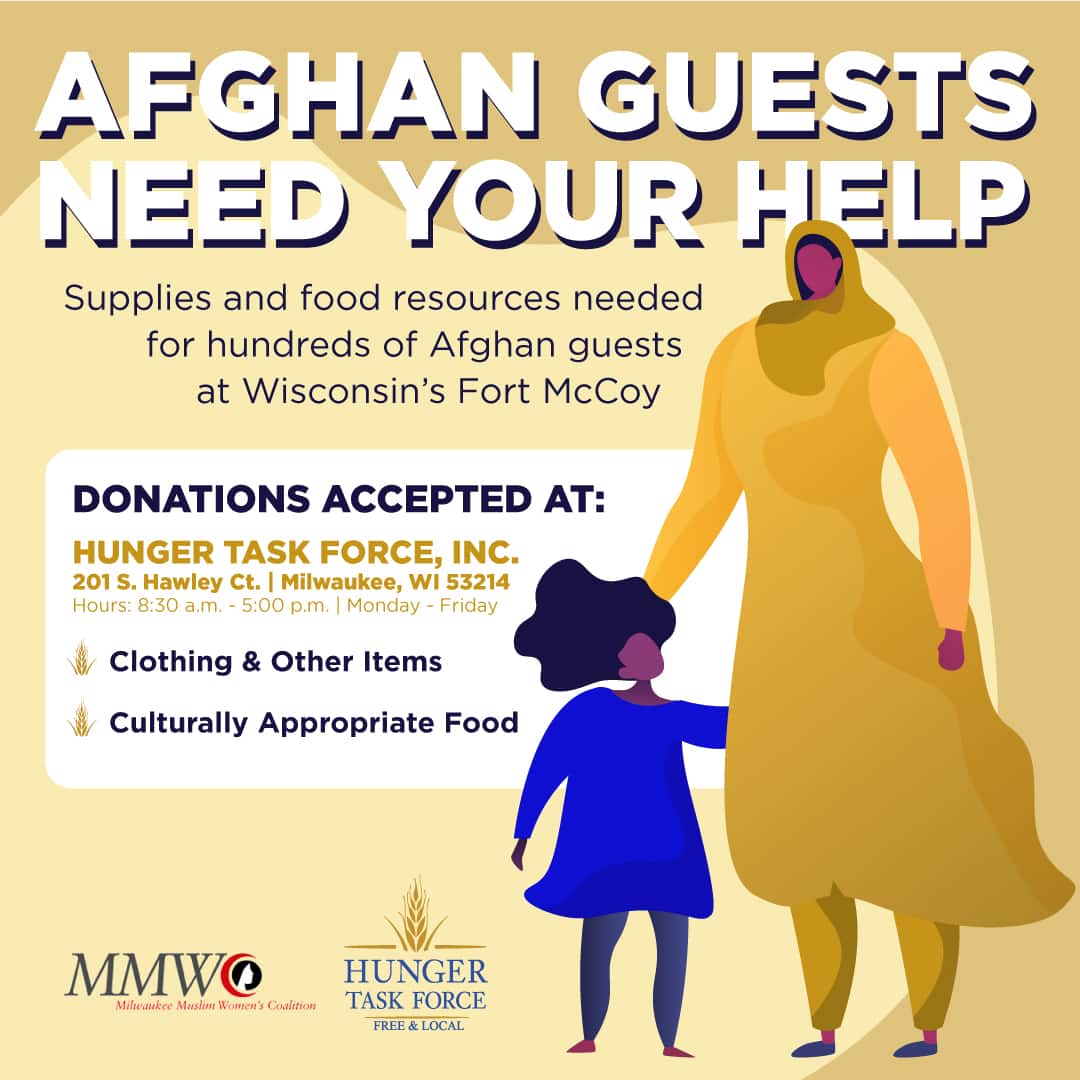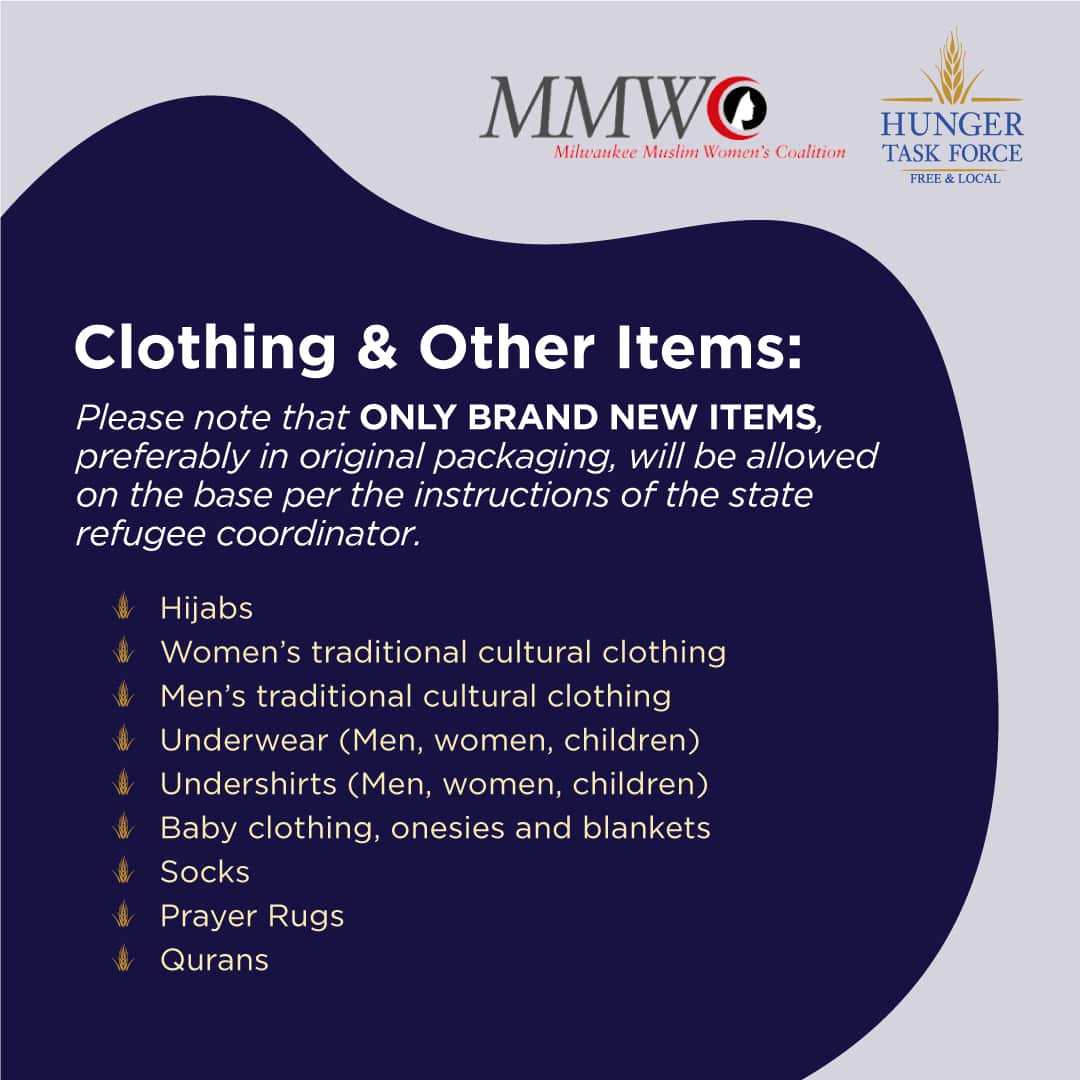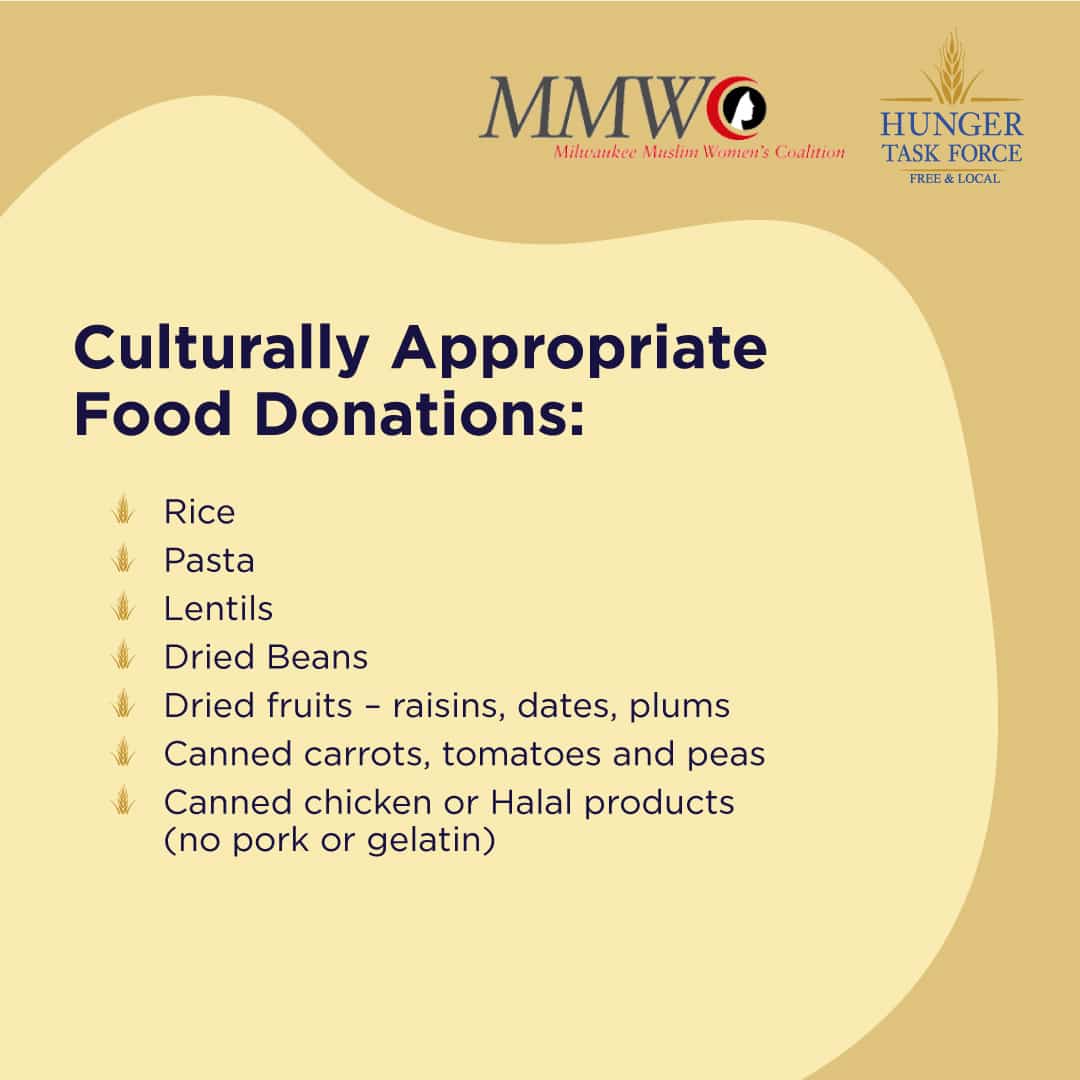 Hunger Task Force is partnering with the Milwaukee Muslim Women's Coalition (MMWC) to assist Afghan refugees
MMWC reached out to Hunger Task Force with an urgent request to act as a drop off site for donations of clothing, food and other items to assist Afghan refugees arriving at Fort McCoy. Although there will only be up to 500 Afghan guests (refugees) eventually resettled in Wisconsin there are thousands that are being processed in Fort McCoy. Due to the bombing at the airport in Kabul, the guests were only allowed to travel with the clothes on their backs. Many of the guests are women, girls, and young children.
Donations are being collected at Hunger Task Force (201 S. Hawley Ct. | Milwaukee, WI 53214) during the hours of 8:30 – 5:00 p.m. (Monday – Friday). Along with clothing and other items, culturally appropriate nonperishable food items are requested to stock local emergency food pantries through Hunger Task Force's network.
Donate Clothing and Other Items:
Please note that ONLY BRAND NEW ITEMS, preferably in original packaging, will be allowed on the base per the instructions of the state refugee coordinator.
Hijabs
Women's traditional cultural clothing
Men's traditional cultural clothing
Underwear (Men, women, children)
Undershirt (Men, women, children)
Socks
Prayer Rugs
Qurans
Baby clothing (particularly onesies and blankets)
Donate Culturally Appropriate Food:
Rice
Pasta
Lentils
Dried Beans
Canned chicken or Halal products (no pork or gelatin)
Dried fruits – raisins, dates, plums
Canned carrots, tomatoes and peas
Hunger Task Force is Milwaukee's Free & Local food bank and Wisconsin's anti-hunger leader. The organization provides healthy and nutritious food to hungry children, families and seniors in the community absolutely free of charge. Hunger Task Force was founded in 1974 by a local advocacy group who then formed Milwaukee's first food bank. Today, Hunger Task Force is 100% supported by the community and provides a safety net of emergency food with dignity to a network of 75 food pantries, soup kitchens and homeless shelters. Through legislative analysis, education and community organizing, Hunger Task Force continues to advocate for anti-hunger policy at the local, state and federal level. For more information, visit HungerTaskForce.org.