Raymond James, TMJ4 and Hunger Task Force Partner for Annual "Home 4 the Holidays" Campaign

Hunger Task Force is again partnering with Raymond James & Associates and TODAY'S TMJ4 for the seventh consecutive year to offer an easy way to give back to local families this season: a virtual food drive. The Raymond James Home 4 the Holidays Virtual Food Drive runs through December 31.
Run entirely online, holiday giving has never been easier. With the click of a button, individuals can finish their holiday shopping and give a charitable holiday gift, all from the comfort and convenience of their own home or office. Donors can access the virtual food drive 24 hours a day through the end of December at www.HungerTaskForce.org/home-4-the-holidays/.
An assortment of holiday food choices are available for purchase through the virtual food drive. Options include a holiday ham or juicy turkey for $15 each, and several selections to help support a family as they prepare a holiday meal. Donors can also gift a specific donation of any amount or dedicate their donation to someone special.
Additionally, Raymond James volunteers will be supporting Hunger Task Force during the annual "Drop Off or Dial" event on Monday, December 19 from Noon – 7:00 p.m. at the TMJ4 Studios (720 E. Capitol Drive). Volunteers will collecting in-person food donations outside TMJ4 and taking holiday donations over the phone during the phone bank!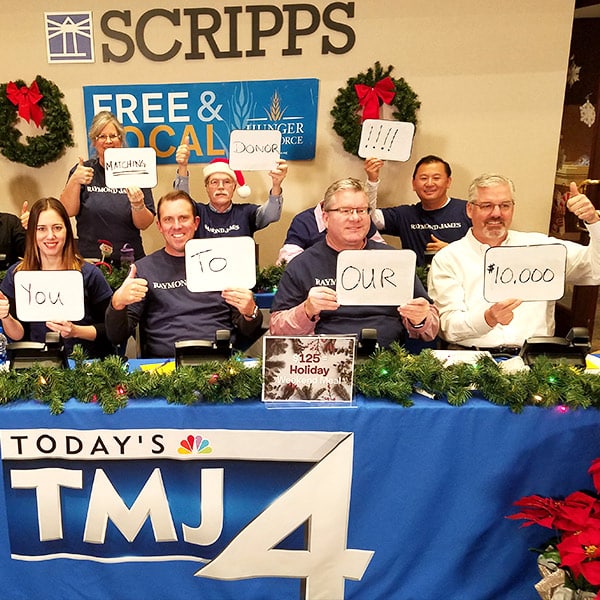 Hunger Task Force is Milwaukee's Free & Local food bank and Wisconsin's anti-hunger leader. The organization provides healthy and nutritious food to hungry children, families and seniors in the community absolutely free of charge. Hunger Task Force was founded in 1974 by a local advocacy group who then formed Milwaukee's first food bank. Today, Hunger Task Force is 100% supported by the community and provides a safety net of emergency food with dignity to a network of 75 food pantries, soup kitchens and homeless shelters. Through legislative analysis, education and community organizing, Hunger Task Force continues to advocate for anti-hunger policy at the local, state and federal level. For more information, visit HungerTaskForce.org.