Volunteer of the Month: Michael Raymond | February 2023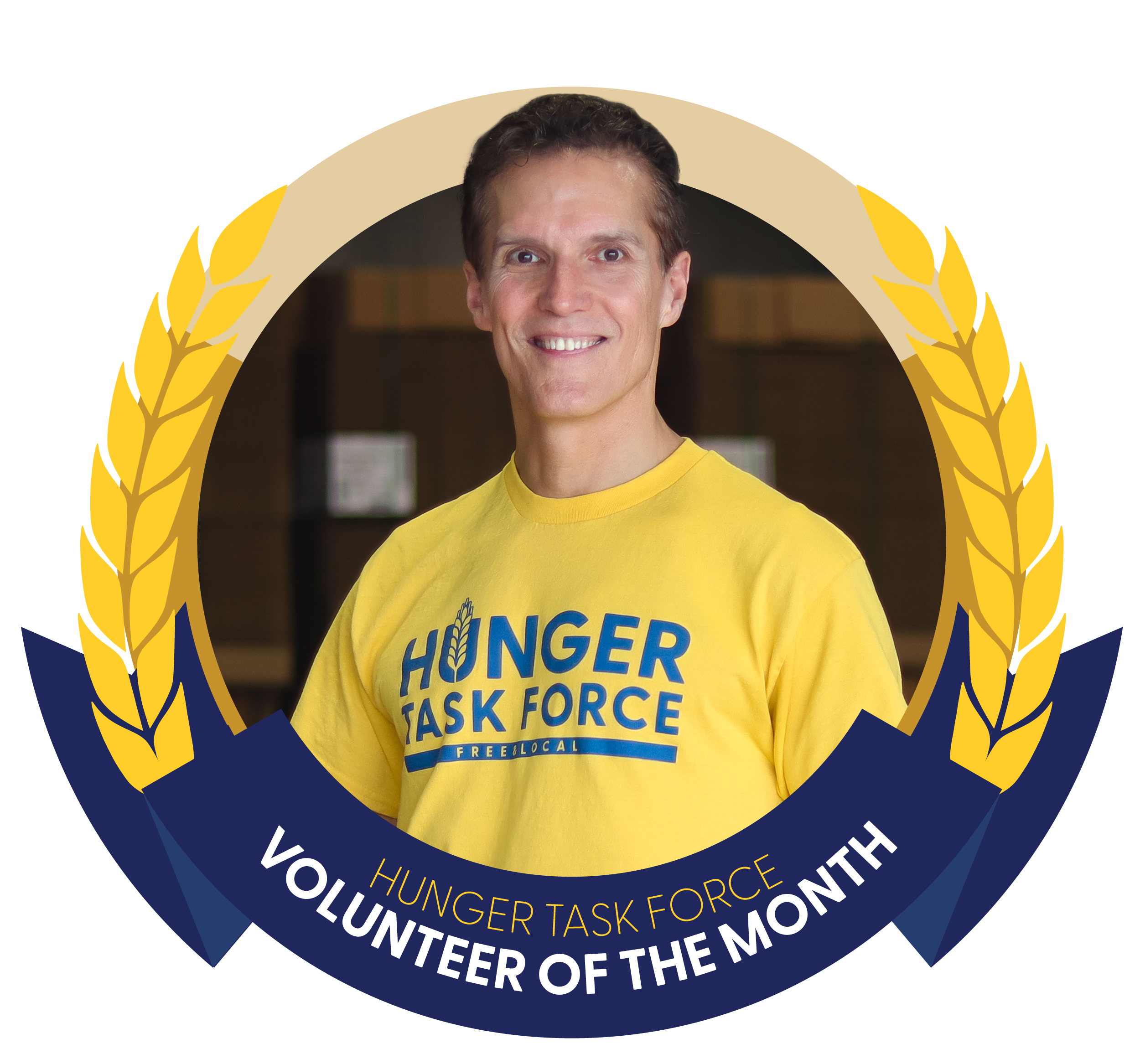 Each month Hunger Task Force is honored to recognize an individual or organization that goes above and beyond in their service to the organization.
Hunger Task Force relies on the help of more than 16,000 generous volunteers every year. From food sorting and building healthy food boxes for seniors to helping individuals shop the Mobile Market and harvesting at The Farm, volunteers help Hunger Task Force feed people today and support our work in ending future hunger.
Michael Raymond has been a regular volunteer at Hunger Task Force since 2021. Since learning about the food bank while giving his time packing Stockboxes for local seniors, Michael has become a weekly volunteer assisting with the Stockbox DoorDash program, warehouse needs and food sorting. Volunteers are central to the Hunger Task Force mission, and we couldn't be happier to honor Michael Raymond as our Volunteer of the Month for February 2023.
Q: When did you start volunteering with Hunger Task Force?
Michael: Two years ago, my wife Christie and I were looking for a volunteer opportunity that allowed us to volunteer as a family with our son – that led us to Hunger Task Force. Kohl's has an ongoing program for groups of employees to pack Stockboxes at Hunger Task Force, and the three of us participated regularly.
Q: What volunteer activities have you helped with?
Michael: After visiting Hunger Task Force to pack Stockboxes, I asked the Volunteer Coordinator if it was possible to begin volunteering on a regular weekly basis –  so that's what I'm doing now. There are lots of ways that I have become involved at Hunger Task Force, including:
Packing Senior Stockboxes
Helping the Community Nutrition Manager as needed
Building boxes by the thousands – 640 boxes built in a three-hour shift is still the record held by fellow volunteer, Dale Lenderts!
Distributing Student DoorDash boxes for children and Stockbox DoorDash boxes for seniors
Packing Heart of Canal Street boxes (culturally-appropriate Halal boxes for Afghan refugees)
Sorting food donations
Collecting donations over the phone during the WISN 12 Food for Families Phone Bank
Q: What's your favorite part about volunteering?
Michael: The spirit of contributing together. Several times, I've worked with DoorDash drivers who arrive to pick up their deliveries and generously pitch in to help finish preparing that morning's remaining boxes. I enjoy working with other volunteers and the Hunger Task Force staff. We learn about each other's lives and build ongoing friendships!
Q: What made you want to volunteer? How did you get involved?
Michael: Volunteering has been a part of my life for many years. When living in Colorado, I worked with at-risk youth in detention facilities, as well as individuals and groups recovering from substance abuse and managing mental illness. When we moved to Milwaukee, I served at several other organizations before finding a long-term fit volunteering with Hunger Task Force.
Q: Why did you/do you continue to pick Hunger Task Force?
Michael: Sometimes our neighbors and their basic needs can be overlooked by society at large. Providing families and individuals with a fundamental necessity – like healthy food – makes me feel like I am making a meaningful contribution to others' lives.
Q: What's been your most memorable experience volunteering?
Michael: I have two…
Delivering Stockboxes to homes and seeing clients' faces light up. This experience allowed me to participate in the process full-circle, from sorting food, packing boxes and then hand-delivering food to clients. It is very fulfilling.
Being a part of the Student DoorDash program and helping load up boxes with DoorDash drivers on Wednesday mornings with Sister Pat and Sister MaryAnn. We called ourselves "Two Sisters and a Guy." We may still go on tour!
Q: What would you tell someone who is thinking about volunteering at Hunger Task Force?
Michael: Give it a try and sign up for a couple shifts! Talk to other volunteers about what they enjoy and make a real and lasting impact in the lives of our neighbors.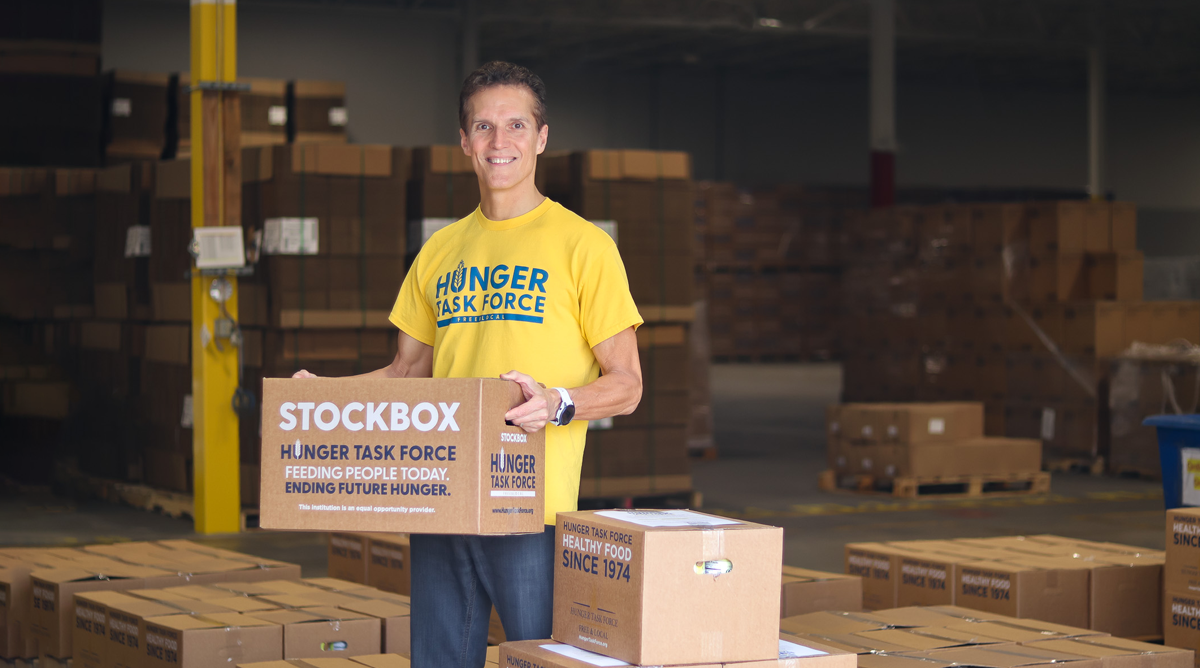 Hunger Task Force is Milwaukee's Free & Local food bank and Wisconsin's anti-hunger leader. The organization provides healthy and nutritious food to hungry children, families and seniors in the community absolutely free of charge. Hunger Task Force was founded in 1974 by a local advocacy group who then formed Milwaukee's first food bank. Today, Hunger Task Force is 100% supported by the community and provides a safety net of emergency food with dignity to a network of 75 food pantries, soup kitchens and homeless shelters. Through legislative analysis, education and community organizing, Hunger Task Force continues to advocate for anti-hunger policy at the local, state and federal level. For more information, visit HungerTaskForce.org.