Volunteer of the Month: Barb Holt | March 2023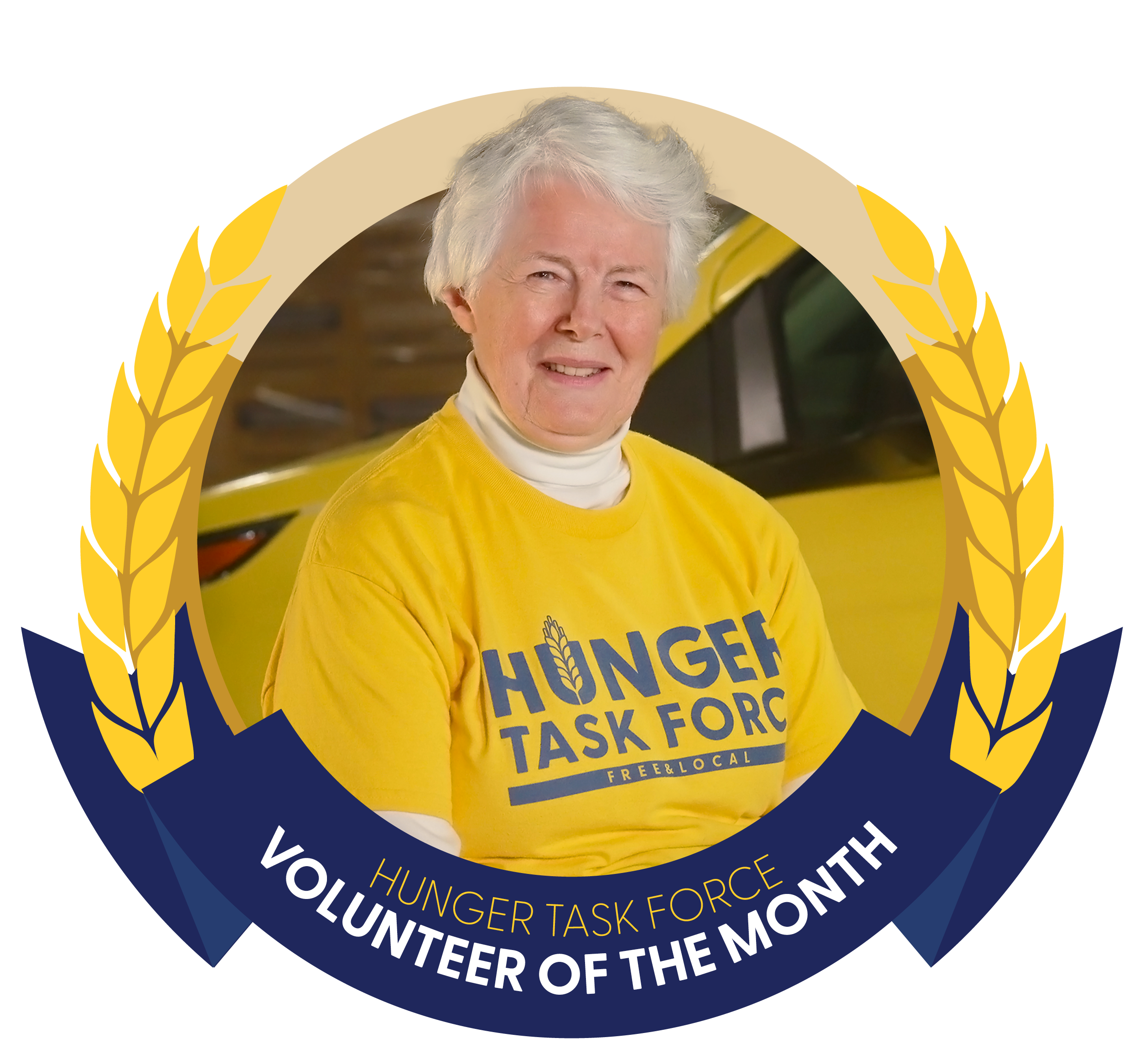 Each month Hunger Task Force is honored to recognize an individual or organization that goes above and beyond in their service to the organization.
Hunger Task Force relies on the help of more than 16,000 generous volunteers every year. From food sorting and building healthy food boxes for seniors to helping individuals shop the Mobile Market and harvesting at The Farm, volunteers help Hunger Task Force feed people today and support our work in ending future hunger.
Barb Holt has been a regular volunteer at Hunger Task Force for over a decade. Since learning about the food bank while giving back during Stamp Out Hunger, an special food drive for Hunger Task Force led by the National Association of Letter Carriers (NALC), Barb has become a weekly volunteer assisting with special events, administrative needs and food sorting. In the last year alone, Barb has volunteer more than 300 hours with Hunger Task Force! Volunteers are central to the Hunger Task Force mission, and we couldn't be happier to honor Barb Holt as our Volunteer of the Month for March 2023.
Q: When did you start volunteering with Hunger Task Force?
Barb: Since retiring in June of 2007, I have tried to spend at least one day a week volunteering at various locations – however, most of my time has been spent with Hunger Task Force. I've helped with Stamp Out Hunger for many of those years and would help empty and sort food brought in with postal trucks during that campaign each year!
Q: What volunteer activities you help with?
Barb: I assist with updating the donor database. Often, I help with reviewing local obituaries and marking donors as deceased to better steward our outreach efforts to donors. I'll also spend time building boxes for the next group packing Stockboxes. Periodically, I'll join other volunteers and help with mailings – these are always a fun event! There have also been some intriguing, one-of-a-kind requests for help over the years too.
Q: What's your favorite part about volunteering?
Barb: The wonderful staff at Hunger Task Force is my favorite part of volunteering. From upbeat Mardi at the Front Desk, to tall Jonathan, who always has a kind word and a smile, everyone is so positive!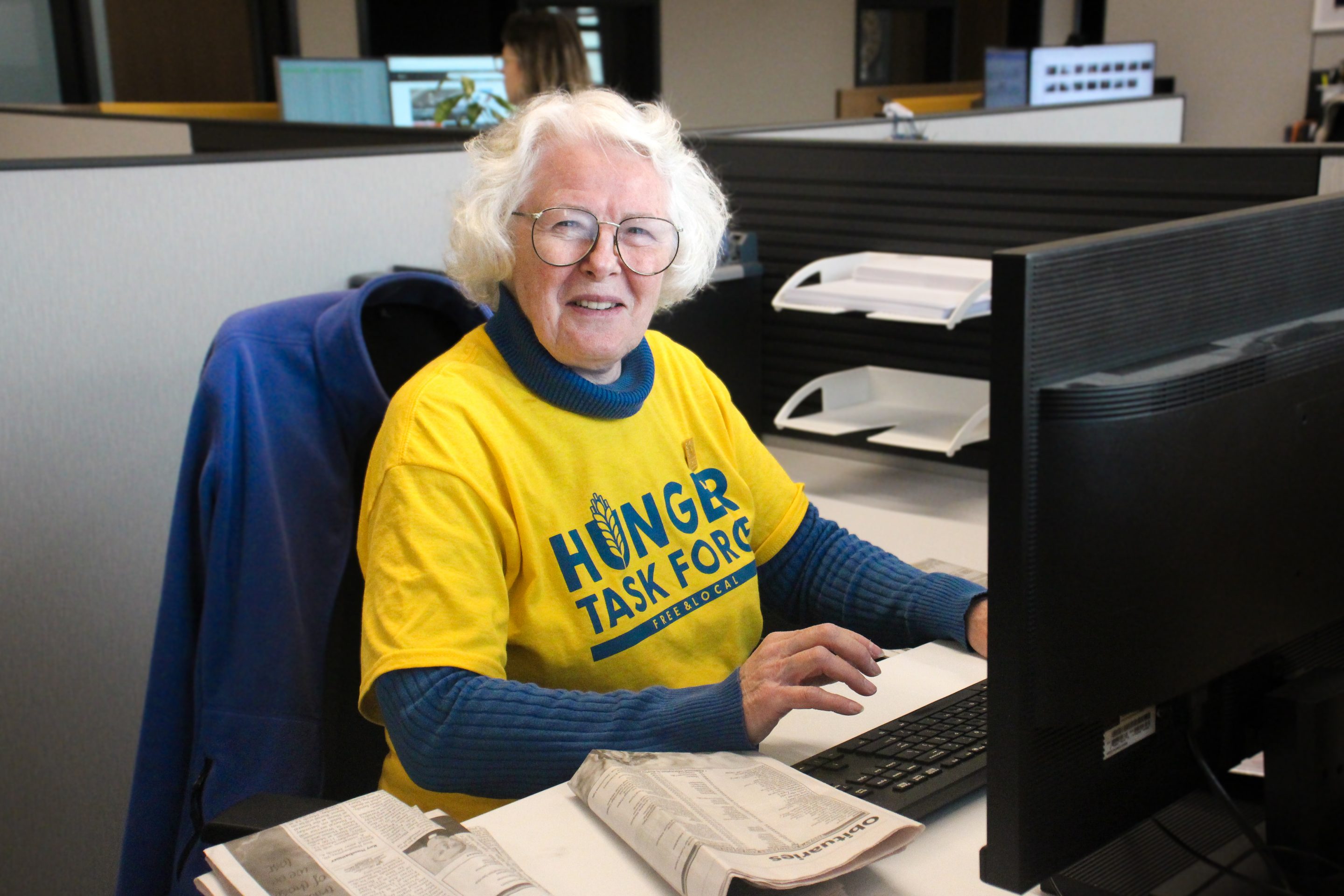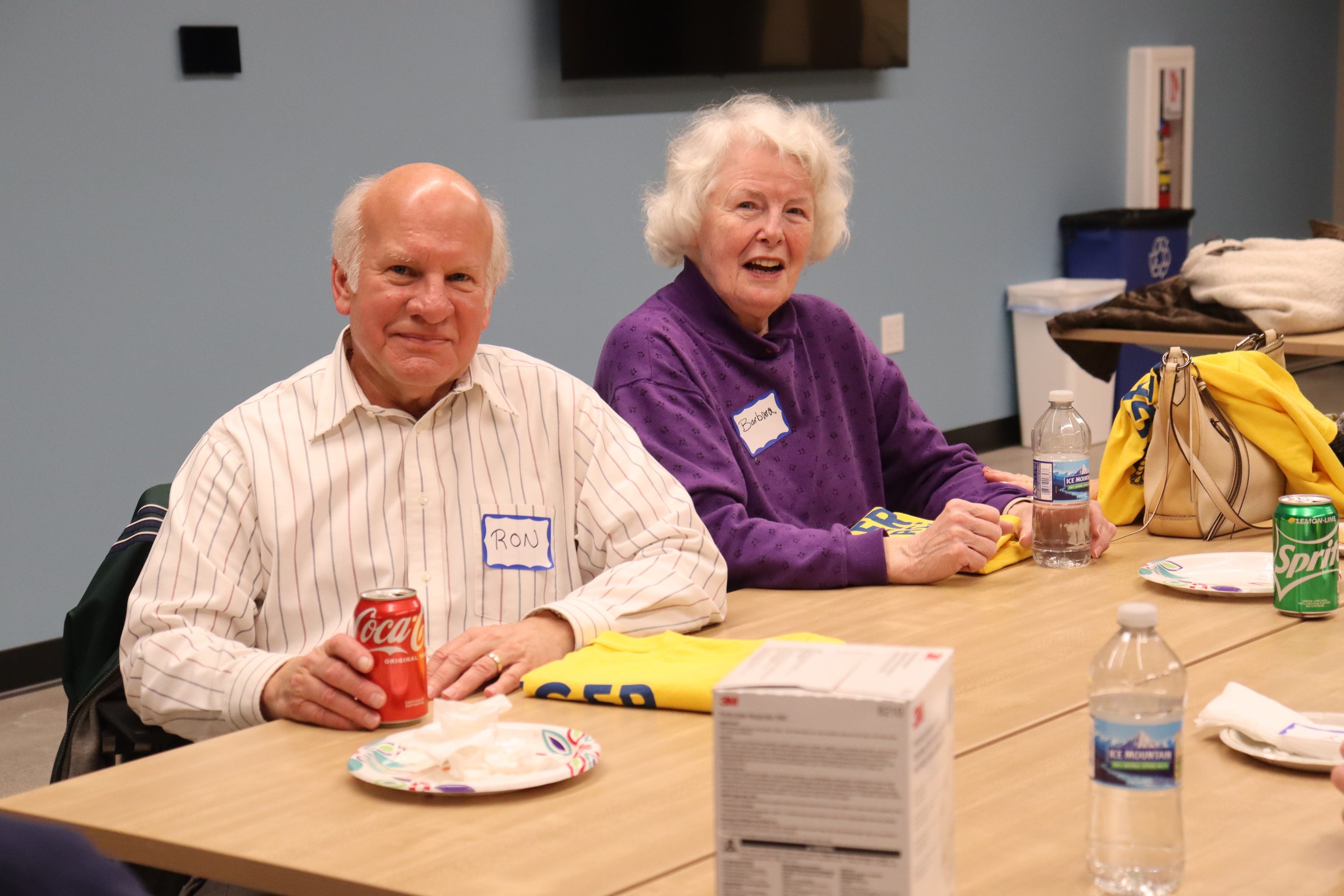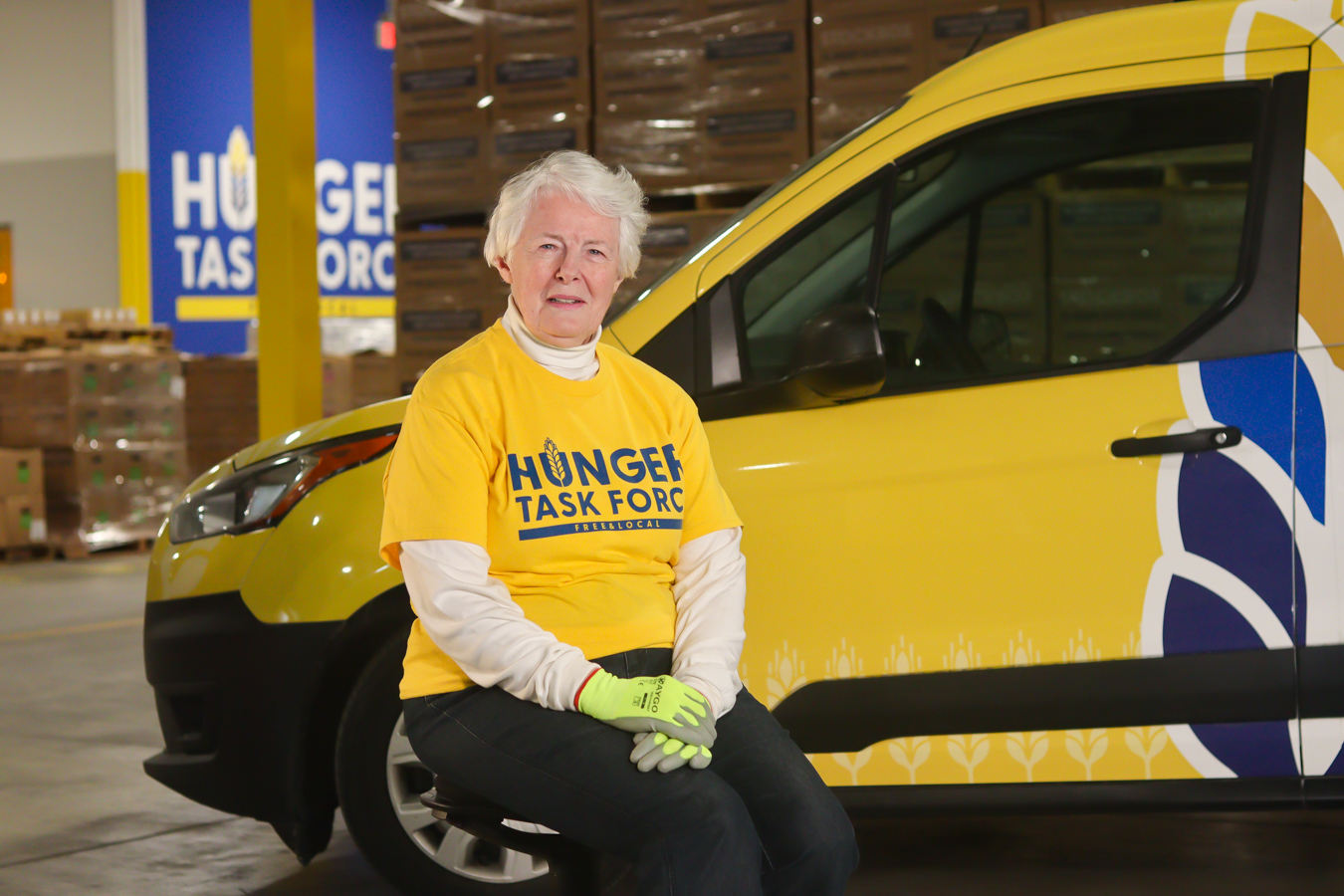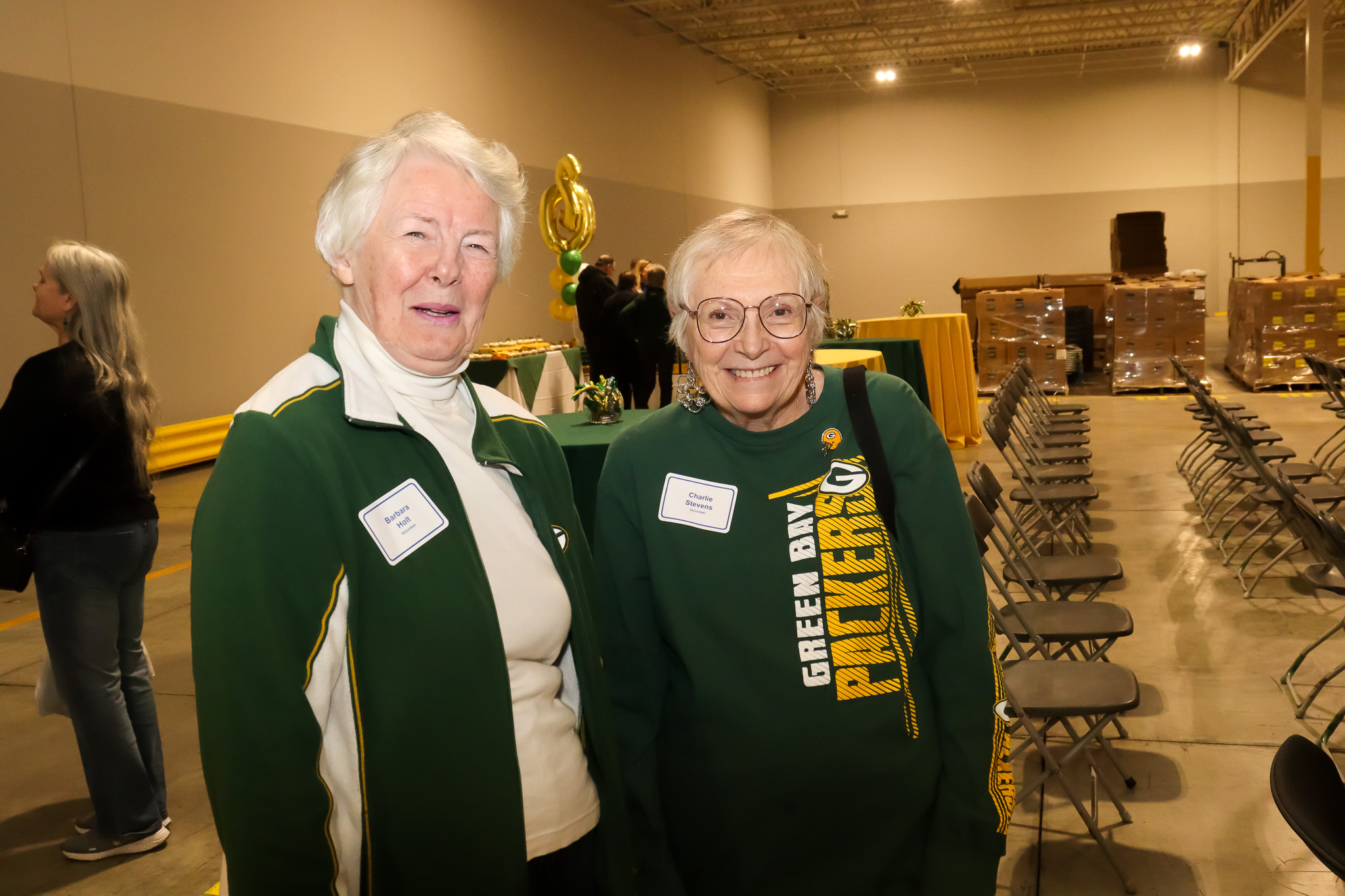 Q: How did you originally get involved?
Barb: Volunteering to sort food for Stamp Out Hunger originally connected me to Hunger Task Force. Giving back during this program was my way to honor my father's 41 years as a letter carrier in Port Washington. Supporting this event always in his memory. My parents wanted my sisters and I to be the type of people who contribute. My five sisters and I grew up with parents who always shared what they had with those who had less. It was an unspoken rule to seek out ways to give back, and my mother loved feeding others. When I put these family morals together, it fits in with the mission and values of Hunger Task Force perfectly!
Q: Why do you continue to pick Hunger Task Force?
Barb: To be honest, I used to donate to other local food banks before volunteering at Hunger Task Force. This lasted until I realized other food banks charge for food, deliveries and memberships. Hunger Task Force does not. Now I only support Hunger Task Force, Milwaukee only Free & Local food bank.
Q: What's been your most memorable experience volunteering?
Barb: While every time I'm volunteering is memorable, stories from Packer players who have attended Sargento's Touchdowns for Hunger check presentations over the years have been very inspirational and memorable. Learning some successful NFL players were previously homeless or needed food pantries, it teaches that never know who may be in need or who you may help through some small action of giving back, no matter how small it may seem to be.
Q: What would you tell someone who is thinking about volunteering at Hunger Task Force?
Barb: If someone is interesting in volunteering, I'd encourage them to consider the various opportunities available with Hunger Task Force! Every activity is a learning opportunity and volunteering gives you a chance to meet and connect with others. I've enjoyed volunteering with people from unique walks of life who also care enough to give of their time.
Check it out!
Hunger Task Force recently featured Barb alongside departmental staff on our recent 2022 Annual Report cover.
Hunger Task Force is Milwaukee's Free & Local food bank and Wisconsin's anti-hunger leader. The organization provides healthy and nutritious food to hungry children, families and seniors in the community absolutely free of charge. Hunger Task Force was founded in 1974 by a local advocacy group who then formed Milwaukee's first food bank. Today, Hunger Task Force is 100% supported by the community and provides a safety net of emergency food with dignity to a network of 75 food pantries, soup kitchens and homeless shelters. Through legislative analysis, education and community organizing, Hunger Task Force continues to advocate for anti-hunger policy at the local, state and federal level. For more information, visit HungerTaskForce.org.