'I feel thankful': Family of seven shares how important free school meals are as kids head back to class
 As kids and parents prepare to head back to school, it's important to think about the children who don't always have access to necessities like food. According to the Hunger Task Force, one in four kids doesn't have enough food to eat.
"FoodShare is still never enough to feed six hungry kids like breakfast, lunch, and dinner, it's not possible at all," mother of six Jasmaine Valentine said.
Jasmaine knows how hard it can be to provide for a family with school-aged children. "Nhazi he's 13, Nhilah she's 11, Nhari she's 10, Janhario 8, Nhavi is 6 and Nhazeir is 3," Jasmaine said as she named her children and their ages. They're your typical group of kids. They love to make videos on TikTok and play outside together.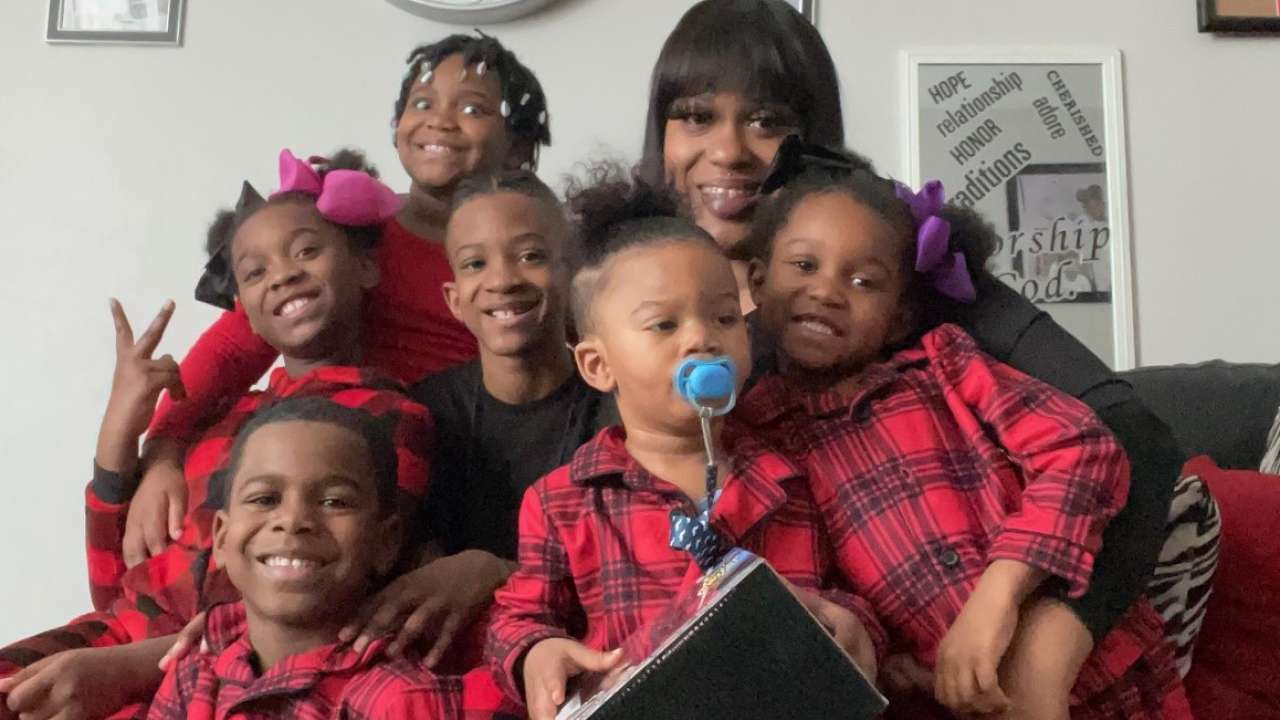 Inside their home, there's a wall full of awards for their accomplishments in the classroom. Jasmaine said she emphasizes education. "Any chance I get whether it's my lunch break, whether I'm off, I'm up there like 'Hey what are my kids doing?' Any program they have I'm one of the first ones lined up, ready to go."
As you can imagine, providing for six children comes with quite the price tag. That's why the Valentine family benefits from a school program where they're provided free meals in school. It's called the Community Eligibility Provision. With resources from the Hunger Task Force, students are able to receive free meals and snacks throughout the day.
"Sometimes I'm like, hey momma ain't got it so just go to school eat what they got, and I'll make sure you have a meal when you get home," Jasmaine said. She hasn't always had a job or been in the best place financially which has made it difficult for her kids to have everything they need. "I feel thankful," Jasmaine's oldest son Nhazi said.
Nhazi understands how difficult it can be for his parents to juggle it all. His mom receives a list of meals her kids will get at school so she's aware of what they'll eat. "It's so beneficial because I don't have to worry about each kid, paying for milk, paying for lunch," Jasmaine said.
The mother of six is hoping others recognize how important free school programs are because you never know a child's home life story. "Their parent might be always at work or the parent may be running the streets or somewhere, in jail or whatever the situation is, that could be that child's only meal a day."
Hunger Task Force is Milwaukee's Free & Local food bank and Wisconsin's anti-hunger leader. The organization provides healthy and nutritious food to hungry children, families and seniors in the community absolutely free of charge. Hunger Task Force was founded in 1974 by a local advocacy group who then formed Milwaukee's first food bank. Today, Hunger Task Force is 100% supported by the community and provides a safety net of emergency food with dignity to a network of 75 food pantries, soup kitchens and homeless shelters. Through legislative analysis, education and community organizing, Hunger Task Force continues to advocate for anti-hunger policy at the local, state and federal level.