Stockbox DoorDash program celebrates 10,000th delivery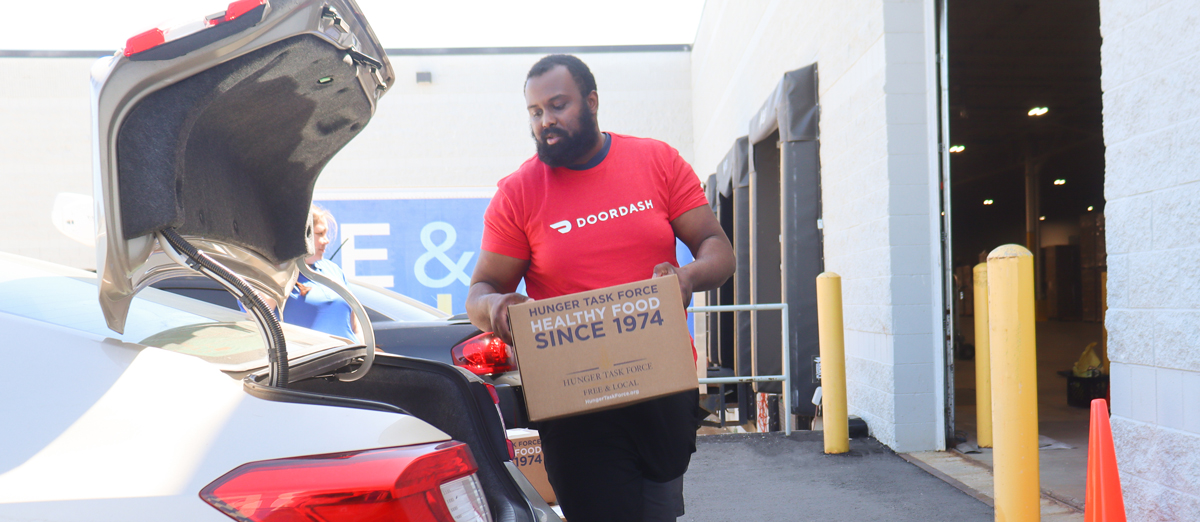 Since July 2021, Hunger Task Force has partnered with DoorDash and United Way of Greater Milwaukee & Waukesha County to provide nutritious food to seniors living in Milwaukee and Waukesha County through the Stockbox DoorDash program. The Stockbox is a free, monthly box of food for income-eligible seniors age 60+. It includes cereal, milk, canned fruits and vegetables, rice or pasta, protein, fruit juice, canned meats and two pounds of Wisconsin cheese. Stockboxes are traditionally distributed at senior dining sites, large subsidized senior housing complexes and food pantries. Launched during the pandemic, Stockbox DoorDash expanded access of the program to homebound seniors, and seniors who do not live near a traditional pick-up site, with convenience and dignity.
"One of the most unique things we learned during the pandemic is that you could Dash food from a food bank to people who couldn't get out or shouldn't leave their house," says Sherrie Tussler, Hunger Task Force Executive Director. "I've been in this work for 25 years – I've seen tens of millions of pounds of food distributed – and what I've realized is that the DoorDash strategy works."
Since the inception of the Stockbox DoorDash program, food has been delivered to homebound seniors with the help of Project DASH – DoorDash's initiative to empower food banks, food pantries and social impact organizations to leverage DoorDash last mile logistics to carry out their mission. In April of 2020, when COVID-19 limited physical access to healthy food services, DoorDash partnered with United Way and 211 to launch Ride United Last Mile Delivery (RULMD), which powers the delivery of charitable food and essential items.
Caitlin Gillis from the Government & Nonprofit Team at DoorDash shared, "We are celebrating our 10,000th delivery with Hunger Task Force and are so proud to partner with this organization. We look forward to continuing this work with you all."
Gathering at Hunger Task Force's West Milwaukee headquarters, guests from United Way of Greater Milwaukee & Waukesha County, DoorDash, Milwaukee County Department of Health & Human Services and local elected officials celebrated the milestone Project DASH delivery through Stockbox DoorDash. "For seniors who are homebound or frankly can't get to the store anymore, DoorDash came to the rescue," says Tussler.
Eligible seniors are encouraged to register for the program. In the wake of the COVID-19 pandemic, many seniors may no longer feel safe or do not have access to pick-up locations or senior dining sites they previously relied upon. To learn more, determine your eligibility, or register for Stockbox DoorDash, please visit www.hungertaskforce.org/stockbox-doordash/.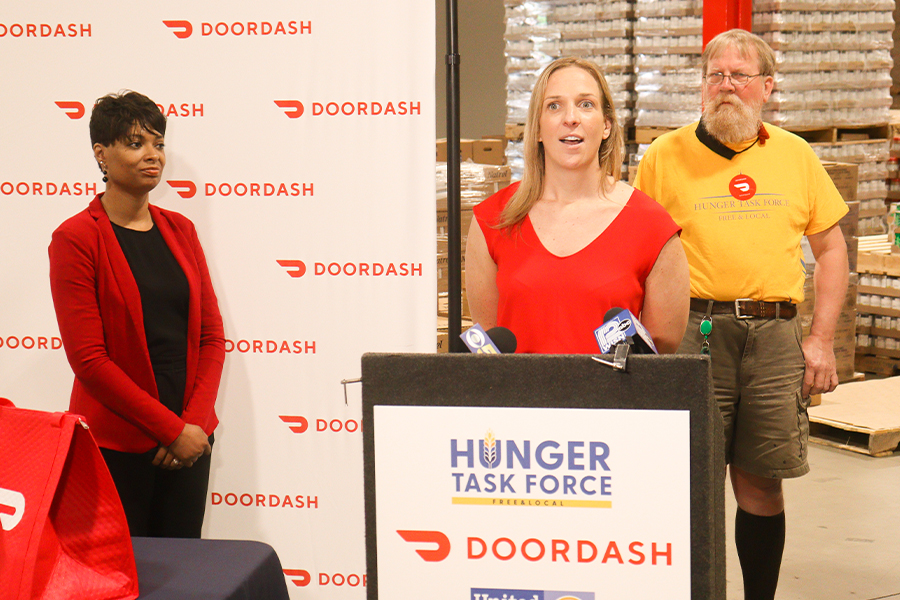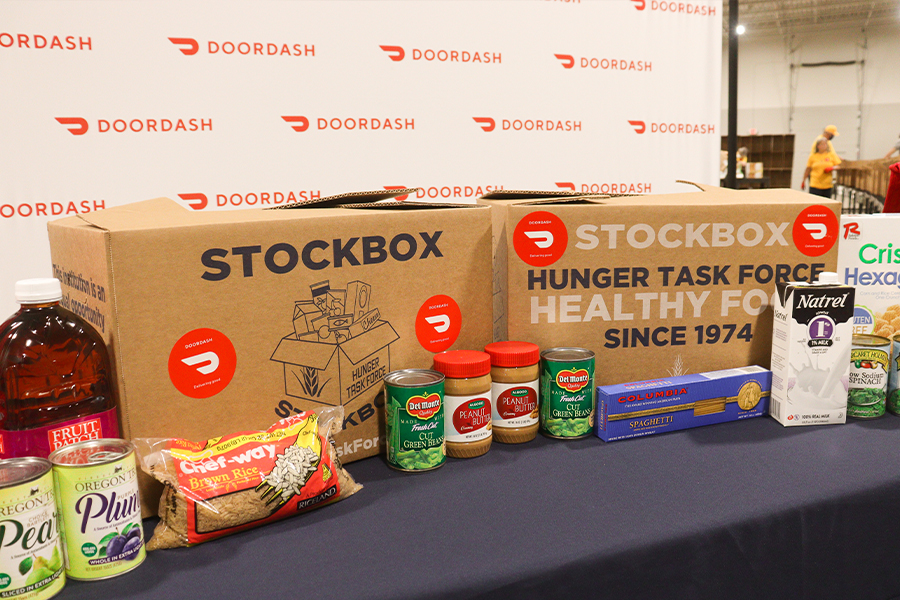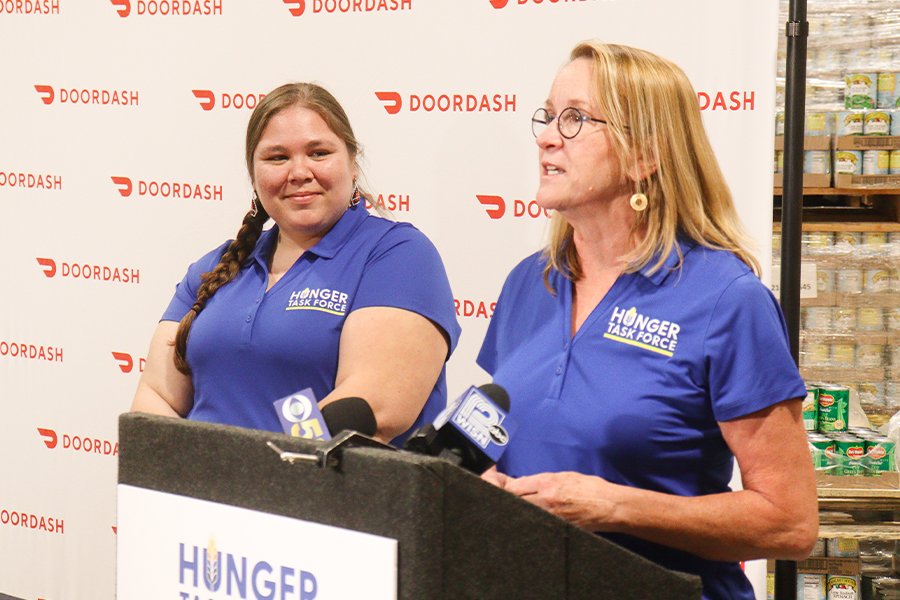 Hunger Task Force is Milwaukee's Free & Local food bank and Wisconsin's anti-hunger leader. The organization provides healthy and nutritious food to hungry children, families and seniors in the community absolutely free of charge. Hunger Task Force was founded in 1974 by a local advocacy group who then formed Milwaukee's first food bank. Today, Hunger Task Force is 100% supported by the community and provides a safety net of emergency food with dignity to a network of 75 food pantries, soup kitchens and homeless shelters. Through legislative analysis, education and community organizing, Hunger Task Force continues to advocate for anti-hunger policy at the local, state and federal level. For more information, visit HungerTaskForce.org.